Sebastian Vettel Wins a Near-Perfect Belgian Grand Prix
August 28, 2011
I suppose if you just looked at the results of qualifying and then the final standings of today's race, you might be forgiven for thinking that the 2011 Belgian Grand Prix was a bust.
Sebastian Vettel may have won a race that admittedly dropped off the boil a bit with a few laps remaining, but the action that led up to the final 10-or-so laps was near-perfect!
I think the rules of F1 gave some very mixed results today. I would argue that the DRS rule created some pretty formulaic passes from Turn 4 to Turn 5, but one rule in particular may well have contributed to some of the best action on the track.
Red Bull Racing had run a particular setup for qualifying that had been very heavy on the cars' front tyres. With a few minor tweaks, the team believed it could sort its balance out and thus take the strain off of its crucial tyres.
However, the changes the team wanted to make were not allowed under the 'parc ferme' rules of F1—a car may have very little changed to its setup once qualifying has begun.
This left Sebastian Vettel steaming, but more importantly for the fans, it almost guaranteed that the Red Bulls wouldn't simply storm off into the lead.
Furthermore, even though the Red Bulls seemed to be suffering from the most extreme tyre degradation, it wasn't exactly plain sailing for the other drivers.
Spa was obviously going to be a hard one on the tyres and this could only mean one thing for the fans: a great race!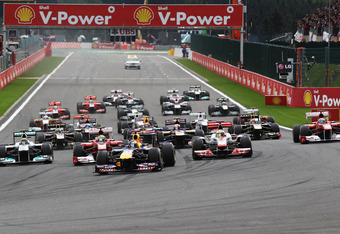 I don't think you can beat the first corner at Spa and the 2011 race start was as good as any other at the hardcore Belgian raceway.
Mark Webber got off to a terrible start when his anti-stall kicked in. Sebastian Vettel seemed to get off to a clean start, but everyone was shocked when Nico Rosberg came from almost nowhere to storm into the lead as the drivers took to Turns 3 and 4!
Both Ferraris had great starts and out-of-place drivers such as Jenson Button and Michael Schumacher were able to take advantage of the carnage caused by collisions in the mid-field.
Bruno Senna did himself no favours with his team or fellow drivers when he collided with Jamie Alguersuari and further back, both Lotus cars made contact!
As the cars crossed the line after one lap, the positions were as follows:
Nico Rosberg, Sebastian Vettel, Felipe Massa, Lewis Hamilton, Fernando Alonso, Sebastien Buemi, Sergio Perez, Mark Webber, Kamui Kobayashi, Vitaly Petrov, Adrian Sutil, Jenson Button, Paul Di Resta, Michael Schumacher, Rubens Barrichello, Daniel Riccardo, Pastor Maldinado (who started P21 after a five place penalty), Vittantonio Liuzi, Jerome D'Ambrosio, Timo Glock, Jarno Trulli, Bruno Senna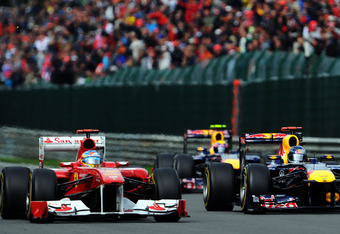 The next laps were simply terrific!
There were overtakes everywhere and many of them didn't even happen at the DRS zone.
By Lap 2, Alonso was storming and easily passed Hamilton for P4. The Ferrari man then went on to have an awesome fight with Nico Rosberg and Felipe Massa and eventually took both drivers by only Lap 6!
Meanwhile, both Red Bulls were forced to pit when their tires began to fall away.
The race director simply had no idea where to point the main camera! We cut from images of Hamilton passing Rosberg, to Vettel carving up the grid after his stop and even to Buemi with no rear wing!
By Lap 9, Alonso decided to pit. The Ferrari team did a great job in the pit stop, but Alonso found himself rejoining the track in front of a charging Webber!
Both men took to the second super-fast corner side by side and both drove with perfect skill. Webber was the temporary victor of this duel, but Alonso took the Red Bull driver back very soon after.
There was simply too much going on to tell you everything.
The next significant event happened on Lap 13 when the camera shot to a battle between Hamilton and Kobayashi. Hamilton seemed to have his initial move on the Sauber driver wrapped up after Turn 4, but by Turn 5, Kobayashi had come right back at the 2008 World Champion.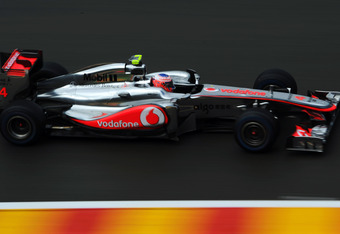 Hamilton just didn't seem to see the Sauber bearing down on him and turned into Turn 5 and into the pursuing Sauber (which had not yet turned). Hamilton's rear smashed into the front end of Kobayshi and the McLaren was left spinning into the barriers and out of the race.
I honestly don't know how to call this incident.
Perhaps Kobayashi should have given Hamilton more room, maybe Hamilton should have been more aware of his situation. Whatever the reason, this certainly wasn't Hamilton's first collision of the year and when you consider that he had been told by his team to take it easy just a few laps before, you have to wonder if the McLaren man is just not feeling it this year.
The crash brought out the safety car and a slight lull in the action. I'll take advantage of this to tell you the positions at the time:
Alonso, Webber, Vettel, Massa, Rosberg, Sutil, Perez, Petrov, Schumacher, Barrichello, Button, Maldinado, Senna, Trulli, D'Ambrosio, Liuzzi, Kovalainen, Glock,
Retired at this stage: Riccardo, Hamilton, Buemi, Alguersuari
When the race restarted on Lap 18, it did so with a bang! There were some very disappointing DRS manoeuvres such as Vettel's on Webber and then Alonso for P1, but also some great action around the final few corners.
The race kept its sting from here on thanks in many parts to a superb stint from a hugely rejuvenated Button.
The 2009 World Champion started with Barrichello on the restart. He then rocketed past both Petrov and Perez in one corner before easily taking P7 from Schumacher.
As the rest of the action seemed to go off the boil, Button kept his charge up and dispatched Sutil and Massa in very quick succession!
In fact, after his rather disappointing easy DRS move on Rosberg for P4, the McLaren man had made up seven places in about 10 laps!
I think the race peaked at this point—around Lap 30. Alonso's early dominance seemed to fall away as the cars got lighter and the Ferrari began to struggle with the harder compound.
The race's dwindling light was kept awake by first Webber taking P2, and then Button snatching the final podium spot from Alonso. I certainly don't think the final 10 laps were boring. They just didn't really compare to the first high-paced laps.
In the end, Vettel and Webber were able to get on top of their tyres and Red Bull's one-two finish seems to have effectively well and truly killed both Championships.
But, it certainly isn't all doom and gloom for the rest of the season. Today's race was an absolute classic regardless of the result and I think Monza will be just as good.
I've said this throughout the season and I'll say it again: 2011 has produced one of the dullest Championships in a long time, but strangely, some of the best races too!
Drivers' Championship Top Three
Vettel 259
Webber 167
Alonso 157
Constructors' Championship Top Three
Red Bull Racing 426
McLaren 295
Ferrari 231
Result
1 Sebastian Vettel Red Bull-Renault
2 Mark Webber Red Bull-Renault
3 Jenson Button McLaren-Mercedes
4 Fernando Alonso Ferrari
5 Michael Schumacher Mercedes GP
6 Nico Rosberg Mercedes GP
7 Adrian Sutil Force India-Mercedes
8 Felipe Massa Ferrari
9 Vitaly Petrov Renault
10 Pastor Maldonado Williams-Cosworth
11 Paul Di Resta Force India-Mercedes
12 Kamui Kobayashi Sauber
13 Bruno Senna Renault
14 Jarno Trulli Lotus-Renault
15 Heikki Kovalainen Lotus-Renault
16 Rubens Barrichello Williams-Cosworth
17 Jerome d'Ambrosio Virgin-Cosworth
18 Timo Glock Virgin-Cosworth
19 Vitantonio Liuzzi Hispania-Cosworth
RET Sergio Perez Sauber
RET Daniel Ricciardo Hispania-Cosworth
RET Lewis Hamilton McLaren-Mercedes
RET Sebastien Buemi Toro Rosso-Ferrari
RET Jaime Alguersuari Toro Rosso-Ferrari