MLB Playoff Push: Ranking the Top 10 NL Difference Makers
Doug Pensinger/Getty Images
The National League is full of talented, young players. Even better than individualistic superstars, these difference makers are very team-oriented players, looking to lead their teams into October and to a World Series. This season, very few teams are chasing division leaders. Other than the NL West race, the St. Louis Cardinals are the closest team to a playoff spot and they are 10.5 games behind the NL Central-leading Milwaukee Brewers.
Therefore, heed this note of warning for critical readers: This article is dominated by players from the NL Western Division. The reason behind this is because there is no race going on in either of the other two divisions. The race between the Arizona Diamondbacks and the San Francisco Giants is the only tight battle, as the Milwaukee Brewers, Philadelphia Phillies and Atlanta Braves all look to be sure locks for the playoffs.
Justin Upton has been incredible this year, carrying a liable Diamondback offense. The D'Backs pitching staff, led by staff ace Ian Kennedy and impact closer J.J. Putz—who has converted all of his saves since the All-Star break—holds a slight lead on the Giants.
The defending champ Giants, with a strong pitching staff but an under-performing offense, need third baseman Pablo Sandoval to produce in a big way. Tim Lincecum will perform, as will the rest of the starting pitchers, but it will not be enough to take down the D'Backs if the offense fails to come around.
In St. Louis, Albert Pujols has the ability to push the mediocre Cardinals into a tighter race with the Brewers but it might be too little, too late. With Philadelphia wrapping up the NL East crown, the Atlanta Braves and smoking hot second baseman Dan Uggla are cruising into the NL Wild Card berth.
Let's take a look at who will make the difference in the National League over the next five grueling weeks.
1. Justin Upton, Arizona Diamondbacks RF
Christian Petersen/Getty Images
Justin Upton might just be the next true up-and-coming superstar in baseball. A tremendous athlete, a superb fielder and now emerging as both a power threat and an on-base machine, Upton is carrying a mediocre Diamondbacks lineup to first place in the NL West.
Upton, batting .297 with 25 home runs and 77 RBIs, is the catalyst for a rather anemic offense. Ranked 21st in the MLB with a .247 overall batting average, the D'Backs are inconsistent at the plate, with a lineup filled with young, raw players and bargain veterans.
Upton has emerged as a bomber this year, truly providing the Snakes with the bite to scare a pitcher. Along with Chris Young, the slugging center fielder, Upton has grown through the Diamondbacks ranks up to the big leagues so he is a homegrown talent. Playing at spacious Chase Field, Upton has 36 doubles and five triples, giving him an excellent .539 slugging percentage to go along with his .372 on-base percentage.
The only question is will teams pitch to him down the stretch? Upton can do damage on the base paths, with 19 steals this year, but will still probably be walked in favor of the .235 batting Young or true rookie Paul Goldschmidt, only in his second month at the majors.
Upton will be the difference maker in the NL West. The D'Backs pitching will hold up against weak-hitting NL West foes, but if the Snakes can't score runs they will be overtaken by the Giants, who have proven they can score runs when necessary.
2. Ryan Braun, Milwaukee Brewers LF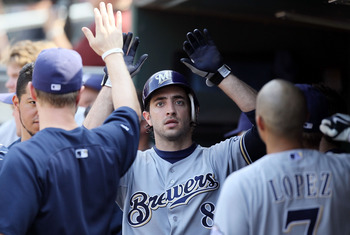 Jim McIsaac/Getty Images
The Hebrew Hammer, as Ryan Braun is lovably named by teammates because of his Jewish heritage, has nailed in a playoff spot for his Brewers squad as long as they don't completely collapse. Braun, along with slugging first baseman Prince Fielder, has been dynamite for Milwaukee this year, pounding pitchers all over the yard.
Braun has the National League's highest OPS (on-base plus slugging percentage) with a .994 mark. He has a .332 batting average, with 25 home runs and 87 RBIs. Quiet in his domination, he is definitely an NL MVP candidate even though he has one of the best tandem sluggers to protect him.
Braun is an athletic, intelligent outfielder that has been a clutch performer for the Brew Crew, who have a commanding lead in the NL Central over the St. Louis Cardinals. Ryan's 30 stolen bases is a testament to how well rounded his game is, and how he is truly a five-tool player.
The Brewers are going to be major contenders for the NL pennant because of Braun's growth and development. At only 27 years old, Braun will be leading many other teams to the playoffs and has a chance to be wearing many rings at the end of his career.
3. Prince Fielder, Milwaukee Brewers 1B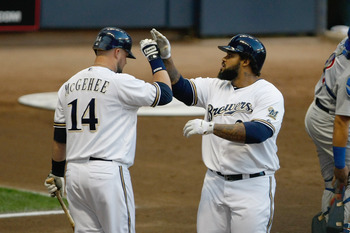 Scott Boehm/Getty Images
The Prince of Milwaukee has smashed his way to another fine season, and his clutch bat has made the Brewers lead in the NL Central even that much more comfortable. With the Brewers in a commanding position, Prince Fielder's impact has just been realized as so much more than his home runs and RBIs.
Speaking of gaudy stats, Fielder has a solid .298 average, with 29 home runs and 102 RBIs already. He's on pace for more than 125 RBIs, which will lead the National League.
His .412 on-base percentage is out of this world, second to only Joey Votto's unbelievable .438 mark, and his impact transcends deeper than just the stats.
His presence in the lineup makes opposing pitchers shudder at the thought of facing both Ryan Braun and Fielder in the same inning, back to back. Fielder has a bunch of walk-off hits, including three walk-off home runs in the last month.
Fielder will be a difference maker for the Brewers, but it is only a question of how far his blasts can take them into the postseason.
4. Philadelphia Phillies Starting Pitchers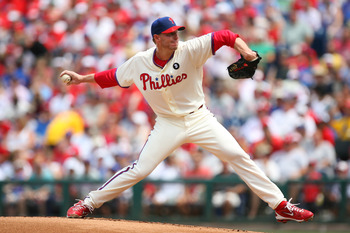 Hunter Martin/Getty Images
The Philadelphia Phillies pitching staff has been fantastic this year. Posting an overall ERA of 3.09—best in the MLB—the Phillies are dominating on the mound more than ever. With Cole Hamels currently on the disabled list, Roy Oswalt returning this month from missing all of July, the Phillies starting rotation has not missed a beat.
Vance Worley has filled out the rotation beautifully, going 9-1 with a 2.65 ERA. If he were a starter for the entire season, he would be a front runner for Rookie of the Year. Worley will be definite difference maker in the postseason if he can stay hot.
Kyle Kendrick has been serviceable, but Roy Halladay and Cliff Lee have been the glue for the Phillies team. With 29 wins between the two Cy Young winners, almost 400 strikeouts and 12 complete games, the Phillies are going to be the favorite in any playoff series they play in.
Ryan Madson has been excellent as the closer and Antonio Bastardo has been great in a set-up role. The starting pitching has carried this ball club, and is definitely a huge difference maker in September and October. With the veteran leadership and clutch experience they possess, they control their own fate in this year's NL playoffs.
5. Albert Pujols, St. Louis Cardinals 1B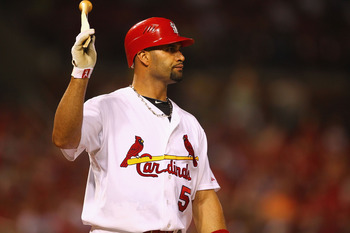 Dilip Vishwanat/Getty Images
Albert Pujols has the ability to carry a team into the playoffs. His ability will be put to the test, however, with the Milwaukee Brewers leading the NL Central by 10.5 games going into the last Monday of August.
Pujols has fantastic stats this season, even though he missed two weeks with a broken wrist in June. Pujols returned much earlier than expected and has torn up pitchers even since his return.
Pujols has a good supporting cast, with Matt Holliday and Lance Berkman both holding down the fort while he was gone. Pujols has 31 home runs, a .288 batting average and 78 RBIs.
The Cardinals are down to their last hopes, with only five weeks left. The Cards pitching staff has been shaky all season, but if anyone can unite the team and drive them to make this a race it's Pujols. September will be interesting in the Midwest if Pujols can get his squad going in what could be his last season as Cardinal.
6. Dan Uggla, Atlanta Braves 2B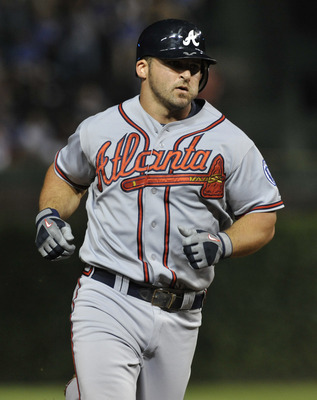 David Banks/Getty Images
Dan Uggla, the owner of the most exciting hitting streak this season, has been much improved after what was possibly the worst first half for Uggla in his entire life. Uggla was batting .173 on July 4, but since then has raised his average almost 60 points to .232 currently.
In his last 50 games, he has hit safely in 43 games while batting .319 (60 for 188) with 19 home runs and 39 RBIs during that stretch. Uggla has 15 second-half home runs and, with a young Braves team that has been inconsistent about producing runs, has brought a sense of calmness to Atlanta.
Atlanta has the pitching to make a deep run, but without a potent offense it will go down easily to other teams like the Milwaukee Brewers and the Braves' division rivals, the Philadelphia Phillies.
With All-Star catcher Brian McCann and young Freddie Freeman providing some depth in the lineup, Uggla could bring the Braves to a new level and capture the NL Wild Card spot rather easily, potentially even making a run at the Phillies.
7. Tim Lincecum, San Francisco Giants SP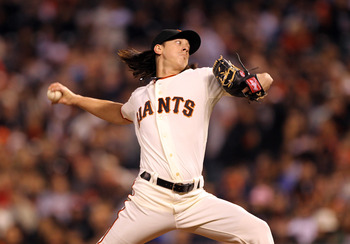 Ezra Shaw/Getty Images
Tim Lincecum's impact is diminished by the fact that he only pitches once every five days. Even if he goes on short rest, he will only be able to be involved in about six or seven more games in the regular season. He is a true difference maker, able to take over a game and shut down even the best offenses.
Lincecum is dominant once again this year, with a 2.46 ERA and 189 strikeouts. Lincecum has a disappointing 12-10 record only because of his lack of run support, and the fact he went through a tough stretch early this summer.
In his last four starts, the Freak is 3-1, allowing three runs in 29 and two-thirds innings. Lincecum will be able to face the rival Diamondbacks, who lead the division by four games, at least twice again as the D'Backs face the defending champs six more times this season.
The downside with Lincecum is the fact that two other division rivals have given Lincecum problems this year. The Dodgers have beaten Lincecum twice this year and the Rockies have put up five or more runs against him twice. He will need to win every one of his starts to make the difference for the Giants, who want the chance to defend their title in the playoffs.
8. J.J. Putz, Arizona Diamondbacks CL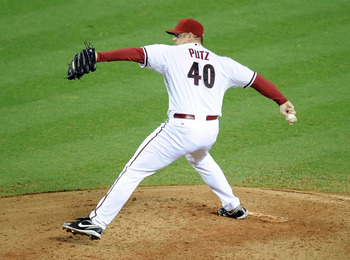 Norm Hall/Getty Images
J.J. Putz, who at the beginning of the season was in danger of losing his role as closer, could be the difference between the Diamondbacks holding on to the NL West lead as September rolls around.
Putz has converted all of his 15 saves since the All-Star break and currently holds a stellar 2.70 ERA. The owner of a 2-2 record with 43 strikeouts, his 33 saves overall and the fact the depth of the Diamondbacks bullpen has allowed Putz to rest occasionally.
Putz only allowed two runs in the month of August, and barring a decline in performance will be the Rolaids Relief Man of the Year award winner at the end of the season. Putz has been clutch for the D'Backs, who have needed some big time pitching to give their struggling offense room to breathe.
He will definitely be a difference maker for the Snakes, who could win or lose the division based on one converted or blown save.
9. Pablo Sandoval, San Francisco Giants 3B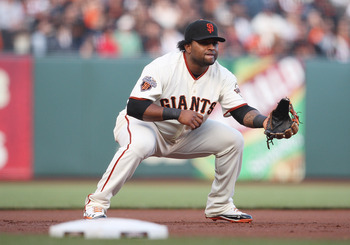 Tony Medina/Getty Images
The Diamondbacks offense has certainly struggled this season, but the San Francisco Giants offensive production has been downright dreadful. No player has been able to match their numbers from last season, and even midseason acquisition Carlos Beltran has failed to make an impact.
The Giants' qualifying batting average leader is Aubrey Huff, at an underwhelming .242 mark. However, Pablo Sandoval has had a resurgence and as he comes back into peak form and is the guy roaring up to push the Giants back into the playoffs.
The Panda, as lovably named and marketed, is currently batting .303 with 15 home runs. After missing all of May and some of June, Pablo has brought an energy to the anemic Giants lineup.
His .849 OPS and 50 RBIs will need to improve if he wants to take the Giants back to the playoffs, and will the deciding difference maker in the NL West race. Sure, Brandon Belt and Beltran will play a role, but the road to October runs through Sandoval's bat and his clutch hitting.
10. Ian Kennedy, Arizona Diamondbacks SP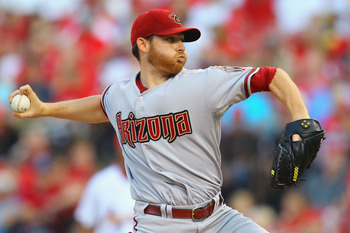 Dilip Vishwanat/Getty Images
The cast-off New York Yankee has become the best pitcher on the Diamondbacks talented squad, and perhaps one of the best starters in the National League. Rivaling the talented arms in San Francisco and Clayton Kershaw in Los Angeles, Kennedy has been lights out this season and will be a definite difference maker for the Diamondbacks this September.
Kennedy is 16-4, with a very good chance to make it to 20 wins for the first time in his career. His 3.09 ERA with 154 strikeouts in his 180 innings of work is outstanding and he is in the top of all the major categories for pitching. Not only tied for the NL lead in wins, Kennedy could be a Cy Young dark horse if he has an incredible September.
Kennedy has been dominant against the San Francisco Giants, whom he will face twice more this season, and has been very good against NL West opponents. All of the rest of his starts should come against NL West opponents, which shapes up very well for manager Kirk Gibson and the first-place Diamondbacks.
Keep Reading