UFC 137 Fight Card: 6 Bold Predictions for the Main Card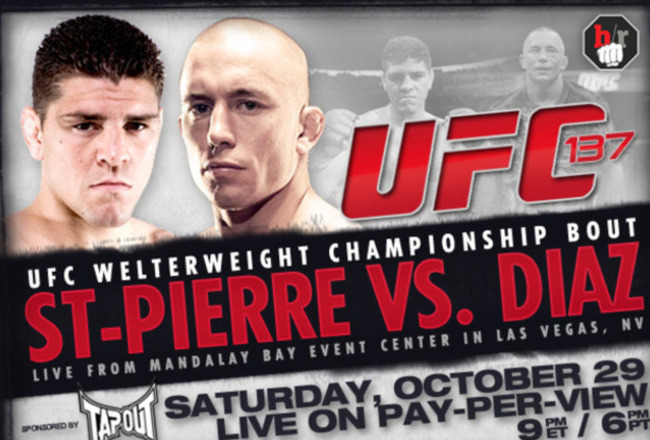 UFC 137 is just two months away and, based on the fights that have been announced, it should be one of the most exciting events of 2011—despite being headlined by the decidedly unexciting UFC Welterweight Champion Georges St-Pierre.
We all know that making predictions in MMA is a crapshoot; you can never be certain what's going to happen.
So, what's the point in playing it safe with your hunches?
Here's some bold predictions for UFC 137's main card; if these predictions were sandwiches, they would have chipotle on them.
The main card for UFC 137 is as follows:
Mirko Filipovic vs Roy Nelson
Sam Stout vs Dennis Siver
Cheick Kongo vs Matt Mitrione
BJ Penn vs Carlos Condit
Georges St-Pierre vs Nick Diaz
Dennis Siver vs Sam Stout Will Be "Fight of the Night"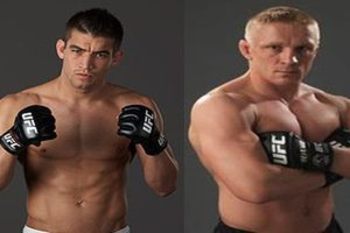 Some might find this an unlikely pick for "Fight of the Night," given that BJ Penn vs. Carlos Condit and Matt Mitrione vs. Cheick Kongo are also on the card. But I believe Dennis Siver vs. Sam Stout is going to take it.
Dennis and Sam are both known as fighters who always put on a good show for the fans and, between the two of them, they have eight fight bonuses.
Stylistically, it's a match made in heaven.
These two are very similar fighters in that they are both technically sound strikers who love to stand and bang, and don't often go to the ground.
They both also have great chins, so I don't see either fighter stopping the other—unless Siver hits his patented spinning back-kick, perhaps.
This one will be the kind of fight that the fans love to see: three rounds of standup war—and that will be all it needs to claim the "Fight of the Night" bonus.
Matt Mitrione Will Trounce Cheick Kongo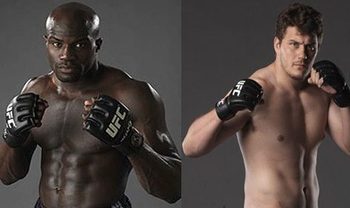 Matt Mitrione has been on a tear through the heavyweight division in the past two years, but he has yet to face any of the division's relevant contenders.
At UFC 137, Mitrione will get his opportunity to prove himself against an upper-echelon fighter in the form of Cheick Kongo.
Kongo has some of the best hands in the division, offensively, but in his fights with Pat Barry and Frank Mir we have seen that his striking defense could use some work.
Mitrione is one of the more fluent strikers in the division and is surprisingly light on his feet.
In terms of technique, Matt might be outmatched, but he'll be faster than Kongo.
I see Mitrione using his footwork to stick-and-move until he catches Cheick with a big shot and drops him. From there, he'll hammer out the TKO victory.
Mirko Cro Cop Will Cemetery Kick Roy Nelson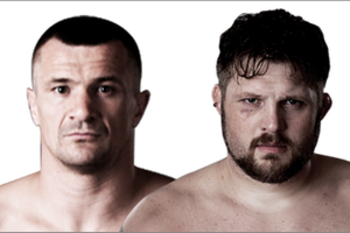 The general consensus these days seems to be that Mirko Cro Cop is long past his prime and has nothing left to give the sport.
I don't necessarily disagree, but I will say that even the oldest lion can still tear you to shreds if you're not careful.
Roy Nelson is not a fighter who is known for being careful.
When Mirko was in Pride, he was one of the most feared strikers in MMA and known, in particular, for his devastating kicks. Cro Cop was able to KO many of his opponent using his left high-kick, earning that strike the monicker of "the Cemetery Kick."
For awhile, every fighter Mirko faced had cause to fear the cemetery kick, but due to his recent string of performances, people have largely forgotten about it.
Nelson is going to come into this fight thinking Cro Cop is an empty shell of a fighter and his overconfidence is going to cost him dearly.
After winning the first round, Cro Cop will floor Roy with a cemetery kick. The kick won't quite put Nelson out, but Mirko will follow up with ground and pound and earn the TKO.
BJ Penn Will Destroy Carlos Condit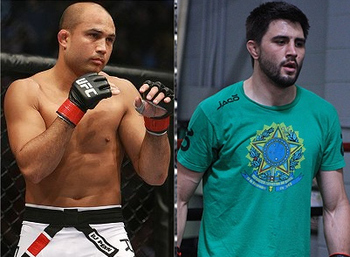 There is a lot of hype around Carlos Condit these days and, as much as I do really like the guy, I don't think he's as good as everyone thinks he is.
Let's take a realistic look at what Carlos has accomplished in the last year or so.
He fought Rory MacDonald and was undoubtedly losing the fight before earning a TKO in the closing seconds of the third round. Many thought that Condit was lucky to win that fight, as the stoppage was considered questionable.
After that, Carlos knocked out Dan Hardy. It was an impressive KO, but Hardy is one of the most overrated fighters in the division, so the victory didn't really mean as much as people made it seem at the time—especially when you look at Hardy's fights since then.
Following that victory, Condit knocked out Dong Hyun Kim with a flying knee. Another impressive win, sure, but what does beating Kim really mean? Kim almost lost to Nate Diaz, who is a natural lightweight.
Condit's win streak right now is impressive, but he has not been tested against an elite fighter.
BJ Penn is one of the greatest MMA fighters of all time and is coming off a draw with the No. 2 welterweight in the world, Jon Fitch.
Looking at this fight from an analytical perspective, I just can't see Condit winning. He definitely does not have what it takes to roll with BJ on the ground and I think Penn's boxing will be too much for Carlos to handle.
BJ is going to come into this one motivated because he knows a victory might earn him another shot at Georges St-Pierr; and that determination, combined with his remarkable skill set, will be enough to overwhelm Condit.
Georges St-Pierre Will Finish Nick Diaz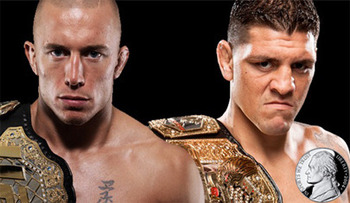 Most people have the same view of how this fight will go down.
Nick Diaz has always performed poorly against high level grapplers and Georges St-Pierre is arguably the greatest wrestler in MMA history.
Diaz may not be the best wrestler, but he has a concrete chin and some crafty jiu-jitsu.
Based on these facts, most people see GSP taking Diaz down each and every round and controlling his way to the decision.
I'm thinking that this fight will be more of a blowout than people expect.
Diaz has never defeated a top 10 fighter in his whole career and he is about to face the greatest welterweight of all time; Nick has no idea what he's getting himself into.
St-Pierre probably won't finish this one standing, and he probably won't catch a submission, but I can definitely see him gaining dominant top control and raining down shots until referree stoppage—Matt Hughes vs BJ Penn 2 style.
Georges St-Pierre Will Taunt Nick Diaz During Their Fight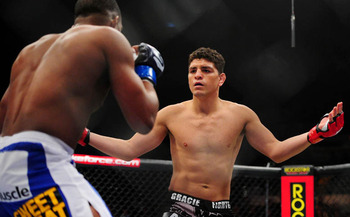 We all know that Nick Diaz is going to trash talk and taunt Georges St-Pierre during the fight—it's something he's done in almost every fight.
During the fight, Diaz will pull his usual antics—raising his arms and calling his opponent...well, calling them things that are not nice.
St-Pierre is a fighter known for his class and he never really has anything bad to say about his opponents, but being taunted by a fighter that is so beneath him will be too much for the champion to stomach.
Georges will finally let himself get loose and he will taunt Diaz right back—if Nick decides to taunt him (which we all know he will).
Andrew Barr is a Featured Columnist for Bleacherreport.com. For updates on what's happening in the world of MMA, follow him on Twitter http://twitter.com/#!/AndrewBarr8
Keep Reading