Terrelle Pryor: Worth the Risk for the Pittsburgh Steelers
August 22, 2011
In early June, I suggested that the Steelers should take a chance on Terrelle Pryor with a fourth or fifth-round selection in the supplemental draft.
However, after his pro day on Saturday, I no longer believe that Pittsburgh should spend a fourth or fifth on Pryor. They should spend a third, maybe even a second.
It would not be the first time that the Steelers took a chance on a quarterback to convert them to another position.
Pittsburgh spent their second-round pick in 2002 on Antwaan Randle El. He would make 162 receptions in his first four years in the league before signing with Washington.
Pryor is twice the athlete that Randle El was. In fact, Pryor is a rare athlete.
"You talk about a guy that's 6'5", 235 pounds that can run under a 4.4? That player doesn't exist," Pryor's agent Drew Rosenhaus said.
That was likely why 17 NFL teams showed up for his work at Hempfield Area High School's football stadium.
Steelers of football operations Kevin Colbert represented Pittsburgh as well as head coach Mike Tomlin who attended the workout after going through his team practice.
Obviously, the Steelers do not need a quarterback, but they do like versatile players, and Pryor fits the bill, but would he be willing to change positions?
"I'm not open to other positions, at all." Pryor said. "When I get on a team going in, I want to be a quarterback. But if there were to be a change, because there's another quarterback on the team that's been there and I need to go somewhere else to win, just for me sacrificing myself to help the team win, I'll do that."
Pryor may not have a choice. He will be facing a suspension and will not be able to practice or play with his team until Week 6. He can participate in practices and preseason games leading up to the regular season.
For this reason, Rosenhaus says that he will sign the day he is drafted.
But if Pryor's end goal is to be a quarterback, why should the Steelers draft him, let alone with a high pick?
Quick, name a fifth or fourth-round choice that has contributed within the last five years. Now, how about a third or even second?
Sure, you can name players, but how extensive is that list?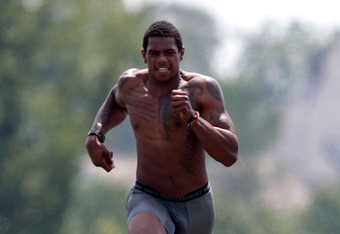 There are big-time hits, such as LaMarr Woodley who is now one of the top pass-rushers in the league. Then, there are big-time misses such as Limas Sweed who is now looking for work elsewhere.
Pryor is a risk, a big risk. But he also has a huge potential payoff.
With his combination of size and speed, he can be worked into a specialized role with the offense where little is asked of him as far as route running goes. Keep in mind, the Steelers are still very deep at the position.
Pryor could also be used for gadget plays, and they could possibly even work him into a hybrid wide receiver/tight end role.
His sub 4.40-40 speed and 31-inch vertical would be difficult to defend.
Though, it does not translate to the NFL game, watching him run the occasional play at wide receiver back in high school made me think that he would be not just a good, but a great wide receiver. Now is his chance.
Pryor would not have to be exclusively a receiver, for now, as he could also be the emergency third quarterback which would save a roster spot.
He also has some connections with the Steelers.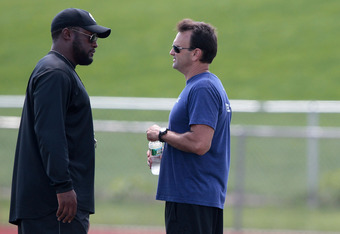 For several months prior to his workout, Pryor has worked with former Steelers quarterback coach Ken Anderson to get ready for the NFL.
If you remember back his high school days, Charlie Batch was one of his mentors as well.
Now, after spending time with the Steelers at their headquarters today, it is clear that they doing their homework on the former Jeannette quarterback.
So why not spend a higher draft pick on such a great athlete who seemed to do nothing but win in college? Keep in mind that the Steelers usually draft at the bottom of every round so a second-round pick is more like a third—a third more like a fourth, etc.
With that said, while Pryor could help the Steelers and I would not be disappointed to see him wearing the black and gold by the end of the day Monday, I also would not be disappointed if they did not try to acquire him either.
Pittsburgh is a deep veteran team that will be one of the top Super Bowl contenders with or without Pryor.
For Pryor, if he wants to win while playing another position, Pittsburgh would be a great place, and it seems like he would be just fine with that.
"But I also said because I'm so far behind, if you want me to do some things and get on the field where I play quarterback or somewhere else, if you feel that it's best to win, I'm all about winning."
Pittsburgh is all about winning, and Pryor is as well. Give him a chance and he will make things happen.
Pryor is worth the risk for the Steelers.
Follow me on Twitter @ChrisG_FC