Washington Redskins: Why Rex Grossman Deserves the Starting QB Spot
August 20, 2011
Ever heard of this name, Chicago or Washington natives? 
Sexy Rexy, the Rex Cannon. All the above labels are all too familiar.
The story of Grossman begins in Chicago, in 2003. A 6'1" quarterback from Florida is drafted in the hopes of finding a talented, productive individual under center. 
Fast forward three years later, in 2006: The injury-prone Grossman finally comes out for his fourth season healthy and prepared to handle the reins of a hard-nosed offense for the Monsters of the Midway. The Chicago Bears finish 13-3, win the NFC Championship, and lose to the Indianapolis Colts in Super Bowl XLI. 
The criticized Grossman completes 20 passes out of 28 attempts, efficiently, and even throws a touchdown following a Devin Hester kickoff return for a touchdown. However, multiple mistakes on both sides of the ball pressure Grossman to force the ball, which leads to two interceptions.
Afterwards, much blame is put on Grossman, unfairly, and he is eventually run out of Chicago despite major improvement and work. 
Currently, preseason of the upcoming 2011 season: Rex Grossman finds himself in yet another quarterback competition against John Beck. A year ago, Grossman took over for Donovan McNabb, and had, statistically, his best year yet. Grossman compiled a 81.2 passer rating in three games, showing Washington he is capable of starting.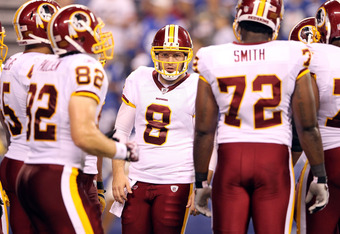 The distinction in the differential of years in terms of Grossman's performance is anything but minuscule.
Grossman has displayed remarkable improvements in term of pocket presence, poise and throwing on the run. A knock on the Indiana native has always been the ability to make plays, how he's a pocket quarterback.
Now, though, Grossman maintains the ability to throw off his back foot, as well keep his eyes downfield while escaping pressure. The Redskins line is far from spectacular but is able to give Grossman enough time to find a receiver.
On top of his newfound playmaking abilities, Grossman's decisiveness has been enhanced greatly.
With Mike Shanahan's routine rushing success, Grossman has plenty of options in terms of short and long pass completions against a looser defense—utilizing his cannon of an arm.
Rex Grossman is more than deserving of a starting position in Washington, not only for his skill set, but for his unmatched work ethic after falling multiple times and still striving to improve for the better of his time.