Pittsburgh Steelers 2011: Thoughts on a Couple Roster Position Numbers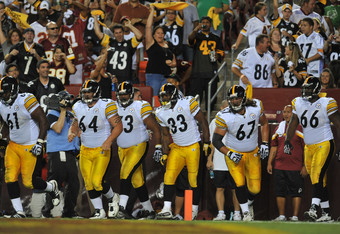 Larry French/Getty Images
Now all my thoughts are fluid and things could very well change if the Steelers sign other free agents and or waived players between now and the time the final roster has to be turned in.
First up, the sixth WR position vs. a third TE on the roster.
Last year, the Steelers only carried two TEs, and David Johnson as an HB, which is a FB/TE hybrid. In the 2010 season, they carried a sixth WR, Arnaz Battle, as a gunner on special teams. With the changes in the kickoff rules in the upcoming 2011 season, they may not need nor want to carry a sixth WR whose only purpose is a special-teams gunner.
Come roster time, the Steelers could keep a rookie TE with an upside like Weslye Saunders as a third TE, or a sixth WR such as Tyler Grisham. Now, I like Grisham. He shows good hands as a slot receiver, But, the Steelers already have Hines Ward, Saunders and Cotchery that can and do play the slot position well. So why keep Grisham over a rookie TE with upside?
Next up, the 10th offensive lineman vs. a ninth linebacker.
With the offensive-line roster as it is now and barring any other signings, there are seven players already a lock to make the final roster: Willie Colon (T), Maurkice Pouncey (C/G), Jon Scott (T), Chris Kemoeatu (T), Doug Legurskey (back-up center/RG), second-round draft choice Marcus Gilbert (T) and Ramon Foster as back-up L/R guard.
The last two spots on the OL roster is a fight for the right guard and back-up left tackle spots. And wonder of wonders it looks like it is between a past underachiever, Tony Hills. He is getting the start at RG against the Eagles in the Steelers second preseason game. Number two in the running for the RG spot is an inexperienced Chris Scott. He was drafted in 2010 and spent the last quarter of the Steelers 2010 season on the inactive list. But because of an injury before training camp, Scott has no game experience and it showed in the Steelers first preseason game against the Redskins. Lastly is the 2011 late-round draft pick guard Keith Williams, who makes a total of 10 offensive linemen. Three of those 10 OL players are rookies in one way or another. I just can't see the Steelers keeping 10 offensive linemen when three of them are rookies. So, unless the Steelers sign a free agent or a waived OL player by the time final rosters are due, I only see nine OL players making the final 2011 roster.
The latter could open the door for a ninth LB this season. ILB Mortty Ivy has shown some good things in camp and in the Steelers first preseason game. For 2011 the Steelers have no need for another ILB on the roster. With an aging Larry Foote and James Farrior, 2012 could be a totally different story. If Ivy can contribute on special teams, why not keep nine LBs on this year's roster?
Last thought: The Steelers resigned 35-year-old DL Chris Hoke. That means unless the Steelers keep seven DL players, NT Steve McClendon will probably be waived if the Steelers can get Anthony Gray onto the practice squad.
This article is
What is the duplicate article?
Why is this article offensive?
Where is this article plagiarized from?
Why is this article poorly edited?

Pittsburgh Steelers: Like this team?