WWE Summerslam: If Randy Orton and John Cena Leave with the Belts, I Riot
August 14, 2011
Gallo Images/Getty Images
I know what you're thinking: "Oh great, another IWC Cena hater. Give it a rest already!!!" But this isn't (completely) true. I am not just another Cena hater (yes I am) and this article isn't meant to be yet another Cena bashing party (it really isn't).
I am by no means a CM Punk mark, I am however, a bit of a Christian mark. But I am attempting to put my biases aside for the sake of this article. I am trying to write this as an unbiased WWE fan and pro wrestling observer (not the website).
Although I do not particularly like Cena, I have nothing against Orton. The reason I would riot if Cena and Orton left with the WWE Championship and the World Heavyweight title, respectively, is because neither one of them needs the straps. Their opponents, however, do need the straps.
I have been an advocate of Christian winning a major strap since he came back to the double-double-e (http://bleacherreport.com/articles/544960-a-top-title-push-for-christian-would-reek-of-awesomeness). The question is this: does Christian need to retain in order to appear as a credible World Heavyweight Champion? Yes. Does Orton need the strap in order to appear credible in any way, shape or form? Certainly not.
When Christian won the belt at Extreme Rules, I let out an odd, gleeful cheer that no man with a beard should make. When Christian lost the belt to Orton a few short days later, I let out a TNA-worthy man-groan from the very depths of my soul. I couldn't believe the WWE would do something so dumb.
I shouted to my television set "Why does Orton need the belt? Hasn't he won it enough times? Cant Christian hold it for longer than a few days?! Why? Why?!?!"
Then I saw that it was to slowly turn Christian heel and the pay-off was worth it. Then Christian finally won back the belt but was booked to win in such a craptastic (it's a word) fashion.
Now at Summerslam, Christian will meet Orton for the one hundredth time. Christian needs this win to appear credible as Champion so he can move on from this feud and keep the strap for a good length of time.
Do we really need to see another Christian/Orton match? No. So hear me WWE, if Orton wins the belt, I will riot. Riot, I say!
Now, let me ask the same questions of Punk/Cena as I did for Orton/Christian: does Punk need to retain in order to appear as a credible WWE Champion? Yes. Does Cena need the strap in order to appear credible in any way, shape or form? No way, man.
I don't need to tell you that when Punk cut his famous shoot promo and subsequently won the belt at Money in the Bank, it was a major coup for the WWE. It marked a new era of unpredictability that WWE has missed for some time. Punk winning was a glorious time for the WWE fans. Except for children ages 1 to 13 (yeah, I went there) and women (yeah, I also went there).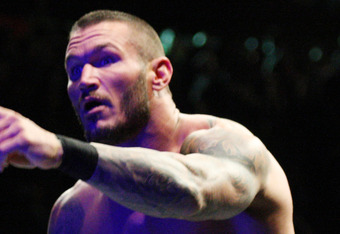 Gallo Images/Getty Images
I was happy, you were happy, the IWC was happy, we were all happy. Then guess what? WWE put another belt on Cena! Really? Really? Really? However, I was premature in my sorrow as there may be a legit payoff to that ridiculousnessocity (also a real word).
There's no reason on God's beautiful, green earth, that John Mildred Cena needs any belt, ever again. So if he wins at Summerslam, clean, it would be a travesty. There is a way that I would not riot if he leaves as champ. You can probably guess it, what, with me being the typical anti-Cena adult male. Go ahead, guess.
Yep! Cena turns heel because he is in cahoots (yea, I said cahoots) with H-H-H. Will that happen? I dunno, but if it did, I would be happier than if CM Punk won clean. Obviously something goofy is going to happen since H-H-H is the special guest referee.
My point? Cena does not need the belt, Punk does. Punk needs to appear credible, he needs to prove he is more than, as Cena put it, a one-hit wonder.
So hear me WWE, if Cena wins the belt clean with no heeltastic payoff, I riot. Riot, I say!
Why should WWE care if I riot, you say? Because I will do severe damage to the nearest Tonka truck. I will flip it, set it ablaze, and then I will get tired and take a nap.
So WWE, if two guys who do not need the strap go over two guys who do; I shall riot. Good day.
UPDATE- Allow Riot pre-launch sequence to commence....stupid Orton...
UPDATE- OK, I dont have to riot. That ending was straight crazy, yo
Let me hear some thoughtski's.