Who Is Philadelphia Phillies' 4th Playoff Starter, Roy Oswalt or Vance Worley?
August 15, 2011
Dilip Vishwanat/Getty Images
The Philadelphia Phillies are a virtual lock for the playoffs. Their continued dominance thus far this season has resulted in an MLB best 78-41 record and a nine game lead in the NL East (through Sunday), rendering the remaining six weeks of the regular season to be little more than a dress rehearsal for the playoffs. For two right-handed pitchers, however, the future isn't so crystal clear.
For Vance Worley and Roy Oswalt, 2011 has been the tale of two seasons; the best of times and the worst of times. Worley is in the midst of a season that reads like the script of a Disney movie. A third-round pick in 2008, the 23-year-old Worley was not expected to be a contributor to this year's team as he broke spring training as a member of the Triple-A Lehigh Valley Iron Pigs. However, his performance in spring training was strong enough that, when Joe Blanton went down with an injury in late April, the Phillies turned to Worley to fill Blanton's role as the team's fifth starter.
Worley's first start was impressive, allowing just two hits in six shutout innings against the New York Mets, and he has been on fire ever since. His stat line belies his stature as a rookie trying to find his way through his first full season in the big leagues. In 16 appearances, 14 of them starts, Worley is sporting a tidy 8-1 record, with a 2.85 ERA through 88.1 innings. Even more impressive is his WHIP, currently hovering just north of 1.1. Bearing an uncanny resemblance to Rick Vaughn, Worley has quickly become a fan favorite at Citizens Bank Park.
Oswalt, on the other hand, would probably like to take a mulligan on 2011 altogether. His season to forget started to go sour in spring training when a ball hit by Manny Ramirez struck Oswalt in the head, just under his right ear. Things have not gotten much better since then for Oswalt. First came a lower back strain in late April that landed him on the 15-day DL, followed by a devastating tornado which destroyed his hometown in Mississippi, precipitating a short leave of absence from the team. In late June, Oswalt returned to the DL with pain in his lower back, diagnosed as a "mild bulging disc". That stint on the DL lasted six weeks.
Oswalt only recently returned and has had two mediocre outings in the time since. He is carrying a pedestrian 5-7 record through 15 games, with a 3.84 ERA through 84.1 innings. In contrast to Worley, Oswalt's WHIP is an uncharacteristic 1.4.
As the Phillies gain steam towards another postseason run, Charlie Manuel must begin to closely examine which pitcher would serve best as the team's fourth postseason starter.
Obviously, if Oswalt is able to return to form, he will warrant the position on name alone. He is a proven commodity and, if healthy, will have the job. However, if his struggles continue and his health does not improve, Worley's performance thus far this year has to earn him at least some consideration for the job.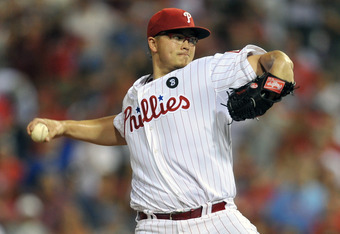 Drew Hallowell/Getty Images
That being said, it must be noted that rookie pitchers' futures are amongst the hardest to project in all of sports. All too often, a rookie pitcher comes out of the gate sizzling, only to fizzle as time wears on as hitters gain familiarity with his delivery and tendencies.
In baseball, where hitters have less than a split-second to decide whether a pitch is a fastball or an off-speed pitch, a ball or a strike and finally whether to swing or watch the ball fly by, an odd quirk in a delivery, the ability of a pitcher to hide the ball for a fraction of a second longer than his average peer or even the tempo at which he pitches a game can swing the balance of power in the pitcher's favor.
This advantage is evident the first, second and sometimes even third time a particular pitcher faces a particular team. As hitters develop a scouting report on a pitcher, that advantage tends to fade. Phillies fans will recall the promising rookie seasons of Gavin Floyd, Brandon Duckworth and Tyler Green, pitchers who each had rookie campaigns that seemed to be the start of a much more successful career than each actually went on to have.
Worley's last start was arguably his worst. The Los Angeles Dodgers tagged him for six earned runs on seven hits in just four innings. It will be interesting to see if his struggles were an aberration or a sign of what is to come. The encouraging news is that he has bounced back from a poor start before after being lit up by the New York Mets early in the season, however, as the season wears on and the scouting report on Worley grows, hitters are beginning to learn what to look for from him making a recovery all the more difficult to come by.
The final six weeks of regular season baseball will mostly serve as a tune-up for the playoffs for the Philadelphia Phillies. This year's playoff run carries more weight than those in recent years, as it will be only with a successful playoff run that this team can claim its true place in Philadelphia baseball history.
For Worley and Oswalt, however, the final six weeks will be much more important. Worley must prove that he is more than simply a fill-in on one of the best pitching staffs in baseball history. Oswalt, on the other hand, will seek to regain the Cy Young-caliber form that had Phillies fans so excited for his arrival last year. It will be an interesting subplot for fans to follow, and the next six weeks will go a long way in helping Charlie Manuel to determine who to tab as his fourth playoff starter.