2011 NFL Top 10 Tight Ends
September 1, 2011
Jeff Gross/Getty Images
1. Antonio Gates - Chargers
He's a matchup nightmare, even when he's battling injuries, when healthy, he is one of the more special players in the entire league. In 10 games last year, he averaged over 70 receiving yards and one TD catch a game. At that pace for 16 games, he is putting up historical stats for tight ends. A massive former basketball player who can run, jump, and catch. His blocking is good as well.
2. Jason Witten - Cowboys
A smart, complete offensive star for Dallas, he has played consistently well. He's a very good blocker for the position, and he helps an inconsistent Cowboys' offensive line to let the offense prosper. He is also among the best receiving tight ends in the league, running good routes with good athleticism. A complete tight end who is a legitimate argument for the best TE in the league.
3. Tony Gonzalez - Falcons
Gonzalez is probably the best tight end of all time, and although he is on the final stages of his career, he remains among the best. He's not as fast or as strong as he once was, but he is unmatched in awareness and experience for the position. He is still a receiving threat with great hands and good route running. He is a great blocker as well, and a invaluable asset to youngster Matt Ryan.
4. Dallas Clark - Colts
Probably the best receiving tight end on this list, he is a important aspect for Peyton Manning and the pass-happy Colts. He's not the best blocker, but it is not required of him, too much. He is exceptionally fast and quick for the position, making him one of the best in the league out of the slot as well as from the traditional tight end spot. His return to health is a big help for the Colts.
5. Vernon Davis - 49ers
An athletic freak who has fine-tuned his technique, becoming a good blocker and route runner to add on to his incredible natural ability for the position. His production has been solid, and to his credit his QB situation is the most unstable. Although he is at No. 5, he is a respectable argument for the best tight end in the league.
6. Mercedes Lewis - Jaguars
Lewis has reached his prime and has started to live up to his potential. He has a great combination of size and speed, who runs fluid routes and consistently catches the ball. His blocking is good, but not outstanding. He has become a focal point in Jacksonville's offense, who consistently hold their ground in a competitive division.
7. Kellen Winslow II - Buccaneers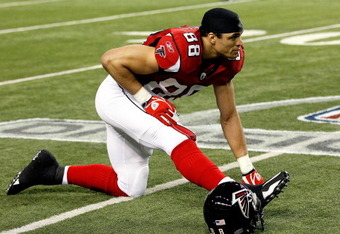 Kevin C. Cox/Getty Images
Winslow is a asset for offensive coordinators with his ability to create mismatches in the passing game. He has great speed, and most linebackers can't keep up with him. He's not the biggest tight end, but has enough size to overpower defensive backs. He's been very important to rising star QB Josh Freeman. Also, this position runs in the family for him.
8. Jermichael Finley - Packers
He is a tall, fast receiver with huge upside at the age of 24. He was injured during the Packers' Super Bowl run, but I'm sure he would have made the triumph even easier. Finley will likely ascend to be in the Gates, Witten, etc. discussion in the coming years, and seems primed to become a marquee, elite tight end in years to come.
9. Brandon Pettigrew - Lions
A young player with a complete game, the former first round pick could be the best in the game in a few years. He has above-average, size, strength, and athleticism to cause many mismatches. He's also a great blocker for his position and age, and plays with a veteran's intellect. He's developed in to a well-rounded consistent player who has prospered under a lot of QB injuries in Detroit.
10. Chris Cooley - Redskins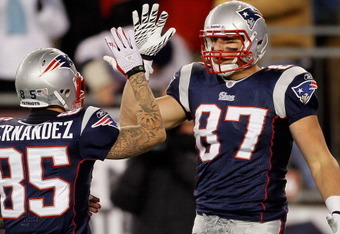 Jim Rogash/Getty Images
An underrated TE who has a lot of versatility and respectable athleticism, size, and strength. A converted fullback, Cooley blocks well and receives even better. The only thing with him is he needs to stay healthy. He has gone through some QB changes the last year, but he's a huge part of the offense, and they need him healthy to improve from a very disappointing Redskins season last year.
Also Considered...
Owen Daniels: great when healthy, but most of defense's attention is on Andre Johnson
Greg Olsen - Panthers: leaving Chicago should help his productivity, now in a better TE system
Dustin Keller - Jets: all the ability to be elite, but still waiting for that breakout season
Aaron Hernandez - Patriots: great rookie season, but it's easier with Brady (example No. 1)
Rob Gronkowski - Patriots: great rookie season, but it's easier with Brady (example No. 2)
Heath Miller - Steelers: one of the best TE blockers, but not a great receiver
Zach Miller - Seahawks: an athletic player who has developed well and still has upside
Kevin Boss - Raiders: very underrated player the Giants will regret losing
Brent Celek - Eagles: productive TE in Philadelphia, option other than speedy wideouts