San Francisco Giants: With Offense Beyond Bad, There's Only One Way to Repeat
August 13, 2011
Justin Sullivan/Getty Images
What's left to be said about the Giants offense?
Nothing.
"Nothing" in terms of an affirmative statement of how lifeless the bats are for the defending champs, and "nothing" as in "there's no more to say."
So what is to be done?
After we dispense with the gripes over how Bruce Bochy and Brian Sabean refuse to give Brandon Belt the nod over the veterans on this club, both in the outfield and at first base, the bottom line is this:
There is no guarantee that anyone on this club will hit. Ever. That includes the best of the best that the Giants have to offer, except for Pablo Sandoval. Consider the curious case of Jeff Keppinger, one of the newest Giants.
Keppinger is well-known as a contact hitter that just doesn't strike out often. In fact, in 163 at-bats with the Houston Astros prior to his trade, Keppinger struck out seven times.
That's one strikeout every 23 at-bats.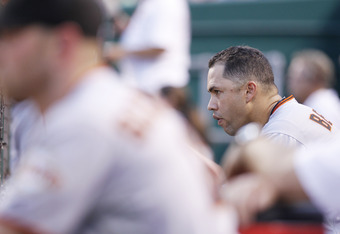 Joe Robbins/Getty Images
With the Giants? Nine strikeouts in 75 at-bats, or one strikeout every eight at-bats. That's not to mention a batting average (.280) in San Francisco—27 points below Keppinger's clip with the Astros (.307).
Or how about Carlos Beltran, the chief acquisition of San Francisco's offensive-improvement agenda prior to the July 31 trade deadline?
Beltran hit .289 with the Mets this season, and since being traded to San Francisco, has hit .244 with 11 strikeouts and just a single walk.
So with the Giants, Beltran is drawing one walk for every 11 strikeouts; with the Mets, Beltran had roughly one walk for every strikeout (60 walks, 61 strikeouts with New York).
As painful as all of these numbers are, it doesn't end there.
Even Orlando Cabrera, the shortstop the Giants acquired from Cleveland, has caught the offensive cold.
Cabrera was only hitting .244 with the Indians and has hit .244 since the trade, but his on-base percentage is down 21 points (.277 to .256). His strikeout per at-bat ratio has skyrocketed—from one strikeout every 10 at-bats in Cleveland, to one strikeout every five at-bats with the Giants.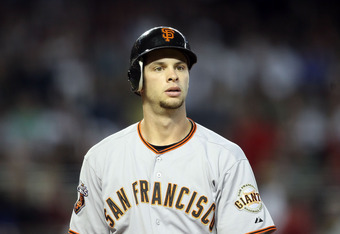 Christian Petersen/Getty Images
These three hitters are professionals when it comes to wielding a baseball bat. They are not incompetent. They are not washed-up.
But their disadvantage? They wear the uniform of the San Francisco Giants. For whatever reason, that means that they magically become powerless against their fate of offensive futility.
So it's up to the pitchers; what else is new?
The 2010 Giants officially ushered in the new pitching-dominant era in Major League Baseball by winning the World Series with an offense that ranked in the bottom half of the league but a pitching staff beyond compare; proof positive that great pitching can carry a team to a title.
That experiment not only continues in 2011, but is being strenuously tested.
With an offense ranked at the very bottom of the league and unable to support one of the best pitching staffs in the game, repeating as world champions will mean making history, because it is unlikely there has ever been a team that has had a poorer offense than this Giants club and won a championship.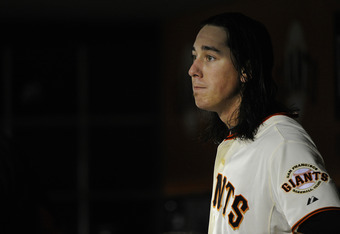 Thearon W. Henderson/Getty Images
Well, what else can be said but: So be it. The Giants are currently second in the National League with a team ERA of 3.20, they lead the league in strikeouts and opponents' batting average.
Like it or not, they'll have to do better than that in order to have any chance at successfully defending their championship, let alone make the postseason, in 2011.
As they take the field Saturday at Sun Life Stadium in Florida, the Giants will find themselves two games behind the NL West-leading Arizona Diamondbacks.
Tim Lincecum will take the hill and he will have to lead a pitching staff that will need to not only continue its current dominance of opposing teams, but vastly improve upon it.
The Giants are scoring 3.4 runs/game and the pitching staff will have to bring the collective ERA down to three or below to give this offense any chance at out-scoring their opponents.
How can this pitching staff get any better?
The answer to that question can be given in three words: stop walking hitters.
As fantastic as San Francisco's staff has been, the Giants are third in the NL in walks issued, with 402. At the same time though, the Giants have given up the fewest hits in the league.
What this indicates is that, if they gain better command of the strike zone, the pitching staff has a legitimate chance of finishing the season with a team ERA close to an even three runs.
After all, a couple of walks and and one extra-base hit results in a line score of two runs on one hit—something we've seen all too often with the Giants.
The only constant on this team is its backbone: pitching
With Carlos Beltran injured after just two weeks in a Giants uniform, there is no guarantee that San Francisco's offense will get any better.
In that type of a situation, the burden of the quest to repeat as world champions will fall on San Francisco's pitching staff.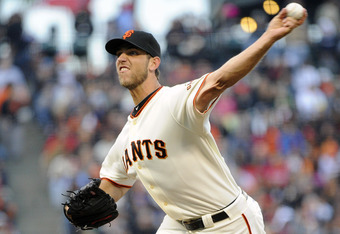 Thearon W. Henderson/Getty Images
Unfair, you say? Sure. But that's the hard truth for the Giants and that's how any pitcher on San Francisco's roster will have to look at the stretch run: either make history on the mound, or suffer elimination before the World Series.
Could there be a hitting hot streak on the horizon? Anything's possible.
But if there's anything that we've learned following the Team of Torture, there are no guarantees. The rare jewel that the Giants have is their pitching staff, and it will have to perform even better for the defending champions to retain that title come October.