Kevin Durant: Why the Thunder Phenom Could Break the All-Time Scoring Record
August 15, 2011
Kevin C. Cox/Getty Images
Kareem Abdul-Jabbar's all-time scoring record has stood for more than 20 years, but if numbers are any indication, Oklahoma City's Kevin Durant may ultimately rewrite the record books.
Already a two-time All-Star and two-time NBA scoring champion, Durant has emerged as one of the deadliest scorers in the NBA today.
And the craziest part of it all? He's only 22 years old.
Kareem Abdul-Jabbar didn't even play his first NBA game until he was 22 years old.
Kareem the Dream's scoring record stands at 38,387 points, but with over 8,000 points in his first four years in the league, Durant certainly has a head start on Abdul-Jabbar's lofty total.
Let's take a look at a few possible scenarios for how Durant could set the new mark.
Kareem Abdul-Jabbar retired following the 1988-1989 season shortly after his 42nd birthday, and if Durant were to play until that age, he would only need 1,600 point per season (20.8 points per game, while missing an average of five games per year) to all but guarantee himself the all-time scoring record. However, a 23-year NBA career is not the most likely scenario, as it would probably require Durant to play more games than anyone else in history. 
A much more practical scenario would be if Kevin Durant played an equal number of seasons as Kareem Abdul-Jabbar. He would retire at the age of 38 following a 20-year NBA career, and would need just under 1,900 points per season (24.5 points per game, while missing an average of five games per season) to break the record.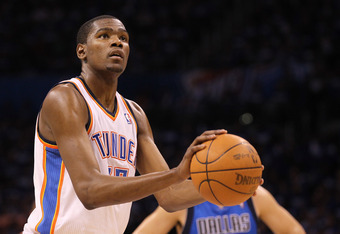 Ronald Martinez/Getty Images
If this were the case, let's look at the nightly numbers that Durant would need to set a new record.
The Oklahoma City stud averaged roughly 29 points per game and 80 games per season over the last two years. At only 22, Durant's NBA prime is still ahead of him, and if he could repeat these numbers for six more years, he would be at 22,048 points and put himself in a great position to rewrite history.
From there, Durant could suffer from the production dip that generally plagues aging NBA players. We'll say that his scoring will decrease to about 25 points per game, and he'll miss an average of five games per season. If he can keep up these numbers for five years (until he is 33 years old) he will have accumulated a total of 31,673 points. 
And in the last five years of his career, all Kevin Durant would need to break the record is an average of 18 points per game and 75 games per season. A good free-throw and three-point shooter, Durant could definitely achieve these numbers even as he ages and loses his physicality.
Of course, there are other factors such as health, team dynamics, a looming lockout and whether Kobe Bryant breaks the record first, but if his numbers so far are any indication, Durant could potentially go down as the greatest scorer of all-time.