Arsenal FC: Mr.Wenger, Is There No Need for More Defenders at the Club?
August 12, 2011
Tom Dulat/Getty Images
Last season, Arsenal's chances of a quadruple suddenly went down to nothing within two weeks of time.
At the end of last season, the Gunners fans were left fuming by the defense, with Arsenal managing only a fourth place finish after promising so much.
After the final Premier League game at the Craven Cottage last season, Arsene Wenger said, "We have shown that we have the technical quality to win the league but certainly not the defensive solidity to do it."
Arsene Wenger also said that the Gunners should be "sensible" in the summer transfer window.
Two and half months into the transfer window, Wenger is still unable to prove his sensible summer spending. Carl Jenkinson, Gervinho and Alex Oxlade Chamberlain were signed in the transfer window and Ryo Miyaichi got his work permit to play for the Gunners.
Except for Jenkinson, all the other signings fall in the category of attacking midfielders (an area of not much concern). Jenkinson also cannot be considered as the much needed signing as he will be acting as a backup for Bacary Sagna.
Gael Clichy's departure made Keiran Gibbs as the first choice left back in the preseason. Armand Traore will act as a backup for Gibbs (or rather him and Gibbs will be sharing that position throughout the season).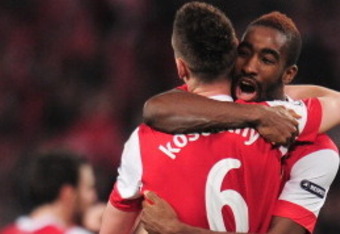 Shaun Botterill/Getty Images
In case Gibbs is injured, and Traore is out of form, or both Gibbs and Traore are unable to step up into Clichy's shoes, then our Verminator will have to play as the left back!
Wenger could have signed Newcastle United's Jose Enrique, who is about to join for Liverpool after refusing to sign a new contract with the Toons.The Spaniard is believed to have cost Liverpool in the region of £6 million, which would have been a reasonably acceptable price for Wenger.
Coming to our defense department, we have Thomas Vermaelen, Laurent Koscielny, Johan Djourou and Sebastien Squillaci. Last season, in the absence of Vermaelen, Koscielny and Djourou formed a good partnership (not the best) in defense. Arsenal ended up as team that allowed the most goals of top four finishers last season.
While Squillaci has been a flop, the number of defenders available gets reduced to three. If Vermaelen plays as the left back, then Koscielny and Djourou have to take care of the defense.
Earlier in the transfer window, Wenger accepted that he had to find one more defender.
"Certainly, we will have to find one more defender," he said. "We [are] working on it.
 
"I can promise we work very hard on it. In fairness, everybody looks for players. Everybody looks for the same area and you see that nobody turns up with magic. It's all about being steady, working very hard on it and being calm as well."
Arsenal have been linked with an array of defenders with the likes of Bolton's Gary Cahill, Blackburn's Christopher Samba, Everton's Phil Jagielka and Werder Bremen's Per Mertesacker.
While Bolton's boss Owen Coyle denied that any contact was made for the England international, Arsenal's £12million bid for Jagielka were rejected as they were considered very low according to Everton.
But Wenger has now insisted there is no need for any more defenders at the club. 
"We currently have four central defenders, and thus we do not need any more," Wenger told Kicker.
If what Wenger told above is his final decision, then as a Gunners fan, I cant expect anything this season. By looking at the preseason games itself, the defense was not as expected by the fans, with Vermaelen and Koscielny being the best of the lot. Just in case someone comes up with an injury and Vermaelen plays as a left back, then the defense will be a major concern for the Gunners.
After 75 days into the transfer window, Arsenal still has the same weakness—the defense.
All I am hoping is that Arsene Wenger is just confusing the media with his statements and he is well aware of his priorities and Arsenal's necessities in this transfer window.
Eagerly awaiting the signing of some defender this month!