Jeff Hardy & Matt Hardy Won't Be Back in TNA Unless They Go to Drug Rehab
August 11, 2011
While it had been kinda known for a while, the latest issue of Dave Meltzer's Wrestling Observer Newsletter outright says what we had figured for a while. TNA won't use Matt & Jeff Hardy unless the go to rehab for their ostensible drug problems. Matt & Jeff are refusing.
Both have noticeably had issues for some time now.
Jeff Hardy's 2003 WWE firing was the result of him refusing to go to rehab for what he later said was crystal meth addiction.
For several months prior to his release, his performances had been embarrassing (most notably completely forgetting a planned spot at Survivor Series 2002 and botching every move he tried in a match with Triple H on Raw), and Vince McMahon even felt the need to give him as much positive reinforcement as possible to try to snap him out of it. 
His one appearance in ROH (which helped them draw their then record crowd) was a mess. He signed with TNA, but constantly showed up late to shows...if he showed up at all. Yes, he no-showed plenty of TV tapings and was eventually let go after he missed a pay-per-view event.
His 2006 return to WWE was controversial, as he had not proven that he had cleaned up, he just said he had. This is when he went public about his issues with crystal meth in a WWE.com interview, which was later edited to remove any reference to a specific drug. 
Throughout his second WWE run, his performances never suffered and he reached new heights as a star, but he was suspended twice for failing drug tests. The second suspension happened right before he was scheduled to win the Money in the Bank match at Wrestlemania 24. 
CM Punk got the briefcase and title reign in his place.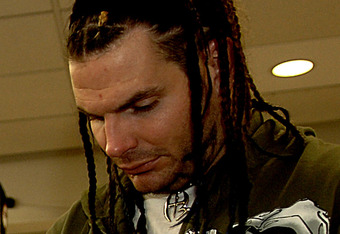 Speaking of Punk, they had a tremendous feud over the World Heavyweight Championship on Smackdown throughout the Summer of 2009 after Punk turned heel by cashing in his second Money In The Bank contract to win the title from Hardy. 
The feud, which overtly mentioned Hardy's history of drug addiction, served as a centerpiece to probably the last really hot run for Smackdown in recent years.
While all this was going on, Hardy was planning on leaving the company to take a break for a while. It was later reported to be at least partially inspired by a belief that it would clean his slate of suspensions. 
WWE made sure to write into the drug testing policy that this couldn't happen.  Oh, and near the end of his run, he was stopped from boarding an airplane due to alcohol intoxication.
Two weeks after losing a "Loser Leaves WWE" match to CM Punk, he was arrested as part of a police sting on various drug possession and distribution (due to quantity) changes. 
Meanwhile, his plans to return to WWE went out the window when CM Punk cut a promo on Smackdown that made fun of the arrest. Hardy responded by recording an infamous video for "The Hardy Show" where, while clearly not well and scratching his nose, he accused Punk of taking Ambien and appeared to brag about his own drug intake.
He debuted in TNA on the infamous Jan. 4th, 2010, show opposite Raw where the current regime took over. He was indicted by a grand jury the same day.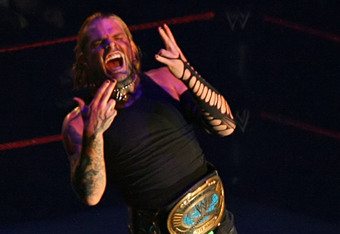 While a TNA main eventer, he reportedly worked many shows in no condition to perform. It came to a head a few months ago at the Victory Road PPV where he was clearly not in good shape at the time of his match with Sting. 
The solution was for Sting to maneuver Hardy into his Scorpion Death Drop finisher as soon as possible and forcibly pin him. The match was over in 90 seconds, and you can see a video of the debacle here. TNA offered free access to their video on demand service to make up for it while sending Jeff home.
As for Matt Hardy, his public history isn't as storied. In 2005, Amy "Lita" Dumas, his long time girlfriend, cheated on him with Edge. 
When Matt went public with it, WWE fired him.  He first appeared to crack at this point constantly writing about how "Adam Copeland [Edge] is feces" and shooting a disastrous pitch video for a new gimmick: "The Angelic Diablo" Matt Hardy. 
After the parties involved decided it was best to make money off the attention, he returned in a memorable segment where he ambushed Edge and plugged a booking he had with Ring of Honor.
Over the next several years, he would make unrealistic pitches for big pushes that would garner him heat from the other wrestlers (including begging fans to chant "Matt for champ" and write the phrase on signs). 
When CM Punk started to get a big push, Hardy saw Punk as taking what was deservedly his and started to do anything he could to sink him.
Infamously, he turned to the newsletter writers. When some fans started a baseless rumor that Punk was dating Lita, Hardy "confirmed it." 
When The Undertaker had a polite conversation with Punk about maybe dressing more formally while champion, Hardy blew it up into a lecture that got Punk heat with his peers and superiors.  He was quickly exposed as the source of the latter. 
Meanwhile, when Jeff left and quickly got arrested, Matt (also looking out of it) brought up the Punk/Lita rumor as if it was fact in the aforementioned "Hardy Show" segment.
Last Fall, whatever problems Hardy had got worse. He looked unwell in YouTube videos and whatever was going on backstage, it got to the point where he was sent home. 
At first, WWE didn't want him going to TNA, but they decided to cut their losses when he posted an old video that included an unmasked Rey Mysterio.
He was signed by TNA as soon as possible and debuted as a surprise in a PPV match where reporters described him as "glassy-eyed" and "bloated." 
His run was largely uneventful until he was suspended in June after a video he held his girlfriend Reby Sky while Jeff shocked her with a taser. Again, he did not appear to be of his right mind.
Now, TNA won't use them again until they go to rehab, presumably on WWE's dime, as they will pay for drug rehab for any wrestler who has ever had a talent booking contract with them.