Chris Johnson: Is He Worth the Money He Is Demanding from the Titans?
August 10, 2011
Joe Robbins/Getty Images
In a move that was not a surprise to anyone, Titans running back Chris Johnson did not show up to training camp before the August 9 deadline.
This is important because it means that Johnson will not pick up another year of service towards free agency. He has ignored this information and thrown all his eggs in the basket of getting a new deal for this season.
This puts the Titans in a tough situation because Johnson is far and away the team's best player.
He may even be the league's best running back, but this is not how they conduct business.
They are trying to get their best player in camp  and then get a deal done with him to shut him up and keep him happy, but it is obvious they don't want to shell out $30 million to a tailback with over 900 carries in the last three seasons.
Although the answer may seem more obvious than it is, it is worth asking: Is Chris Johnson worth the money he is demanding?
It is hard to argue with Johnson's productivity since he has entered the league.
In his three years in the league, he has led the league in rushing and even thrown up a 2,000-yard season. In that same season, he set the new record for total yards from scrimmage that was previously held by Marshall Faulk.
But perhaps the most impressive part of his game is his durability. Being one of the few every-down backs in the league means taking a beating, and even with that beating, he has only missed one game in his three-year career.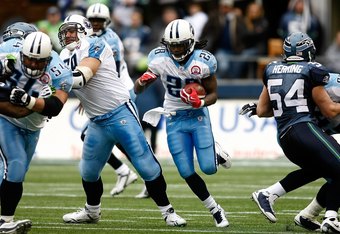 Jonathan Ferrey/Getty Images
Now let's take a look at the other side of the coin.
Running backs are often considered a dime a dozen.
That is not to say that a player of Johnson's caliber would be easy to replace; it is just saying top-level running backs come and go.
Examples of this are littered everywhere throughout the NFL's history.
Given Johnson's slight build and style of play, he does not seem to be one of the few backs that will buck this trend over the long haul.
Johnson is demanding a contract in the ballpark of $30 million as I mentioned earlier. This is an unprecedented amount of money for a running back.
Let's take a step back and compare this to some of his peers who are elite running backs as well.
Adrian Peterson: Peterson is the only other back who is really on Johnson's level. He is still working on his rookie contract, which was a lot better deal than Johnson's. But Peterson's deal has $17 million in guarantees and is worth up to $40 million.
Maurice Jones-Drew: Jones-Drew signed his contract back in 2009 and was in a similar situation that Johnson is in now. He was scheduled to be severely underpaid, but the franchise took good care of him. They signed him to a five-year $31 million deal that had a $17 million signing bonus that was guaranteed.
Steven Jackson: Back in 2008 Jackson signed a contract that was worth up to just over $44 million with $22.5 million guaranteed.
DeAngelo Williams: While Williams is not considered by anyone to be on the level of Johnson, he did sign a big contract this offseason that may complicate things for Titans management.  He got a deal for five years worth $21 million guaranteed and up to $43 million total. This was a big-time risk to a running back who has had trouble staying healthy as of late and is inching closer to 30.
When comparing Johnson's demands to what some of his contemporaries have received in guarantees from their teams, Johnson's demands are around $10 million north of theirs. That is quite a bit of money and it is easy to see why the Titans may be so hesitant in shelling out all this dough: Running backs never last.
For every example of a player like Steven Jackson who plays at a high level for a long period of time, there are three or four players like Terrell Davis who just crumble after taking the beating.
There are also several examples of running backs signing big contracts, like Edgerrin James and Clinton Portis, who then have their performance slide down hill 100 miles an hour. To bring this idea a little closer to home, the ones who are able to last in this league for extended periods of time are not the speed guys that Chris Johnson is.
So to answer the question: Is Chris Johnson worth the $30 million guaranteed he is demanding?
No.
But is he worth something closer to what the other top backs are making which is more in the range of between $20 and $25 million? Hell yes.
Signing a fair contract in that range with some incentives for staying healthy and productive is what these sides need to work out.
What we are seeing right now is probably mostly posturing from both sides.
He is aware of what he needs to do in order to get ready for the season so missing part of camp will not be the end of the world.
This situation is probably similar in many ways to the lockout we just got finished dealing with.
As the season gets closer, the better chance there is a deal will get hammered out. There is no way either side wants to start the season with Johnson not lined up behind Matt Hasselbeck. 
CJ2K is, without a doubt, the best player on the team.
Him and his dreadlocks are the face of this franchise for the time being.
Seeing him pull a Vincent Jackson and sit out till Week 10 of the season would not only destroy the team's season, but also his standing in the community.
It would cause fans to lose faith in the franchise to take care of their own.
Not getting someone who may be the best player in franchise history onto the field would be an all-time debacle for the franchise.
Chris Johnson is the best in the game at what he does, but no running back is worth $30 million. It's as simple as that.