NFL New York Jets: Review of the Team's First Depth Chart
August 10, 2011
Patrick McDermott/Getty Images
The New York Jets released their first depth chart of the season today, as they prepare for their first pre-season game against Houston on Monday Night.
The offense didn't have many surprises, but the main concern for the Jets in 2011 will be their depth on the offensive line. Matt Slauson will be the Jets starting left guard, but will have rookies Chris Stewart and Taylor Boggs behind him. The only experienced guard to backup Slauson and Brandon Moore will be Rob Turner, who has only started two games in his four year career.
Vladimir Ducasse, who was originally drafted in the second round of the 2010 draft to eventually start at guard, will back up recently re-signed Wayne Hunter at right tackle. Ducasse has failed to make the impact that the Jets hoped he would make when they drafted him, but an injury to either Hunter or D'Brickashaw Ferguson could force Ducasse to take over one of the team's most important positions.
The big name out of camp has been rookie wide receiver Jeremy Kerley. I recently wrote an article on how Kerley would eventually take over the Wildcat and special teams duties once he was ready, but special teams coordinator Mike Westhoff has him ready for the team's first pre-season game. He is listed as not only the team's number one kick returner but punt returner as well.
Head coach Rex Ryan also listed Kerley as the team's fourth receiver, but with Plaxico Burress currently unable to practice, Kerley will be getting time as the team's starting slot receiver. According to ESPN New York, Ryan also has Kerley as one of the three candidates to run the team's new version of the Pistol (Wildcat offense), along with LaDainian Tomlinson and Joe McKnight. If anybody is going to make a splash this season, it will be Jeremy Kerley.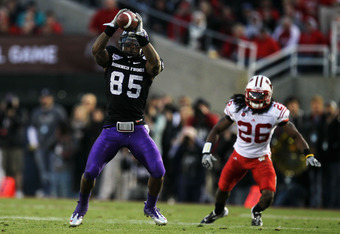 Stephen Dunn/Getty Images
On defense, many of last year's starters will return to their duties in 2011. With the departure of linebacker Jason Taylor, expect backup Jamaal Westerman to make an impact behind Bryan Thomas and Calvin Pace. Westerman, who appeared in six games last season, is likely to get the majority of the snaps as a backup in front of Garrett McIntyre and rookie Stafford Gatling. 
Eric Smith is currently listed as the team's starting safety opposite Jim Leonhard, but Brodney Pool is close behind him on the depth chart. Smith has been known to struggle in certain situations, which may open the door for Pool as the season progresses. Both Smith and Pool were re-signed in the off-season because of their contributions last season, but don't be surprised if the starting job changes hands a few times, or if both players share time like they did last season.
Fans should also expect former cornerback turned safety Dwight Lowery to make an impact at the position this year. Rich Cimini was quoted saying Lowery looks "natural" at the position, and with Leonhard coming off injury, expect Lowery to see extended playing time. 
The biggest change for the Jets defense in 2011 will be at defensive line. First round draft pick Muhammad Wilkerson, who has made a big impact in camp according to a number of sources, will be the starting defensive end going into Monday night. He will play along side nose tackle Sione Pouha and Mike Devito, who both filled in for injured players last season and earned their starting jobs. Wilkerson will be going up against some of the toughest offensive linemen in the AFC, so it will be interesting to see how he fares the first few weeks.
The biggest competition in Jets camp will be at the kicker position. Nick Folk is currently listed as the team's starting kicker, but he has struggled in a majority of the team's practices this season. Nick Novak, who was brought in this off-season to compete with Folk, has been better then the starter thus far in camp. Folk has been known to implode at times in his career, and the Jets will not want to take chances during the regular season if Folk can't get it together. Their battle during the pre-season may be the most intriguing.
Depth charts are known to change often during the pre-season. Injuries are going to pop up, and many backups are going to earn their spots on the roster before Week 1. With the number of changes the Jets made this off-season, it will be interesting to see how the team works together in the first few weeks. Either way, the Jets are ready to take off on Monday night.