Tiger Woods: Were Rick Reilly's Comments on Tiger Fair or Foul?
August 9, 2011
Sam Greenwood/Getty Images
Rick Reilly has never been one to hold his feelings back. Reilly has been consistently critical of Tiger's antics for a long time, and hasn't let up at all since Thanksgiving of 2009.
On Monday's Sports Center, Reilly defended the comments made by Steve Williams, who was Tiger's caddy for more than 12 years.
"This is a guy that's been caddying for 33 years. He's got 145 wins, he's got 13 majors with Tiger," Reilly said. "So for him to say that kind of gives you an idea of what he's feeling about Tiger, and how mad he is about it."
Reilly wasn't done there. When anchor John Buccigross made the assumption that Williams had made millions of dollars for Woods, Reilly chimed in with this:
"I don't know about millions. They have all kinds of rumors over what Stevie gets.  'Oh, he gets a million dollar base pay.' That turned out all to be a lie. Tiger happens to be one of the cheapest golfers on tour, cheapest people you'll ever meet. So I don't know about millions."
So, were Reilly's comments out of line? Reilly's weren't, not those anyway. Reilly gets paid to express his opinion, and his opinions aren't always nice. He's been doing it for a long time and is generally very good at what he does.
Were Williams' comments out of line? That's a trickier question. He has every right to feel mad about being fired.
As both Reilly and Williams pointed out, Williams was loyal to Tiger for almost two years without making any money from him. Williams' account is that he was fired because he wanted to caddy for Adam Scott at the US Open while Tiger didn't play. Reilly backed that assertion up here:
"That's what came out this week in Akron. Stevie said he didn't like it. He didn't like it one bit, and that's why he was let go."
If that's accurate, Williams has every right to feel upset and betrayed. His comments weren't out of line, nor were the digs at Tiger.
What was out of line was the timing of them. These are comments that he could have made before the Bridgestone began. He knows that the media will flock to anything that has to do with Tiger, so he would not have lacked an audience.
I don't think you'll see Stevie talking like this again, but I think he has a right to say what he had to say.
That's where Reilly was wrong. These comments did nothing more than put Adam Scott in the middle of the Tiger Woods vs. Steve Williams feud.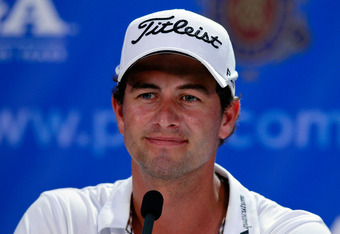 Scott Halleran/Getty Images
In addition, they took all of the spotlight and attention away from Scott and his dominant performance.
It's ironic because Williams knew that he was fired before the British Open, but chose to not go public with that until after because he didn't want Scott to have to answer questions about that instead of the tournament.
Now, on the brink of another major, what's Scott answering questions about? His own performance? No, he's answering questions about a feud that has nothing to do with him.
Stevie has the right to be mad and he has the right to voice his frustrations. His anger is legitimate. The timing was not.
Williams has since conceded that his timing was poor.
"Looking back on it, I was a bit over the top."
As for Reilly, while his frustrations and criticisms are fair, he was letting his anti-Tiger emotions get the better of him in defending the comments, and the timing of them.

Reilly's complete interview can be heard here.