Ubaldo Jimenez Trade: Maybe Alex White Was the Real Injury Risk After All
August 10, 2011
Jared Wickerham/Getty Images
When the Cleveland Indians acquired Ubaldo Jimenez from the Colorado Rockies in exchange for four prospects (Drew Pomeranz, Alex White, Matt McBride and Joe Gardner), it was widely assumed that the Indians were inheriting the lion's share of the risk.
Many questions quickly emerged. What happened to Jimenez's velocity? How much are his early-season injuries still affecting him? Is he bound to break down?
Many people seem to be missing that Alex White should be regarded as the true injury risk of this trade.
I don't know how this has been overlooked. At the time of the trade, White had been on the DL for nearly 10 weeks and was about to make his first rehab appearance. Just three starts into his major league career, White was already forced to shut it down due to injury.
Even more worrisome for Rockies fans is the nature of White's injury. Though it sounds small, an injury to a pitcher's finger is potentially devastating. So much of pitching is in the fingertips; any damage, no matter how minuscule, could end up being career-ending. 
A perfect case-study for White is Adam Miller. Miller, also a first-round draft pick by the Indians, was on the fast track to becoming an elite starting pitcher. In 2006 at age 21, Miller dominated AA with a 2.75 ERA, 1.119 WHIP, 9.2 SO/9, 2.5 BB/9 and 3.65 SO:BB. At the time, it seemed that Miller was poised to join the big league rotation by 2008 at the latest.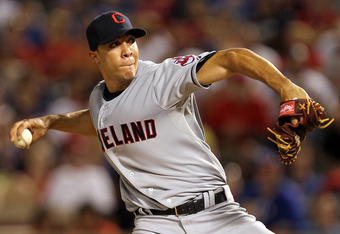 Ronald Martinez/Getty Images
Any Cleveland fan knows what happened next. Elbow and finger problems have knocked Miller's career way off track. He's back in Double-A this year trying (and failing many times) to convert himself into a reliever. His stats currently stand at a 6.13 ERA, a 1.588 WHIP, 8.4 SO/9, 3.9 BB/9 and 2.18 SO:BB in 2011, the first stats he's accumulated since 2008. 
The returns from White's first rehab start with Colorado have been encouraging, but you can't read into one start. It's quite possible that he's going to struggle with his control and have lingering finger problems for the rest of his career. The point is, he's in a very unknown state right now. 
Taking this fact combined with Jeff Passan's look at pitching prospect value and one can paint a very negative picture of White's career in Colorado. Maybe he can buck the odds, but when half of the top pitching prospects end up failing, White's chances of success are already down to a coin flip. When combined with White already being injured, things could go downhill quickly. 
So, in the end, give me Ubaldo Jimenez and his "problems" over the unknown. Despite all of the "issues," this year, Jimenez's peripherals from 2010 and 2011 are very similar:
2010: 8.69 SO/9, 3.74 BB/9, 2.33 SO:BB, 3.10 FIP
2011: 8.79 SO/9, 3.80 BB/9, 2.31 SO:BB, 3.61 FIP
Looks like he's still basically the same pitcher to me. He'll be just fine. 
After dealing with the Adam Miller saga for so long, maybe the Tribe know something about Alex White that the rest of us don't. I wouldn't rule it out.
Who knows what Drew Pomeranz will mature into. He's got the looks of an elite pitcher, but a lot can change from AA to the majors. Look at the CC Sabathia and Cliff Lee trades; those have worked out so well for the Indians. 
Overall, it sure seems like Ubaldo Jimenez is just fine and the risk is on the Rockies with White and Pomeranz. Knowing Cleveland, it'll probably blow up in our faces. But at least from a logic standpoint the odds are in our favor. 
And maybe, just maybe, an Ubaldo Jimenez-led rotation can lead the Indians to the Promised Land. He's still pitching at a very high level and we're in the middle of a pennant race; to quote the 2004 Boston Red Sox, why not us?