2011 NFL Predictions: 5 Reasons the Chicago Bears Will Be Better Than Last Year
August 9, 2011
Doug Pensinger/Getty Images
Last season, the Chicago Bears were a one possession game away from the Super Bowl.
However, the Bears might as well be dead last this year as far as every Packer crazed sports writer is concerned. 
The Bears won their division, beat the AFC runner-up, beat the perennial favorite Dallas Cowboys, beat the Vikings twice and the Packers and Eagles once. That is a pretty impressive resume. In fairness, they did lose to the Giants, the Seahawks, the Packers and the Redskins by a combined 27 points and took one heck of a thrashing in the snowy game against the Patriots. 
These games all seemed winnable at the time—with the exception of the Patriots game. This year however, the Bears are flying under the radar and are a much, much better team.
Reason 1: Roy Williams
The Bears were the best team in the NFC north—arguably the toughest division in the NFC—last year despite not having a true wide receiver threat.
Their best performing receiver last season was Johnny Knox with a measly 51 receptions for an exceptional 960 yards and five touchdowns. Williams was the 3rd option receiver with the Cowboys last season and had five TDs on 37 catches for 14.3 YPC. In 2009 he had 38 catches as the third option again for seven TDs at 15.7 YPC. 
While these stats are impressive they are a far cry from his last full season with Mike Martz where he had 82 catches for 1,310 yards and seven TDs.  Williams is bigger and has more experience than anyone that Jay Cutler has had to throw to in the last two years. Cutler will benefit from him as a target and the receiving corps will benefit from him as a leader.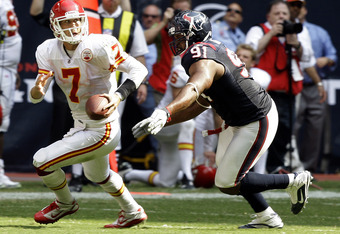 Bob Levey/Getty Images
Reason 2: Amobi Okoye
Tommie Harris had 13 tackles and 1.5 sacks last season. He hasn't been fully healthy since 2005 and is on the decline. He probably won't ever be the player he once was. Amobi Okoye is only 24 years old with four seasons under his belt. Last season he had 44 tackles along with three sacks.  Okoye is an athletic DT that will have a much better supporting cast with more veterans on the line and in the backfield.
Reason 3: Gabe Carimi
 The Wisconsin rookie OT will add some depth and talent to the Bears Swiss cheese offensive line. Cutler got sacked more times than any other QB in football last season—52 times for 353 yards— and even missed a game due to a concussion.  
That hurts any offensive game plan, especially one with a small back that struggles in short yardage and literally no deep threat. Carimi will be the right tackle and will pair well with J'Marcus Webb who emerged as a much more solid option at left tackle during his first season last year.
Frank Omiyale will still be available to spell at guard and tackle, but Roberto Garza at center will get the Bears a little younger without losing too much veteran leadership. Lance Louis and Chris Williams will be taking over at guard, both are young and extremely athletic. 
Reason 4: Marion Barber 
Marion the Barbarian is a fun football player to watch. He runs into danger and seems to love the contact. He is essentially the exact opposite of Matt Forte. He has virtually no finesse and lives to punish people that try to tackle him. He is the perfect 3rd and short or goal line running back to play off of Forte's explosive outside running and catching abilities.
Reason 5: Kellen Davis & Matt Spaeth 
Greg Olsen's departure was confusing and many Bears fans are still asking questions. Personally, I was sad to see him go, but as you can see from the Cutler sack statistics the Bears need blocking. 
The tandem of Spaeth and Davis might be the best blocking TE team in all of the NFL. The Bears re-signed the ageless wonder Desmond Clark for offensive purposes, but if you are going to commit to the Mike Martz offense you had better be all in. This will give the Bears a tight end situation like the "Greatest Show on Turf" had with Ernie Conwell and Roland Williams.
So there you have it. These five key adjustments will put the Bears over the top. They will win more close games and win against good opponents confidently—rather than through luck and perseverance.
The NFC North looks like it could be the toughest division in the NFL this year and if the Bears are going to win it again then they need these acquisitions.