New England Patriots: Changes Bring New Challenges to Team
August 8, 2011
Jim Rogash/Getty Images
Bill Belichick's recent moves can be characterized as shrewd and cost-effective.
After bringing in Albert Haynesworth, the Patriot's coach proceeded by beefing up his defensive line even more by the likes of Mark Anderson, Shaun Ellis, and Andre Carter.
Each one of those players brings a sense of toughness to the team. Each one of those players can be viewed as low-risk, high-ceiling type of guys.
Mark Anderson was once a 12-sack phenom, Ellis is one of those productive aging players that has yet to show major signs of slowing down, and Carter is a former productive player who got caught in the wrong scheme.
Each of these moves has the potential to pay off big time for the Patriots defense.
Yet, at the same time, I feel as if the Pats are going too far from what they were last year.
A strong team always has a strong identity: think of any strong team you have ever known. The "Steel Curtain" was renowned for its toughness and impenetrable defensive line. The 49ers in their golden age were characterized by their offensive prowess, led by offensive mastermind Bill Walsh.
In more recent examples, perennially strong teams like the Steelers, Ravens, and even the Jets carry a smash-mouth attitude that is manifest in all their players.
Indeed, a strong identity is an universal attribute found in nearly all winning teams. And when this falls apart, teams fall apart. The Indianapolis Colts struggled with their identity after being ravaged with injuries last year.
The Patriots in 2009 had no identity either during a transition period from the veterans of 2007 to the youth of 2010. Both teams, despite having elite quarterbacks, lost in the first round of the playoffs.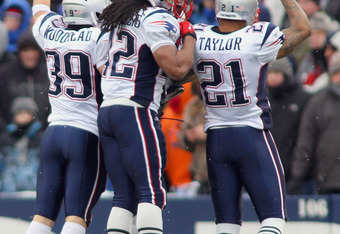 Rick Stewart/Getty Images
Now, the 2010 Patriots had a very strong identity. They were characterized by their "bend-but-not-break" defense. They were known for their energetic, turnover-happy playing style. They were an methodical, short-passing offense led by Tom Brady and a bunch of undrafted free agent running backs, rookie tight ends, and undersized, underdog receivers.
Most importantly, they were a true team: they were a whole that was greater than the sum of its parts.
That identity was huge. It pushed the team forward. The moment I remember most clearly was that goal-line stand against the Vikings on fourth down right before the half. You could see the growth, the joy, the bond, and the energy in the defense when they made that stop.
Fast forward to today, and when we think of the Patriots defense, we no longer think of underdogs, rookies, and youth. Instead, we think of the various veterans Belichick has brought in.
By the media's persistence, we may even think of a team pushing for a last Super Bowl run by splurging on old veterans and potential headcases.
With the recent additions, most would agree that the Patriots would field a more talented roster this year than they did last year. Fans picture images of Albert Haynesworth and Vince Wilfork clogging up the middle of the line and being too much talent for offensive lines to handle.
And yes, the clearly superior talent can be good sometimes, but sometimes... it sends a more powerful message when a team beats you by heart and not talent.
And reinventing that heart is going to be Belichick's tallest task this year.
It's going to be hard to reinvent that mentality. All the things that made it happen last year are gone. No longer will there be a "Moss" trade that has the league doubting your offense. No longer will there be a Bodden injury that forces the youth in the secondary to step up. No longer do you have undrafted guys leading the backfield.
I'm eager to see what "the hooded one" has up in his sleeve to get this new Pats team mentally prepared for the season.
They have all the talent, now its up to Bill Belichick to push his team in the right direction.