Chicago Blackhawks: Why They Could Win the Stanley Cup in 2012
August 8, 2011
Andre Ringuette/Getty Images
Everyone in Chicago cringed when the Vancouver Canucks scored that overtime goal during the playoffs, ending the Blackhawks' Stanley Cup hopes for 2011. They were hoping to repeat as champions, but instead their season was over during the second week of the postseason. 
Stan Bowman and the rest of the Blackhawks front office made many offseason moves to try and make the 'Hawks serious Cup contenders again.
First, they traded Troy Brouwer to the Washington Capitals in exchange for a first-round draft pick. This gave them a total of two first-round picks, which they used on Mark McNeill (18th overall) and Phillip Danault (26th overall). 
Then, they traded Brian Campbell to the Florida Panthers in exchange for Rostislav Olesz. By making this trade, they save more than $4 million a season in cap space. With this money, they were able to sign Steve Montador, Dan Carcillo, and Jamal Mayers, all who were signed on July 1.
When the Blackhawks walked away from Chris Campoli, they quickly signed a more than comparable defenseman—Sami Lepisto. 

The Blackhawks are now tougher
Last season, the Blackhawks were constantly pushed around. They did not have a real, full-time enforcer on their roster (John Scott only played 40 games). Teams would take a jab at Kane, push Keith and slash Toews, and they had no reason to expect any sort of retaliation. It was painful to watch, knowing we could have beaten some of the teams we lost to if we just had the muscle to back up the skill. 
Bowman must have noticed this too, because his signing of Montador, Carcillo and Mayers made the Blackhawks infinitely tougher.
Montador had 26 points last year (5 goals,  21 assists), and three fights. He also had 86 hits, and 136 blocked shots, meaning he plays his defensive role well. Four years of a reliable, hard-hitting defenseman? Count me in. 
Carcillo had six points last year (2 goals, 4 assists), and 13 fights. He has been called a bonehead by many and is known for taking either stupid penalties and/or too many. However, he has almost halved his penalty minutes total, going from 207 in the 2009-2010 season, to 127 in 2010-2011.

He himself has stated that it has taken him a couple of years to learn to control his rage and emotions, but he can now walk that line easier. Personally, I would rather kill a few more penalties if it meant our key players would not be pushed around. Plus, he is only under contract for a year, so if things do not work out, then the Blackhawks can just choose to not re-sign him.
Mayers also adds some much-needed muscle. Last season, he had 124 penalties in minutes, 12 fights and 105 hits. The depth chart on the Blackhawks website shows him centering the fourth line.

They are returning most of their key players
All six of the Blackhawks' top point scorers will be returning for the upcoming season.
Patrick Kane had surgery to fix a broken bone in his arm, something that has been bothering him for quite some time. He has about three more weeks to go with the cast on, and he has been doing what he can to stay in shape. His doctors expect him to make a full recovery, and he will be ready to play with the team when practices resume.
There are four seasons left on both Jonathon Toews and Patrick Kane's contracts. Marian Hossa is with the 'Hawks for the next 10 seasons. Patrick Sharp just signed a five-year extension, so he is secure for the next six. Duncan Keith is a 'Hawk for 12 more, while Brent Seabrook is one for five.
The added muscle this year will allow for the offensive talents of these guys to shine more, because they have the muscle to back them up.

They are not as young as they used to be
Every person on the roster has at least seven playoff games under their belt, many of them more. Adding Montador, Mayers and Carcillo not only added muscle, but it also added experience. They are not the young inexperienced team they were last season, and Bowman brought on board some terrific role models for the younger guys, if they did not have someone to look up to already.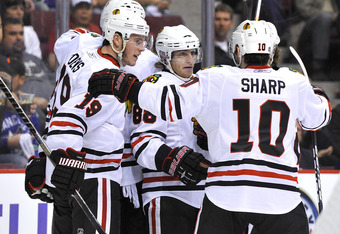 Rich Lam/Getty Images
Goaltending is not an issue—for once!
The last couple of seasons, the Blackhawks have ended up with a different person starting in goal than they had originally planned. This season, Corey Crawford is the No. 1 goaltender for Coach Quenneville, no questions asked.
The only question is who will back up Crawford. Many have wondered whether or not Alexander Salak has the experience needed to play second fiddle. Bowman stopped all questions when he invited Ray Emery to tryouts. Therefore, if Salak is deemed unable to perform up to NHL standards right now, Emery can step in and take over before the season starts.
To conclude, the Blackhawks are a much more solid team than they were a year ago. If everyone can stay healthy, then they have a really good chance to make a solid run for the Cup this year.