Los Angeles Angels: Is Jered Weaver the 2011 AL MVP?
August 8, 2011
Jeff Golden/Getty Images
If you watched the Boston Red Sox vs. New York Yankees game last night, I'm sure you couldn't help but notice that four out of the five media-favored AL MVP candidates were on display—they only mentioned it, oh, practically every time one of them came to bat.
Jacoby Ellsbury, Dustin Pedroia, Adrian Gonzalez and Curtis Granderson were touted as probable MVP's by the ESPN crew at every possible moment, and surprisingly left unsaid were references to the final AL MVP candidate, also from the AL East, Jose Bautista.
Needless to say, living in Southern California and closely following the season of the Los Angeles Angels all year long, I should be used to MLB's well known East Coast bias, but still, I was disgusted nobody said anything about Jered Weaver.
There hasn't been a pitcher to win the MVP since Dennis Eckersley did it back in 1992. But a lot has changed (and changed back) in baseball in those 19 years.
While an argument could have been made for Pedro Martinez for MVP in the early 2000s based on his level of dominance, there hasn't been a better case for a pitcher to win an MVP award since then—until Weaver this year.
I'm not taking anything away from any of the Red Sox or Yankee players who are having MVP-caliber years, but let me ask: How valuable are you if there are two or three other MVPs on your same team?
For example, if you take Adrian Gonzalez off the Boston Red Sox, is there any doubt they would still be in first (or near first place) at this point in the season anyway?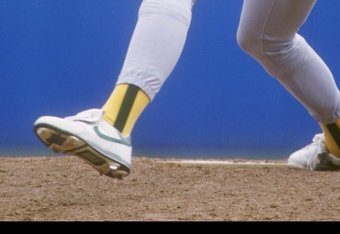 Joe Patronite/Getty Images
Clearly, the New York Yankees and Boston Red Sox are in a different class in comparison to the Angels, but shouldn't that only point out an even larger reason why Weaver should be in consideration for this year's MVP?
The Case for Weaver for MVP
Weaver is in the top five of nearly all major statistical pitching categories this year. He is first in MLB in WAR, ERA and ERA+ (6.8, 1.78 and 209, respectively). In the AL, he ranks fifth in strikeouts with 150, third in WHIP (0.94), third in wins (14), tied for second in complete games with four, and tied for fourth in shutouts with two.
Weaver's only hiccup all year was a "rocky" May where he went 0-4, despite tossing four quality starts and lasting at least six innings in every start. But the reason his numbers aren't even more out of this world, is the anemic offense he plays behind.
But again, shouldn't that be even more of a reason for Weaver's being the AL's most valuable player?
Amazingly, in Weaver's worst start of the year on May 7 against the Cleveland Indians, his line looked like this:
6.0 IP, 7 H, 4 ER, 2 BB, 0 K
Bear in mind, that was his worst start.
Other than that one start, he's given up more than three earned runs just once, and has never failed to pitch less than six innings in any start. In addition to everything else, that is an incredible peripheral advantage that Weaver offers to his bullpen!
If he were on the Red Sox or Yankees, there is a legitimate possibility he could be undefeated on the year.  He has been that dominant.
Lastly, in order to understand the tremendous impact Weaver's play has had for the Angels, consider that no Angel position player is in the top 10 in any major offensive statistical category except for Mark Trumbo who ranks tied for ninth in home runs with 22, and Erick Aybar who's tied for seventh in stolen bases with 23—and those are in the AL only.
All this, and the Angels are only one game behind the Texas Rangers in the AL West, and just seven games behind the mighty Yankees in the wild card.
I understand that I and all the other insignificants on the West Coast have exactly no pull in the MVP decision as we near the end of the season, but it is insulting to overlook a pitcher who is having a once in a generation-type year, and it speaks even worse to all the East Coast honks who continue to ignore him.