Power Ranking the 25 Greatest Upsets in UFC History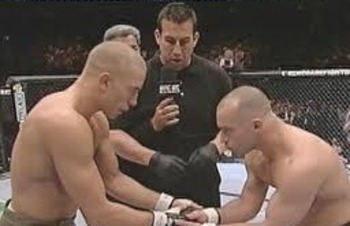 Mixed martial arts is one of the most unpredictable sports on the planet.
So many different things can happen in a fight, and so many factors are impossible to determine until a fight actually happens.
For example, Rashad Evans is fighting Tito Ortiz at UFC 133. That whole fight is pretty much riding on whether or not Tito can take Rashad down.
The two men have fought once before and Ortiz was able to take Evans down, but Rashad has improved since then and Tito has had multiple surgeries. So, will Ortiz still be able to get the takedown? We really won't know until the fight happens, and that will likely be the deciding factor.
Even when the outcome of a fight seems blatantly obvious, we can never be certain who is going to win.
Frustrating as it may be to you gamblers out there, the unpredictability of MMA is one of the most exciting aspects of the sport, and it's always a scintillating moment when a fighter who isn't supposed to have a chance in hell of winning, pulls off the victory.
Let's take a look at the 25 greatest upsets in UFC history.
Honorable Mentions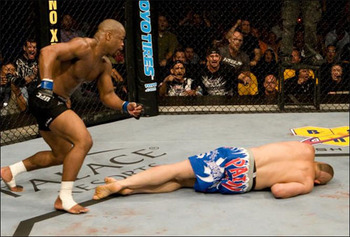 Rashad Evans vs Chuck Liddell
It's not as if Chuck was a huge favorite going into this fight, but very few people expected it to end in the manner that it did.
In the second round, Evans landed a shot clean on Liddell's jaw that left the former UFC light heavyweight champion unconscious. To this day, this is considered one of the most brutal knockouts in UFC history.
Frank Mir vs Antonio Rodrgio Nogueira
Similar to the Evans vs Liddell fight, Nogueira wasn't expected to dominate Mir, or anything like that, but no one expected this fight to end like it did. Antonio had never been knocked out going into this fight and had faced much more dangerous strikers than Mir.
However, Frank surprised everyone, showcasing some much improved boxing. He dropped Nogueira several times and ultimately finished him with a second-round TKO.
Pete Williams vs Mark Coleman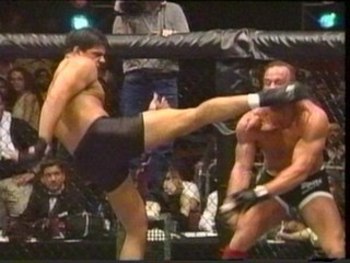 At the time that Mark Coleman fought Pete Williams, Mark was considered one of the baddest men on the planet.
Coleman had recently lost to Maurice Smith, which was a huge upset in it's own right, and this fight was expected to be to start of his ascent back to the top.
Williams was a relatively unknown fighter at the time. He had an impressive record, but it was his first fight in the UFC.
A relative nobody versus a man who had already been the UFC heavyweight champion, it seemed academic how this one would go.
However, Pete would go on to surprise everyone, weathering the early storm and eventually knocking Coleman out with a head kick.
Cain Velasquez vs Brock Lesnar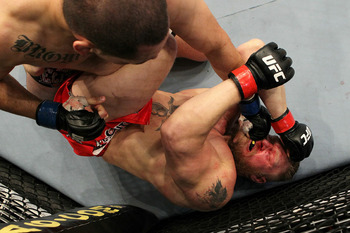 Few people gave Cain Velasquez much of a chance against Brock Lesnar.
It was pretty widely recognized that Cain did have technical advantages over Brock, but many believed that Lesnar's size would be too much for Velasquez.
Cain usually weighs in at a comfortable 240 to 250 lbs when he fights. Lesnar cuts a significant amount of weight to make the heavyweight division's limit of 265 lbs. Going into the fight Brock probably outweighed Velasquez by 40 pounds or so.
Proving to the world that technique can triumph over size, Cain absolutely demolished Lesnar, winning the fight by first-round TKO.
Forrest Griffin vs Quinton Jackson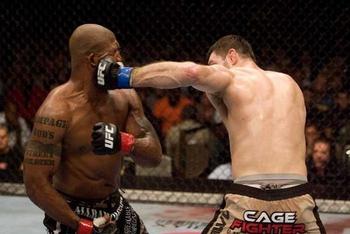 Despite coming off a huge victory over Mauricio Rua, most were counting Forrest Griffin out going into his light heavyweight championship fight against Quinton Jackson.
Jackson's stock was through the roof at the time, as he was coming off a knockout victory of long-time champion Chuck Liddell and a decision victory over Dan Henderson.
Griffin had his impressive win over Rua but other than that had been a hit or miss fighter in the UFC.
It was thought that Forrest's victory over Mauricio was likely a fluke and that Quinton would beat him handily.
Not to be counted out, Griffin fought the fight of his life and beat Jackson by unanimous decision, using his superior reach and leg kicks as the key to his victory.
Jon Hathaway vs Diego Sanchez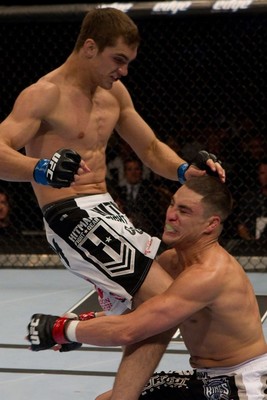 Diego Sanchez' first fight back in the welterweight division, after losing his lightweight title shot to BJ Penn, was against Jon Hathaway.
Despite coming off a loss, Diego was heavily favored to win this bout.
Hathaway was still just a young prospect in the sport, who hadn't fought any big names. Diego was a veteran of the UFC and had just fought for a world championship.
The fight was viewed more as a warmup fight for Diego than anything.
Early in the first round, John leveled Sanchez with a gigantic knee when Diego shot for the takedown.
After that, Sanchez never really seemed to recover fully and Hathaway went on to take a unanimous decision victory.
Mike Russow vs Todd Duffee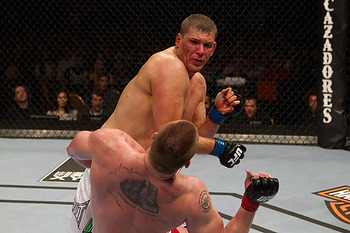 In the fight before he fought Mike Russow, Todd Duffee fought Tim Hague and set the broke the UFC's fastest knockout record, earning the KO in just seven seconds.
Because of this record-breaking knockout, as well as his undefeated record, Todd was considered an extremely promising up-and-comer in the heavyweight division.
Mike Russow, while having an impressive record, had not made nearly the impact that Duffee had on the heavyweight division and was expected to be a stepping stone for Todd.
The first two-and-a-half rounds went exactly as people expected them to, with Duffee completely dominating the fight and almost knocking Mike out on several occasions.
Hald way through the final round, Russow landed a combination out of nowhere that left Todd completely unconscious.
Steve Jennum vs Harold Howard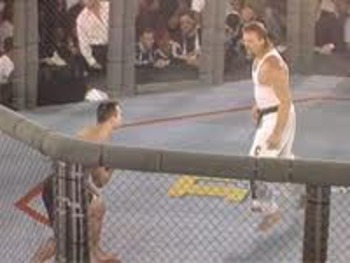 Steve Jennum entered the UFC 3 tournament as an alternate. He was just there to fight in the event that someone got hurt.
When it was announced that Ken Shamrock had withdrawn from the finals, Steve was put in his place.
Harold Howard entered the finals having already won two bouts that evening, one of his opponents being Royce Gracie.
For obvious reasons, Howard was expected to beat Jennum in the finals, considering that Steve wasn't even expected to compete in this event.
Cashing in on this golden opportunity, Steve defeated Harold by submission due to punches.
Junior Dos Santos vs Fabricio Werdum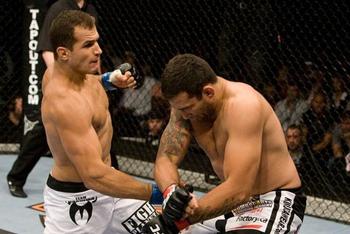 Coming into his fight with Junior Dos Santos, Fabricio Werdum was coming off victories over Brandon Vera and Gabriel Gonzaga, both of whom were considered dangerous contenders at the time.
It was Junior Dos Santos' first fight in the UFC, and no one knew much about him, so it was expected that Werdum would make quick work of him and possibly earn himself a title shot as a result.
Eager to make a name for himself, Junior shocked audiences everywhere by knocking Fabricio out with possibly the most epic uppercut in the history of the sport.
Charlie Brenneman vs Rick Story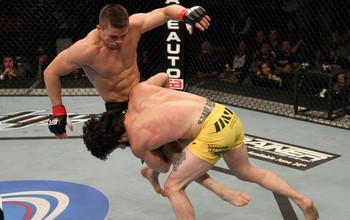 Charlie Brenneman was a last minute replacement opponent for Rick Story.
Story was originally scheduled to fight Nate Marquardt and was coming off of the biggest win of his career against Thiago Alves.
Rick was thought to be one of the most promising prospects in the welterweight division and fight with Nate was to determine if he was ready to be in the title picture.
When Marquardt was pulled from the fight and Charlie was announced his replacement, fans that the outcome was a foregone conclusion.
Sensing that this could be his time to shine, Brenneman seized this opportunity and won the fight using his superior wrestling.
Oleg Taktarov vs Tank Abbott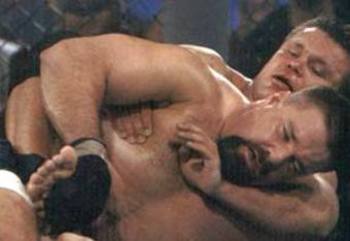 Tank Abbott was 2-0 in the UFC and had already established himself as a fan favorite by the time he fought Oleg Taktarov.
Abbot didn't look like much of a fighter, but results are a difficult thing to argue with, and Tank had certainly been producing those.
Oleg had already fought four times for the promotion before fighting Tank but had not made nearly the same impression that Abbot had.
Most expected Tank to come out swinging like always and knock Taktarov out.
Abbot did just that, and it almost worked, but he ended up tiring himself out throwing so many punches and was unable to finish the fight. Oleg weathered the early storm and eventually won via rear-naked choke.
Paulo Thiago vs Josh Koscheck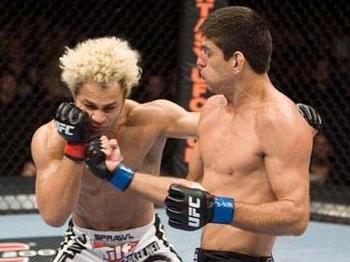 Heading into UFC 95, Josh Koscheck was already a decorated veteran in the UFC, known for his wrestling and building a reputation for his punching power.
Paulo Thiago had never before fought in the UFC and little was known about him going into this fight, other than the fact that he had great submission skills.
Early in the fight it was evident that Paulo would not be able to get the fight to the ground, and it seemed like a matter of time before Josh caught him with a big punch and earned the knockout victory.
Throughout the first round, UFC commentator Joe Rogan mentioned multiple times how badly Thiago needed to get this fight to the ground because he was having no success standing.
Three-and-a-half minutes in, Paulo landed a stiff uppercut with a punch behind it that dropped Josh, prompting the referee stepped in and stopped the fight.
Brian Ebersole vs Chris Lytle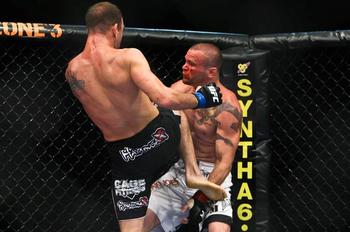 Chris Lytle went into UFC 127 riding a four-fight win streak, with his most recent win being over former UFC Welterweight Champion Matt Serra. His original opponent for the fight was rising contender Carlos Condit, but Condit was forced to withdraw from the fight.
Enter Brian Ebersole.
Ebersole was Condit's replacement and while Brian did have a lot of wins under his belt, he had never defeated any top competition.
The fight was expected to be an easy win for Chris, but a disappointing one because a win over Condit would have put him in title contention, but a win over Ebersole wouldn't have the same effect.
Already having been fighting for years and finally having his shot at the big leagues, Ebersole would not be denied victory.
Chris struggled with Brian's awkward style of fighting and as a result never really got his rhythm.
Ebersole won a unanimous decision.
Keith Jardine vs Chuck Liddell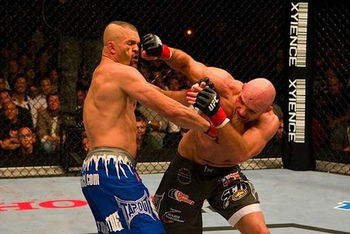 Keith Jardine was Chuck Liddell's first opponent after losing his light heavyweight championship to Quinton Jackson.
Liddell was thought to be invincible at the time, and people were surprised enough that he lost to Jackson.
Most viewed Jardine as an easy fight for Chuck, so that he could get himself back on track and move himself closer to a rematch with Quinton.
Nobody's stepping stone, Keith used his awkward timing and effective kicks to frustrate Chuck and keep him off balance.
It was a close fight, but Jardine ended up walking away the victor, having won by split-decision.
Randy Couture vs Vitor Belfort I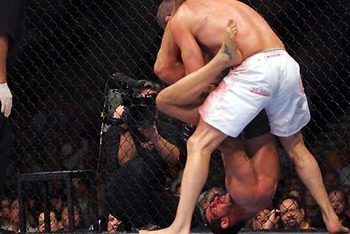 Vitor Belfort won his first three fights in the UFC by knockout and he finished all his opponents in under two minutes each.
His fourth fight was against a then relatively unknown Randy Couture.
Couture already had a couple impressive wins inside the UFC under his belt, but Vitor was being toted as the future of the sport at this point; no one thought that anyone could be Belfort.
Randy showed the world the Vitor was indeed human, earning the TKO victory a little more than eight minutes into the fight.
Marcio Cruz vs Frank Mir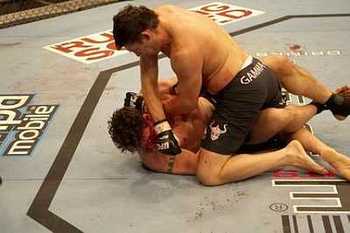 Marcio Cruz was Frank Mir's first opponent after returning from a long layoff, due to a motorcycle accident.
Before Frank's injury related hiatus, he was the UFC heavyweight champion and seemed to be an unstoppable force within the division.
There was a lot of buzz surrounding Mir's return to the cage and many were excited to see him make another run at the title.
Marcio Cruz only had one professional fight before taking Mir on, and he was basically intended to be an opponent for Frank to walk through.
Things didn't go quite according to that plan, as Cruz actually dominated the fight, winning by TKO in the first round.
Forrest Griffin vs Mauricio Rua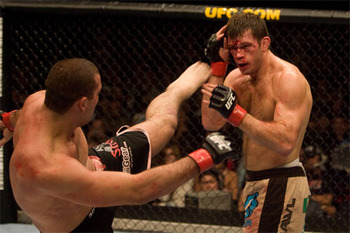 People were so sure that Forrest Griffin was going to lose this fight that they were actually mad at the UFC for making the bout. Forrest has long been a fan favorite in the UFC, and people were upset that they were going to see him lose.
Mauricio Rua was making the move into the UFC from Pride and at that time, was considered to be the best light heavyweight in the world.
Griffin had a reputation as a solid fighter but had never beat an elite opponent and was considered a mid-level guy.
Perhaps upset that seemingly no one thought he could win, Forrest went into this bout and put on a hell of a performance.
Griffin outworked Rua for much of the fight and ended up catching a rear-naked choke late in the third round.
Jason Lambert vs Renato Sobral
This is why you can never count out a fighter with one-punch knockout power.
Going into his bout with Jason Lambert, Renato Sobral was looking to rebound from his loss to Chuck Liddell and get back into title contention.
Lambert was also coming off a loss, to Rashad Evans (who was not a top contender at the time), and many were confused as to why he was getting a step up in competition, coming off a defeat.
The fight might not have made sense, but Lambert capitalized on the opportunity nonetheless. After a rough first round, he won the fight by knockout in the second.
Maurice Smith vs Mark Coleman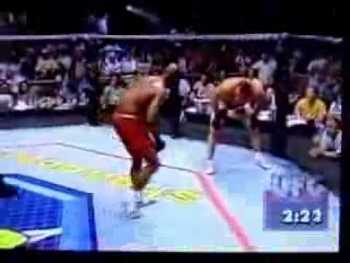 Sorry about the poor quality picture, but hey, it's an old fight.
Heading into UFC 14, Mark Coleman was thought to be unstoppable. He was undefeated at this point and had been absolutely walking through everybody they put in front of him.
Maurice Smith was an experienced fighter but had a losing record of 4-7 as a professional mixed martial artist.
Almost nobody gave Smith a chance against Coleman, and he was expected to be just another slip on Mark's growing highlight reel.
However, Smith defied the odds and dragged Coleman into deep waters, winning the fight by unanimous decision.
Joe Lauzon vs Jens Pulver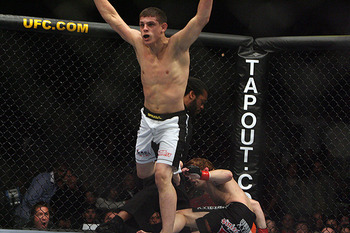 In this fight we have former UFC Lightweight Champion Jens Pulver against Joe "Never Competed in the UFC Before" Lauzon.
Probably not heard to guess who was the favorite to win this one.
Despite being a huge underdog, Lauzon managed to knock the former champ out in the first round.
The best part of this whole situation is that Lauzon ended up being a contestant on The Ultimate Fighter 5, a season where Pulver was one of the coaches.
Awkward...
Randy Couture vs Chuck Liddel I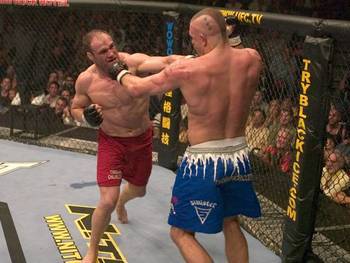 Coming into UFC 43, Randy Couture was rebounding off two devastating losses to Ricco Rodqiguez and Josh Barnett.
Fans saw him as a former champion, way passed his prime and moving into a new weight class out of desperation.
Chuck Liddell was 12-1 at the time and riding a 10-fight win streak.
Given that Randy was almost 40 and thought to be close to retirement—oh, how wrong they were about that—the fight was expected to be cake walk for Liddell.
Fans quickly learned that Couture still had some fight left in him, as he used his superior grappling to control much of the fight and eventually earn a TKO stoppage.
BJ Penn vs Matt Hughes I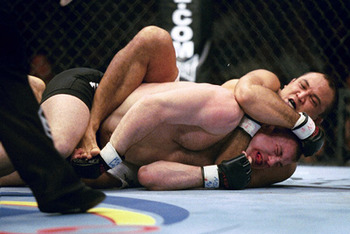 By the time he fought Matt Hughes for the first time, BJ Penn had already fought for the UFC's lightweight championship twice and failed both times to win it.
Based on his lack of success in capturing the 155 lbs belt, MMA fans though there was no way that Penn would stand a chance against the UFC's welterweight champion Matt Hughes, who had already defended his title five times.
Matt even admitted that he totally underestimated BJ going into that fight, mostly because of Penn's size.
BJ proved that size isn't everything when submitted Hughes in the first round after rocking him with a big right hand.
Frankie Edgar vs BJ Penn I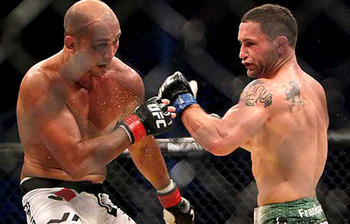 Frankie Edgar fought BJ Penn at possibly the worst time there has ever been to fight BJ Penn.
At the time when these two fought for the UFC lightweight belt, Penn had been walking through everybody at lightweight.
BJ had defended his belt three times, and in each defense, he made his opponent look like amateurs.
Frankie didn't have much hype around him when he got his title shot and most didn't even consider him the most dangerous opponent that Penn had faced.
However, Edgar showed the world that hard work and a good game plan can win any fight, as he stayed busy for all five rounds and boxed with BJ, making it a competitive fight.
In the end, it was close, but Frankie was awarded a controversial decision victory.
The two men would fight again just months later and Edgar would win the second fight also but more decisively than the first.
Randy Couture vs Tim Sylvia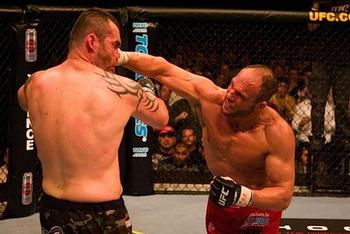 If you haven't already learned this fact by reading this article: Randy Couture is not a man you can ever count out.
Couture came out of retirement at UFC 68 to take on then UFC Hevyweight Champion Tim Sylvia.
Randy gave up quite a few inches in height, almost a foot in reach and 40 to 50 lbs of weight. When the two men stood next to each other they looked like they were in different weight classes.
People couldn't even believe this fight was happening.
Here was this small heavyweight, who was way passed his prime, and he was going to take on the current UFC heavyweight champion, who happened to be enormous.
It was a real sort of David vs. Goliath kind of matchup, and David straight up made Goliath look awful.
Seconds into the fight, Randy landed a big overhand right that rocked Tim and then took the champions back.
From there, couture dominated the fight both standing and on the ground in what was one of the most inspirational in UFC history.
Tito Ortiz vs Ryan Bader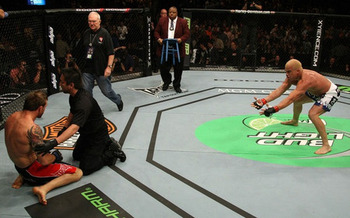 Going into UFC 132, Tito Ortiz had not won a fight in five years.
Everybody thought Ortiz was washed up and needed to retire.
It seemed obvious that the UFC just matched him up with Ryan Bader so that he could lose decisively and finally bow out of the sport.
Leading up to the bout, Tito talked a lot about how much better his back was feeling, but nobody paid any attention, given that we had heard that same story from Ortiz on multiple occasions.
Apparently Tito wasn't lying about being in the best shape he had been in years.
Early in the fight, Ortiz rocked Bader with a right hand and wrapped up a guillotine choke and earned the submission victory.
Like Tito Ortiz or hate him, you had to be happy for him in that moment.
Gabriel Gonzaga vs Mirko Cro Cop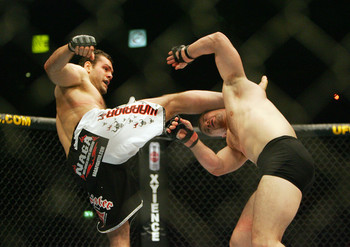 Mirko Cro Cop was basically brought into the UFC to fight for the heavyweight championship.
Mirko was a huge star in Pride and the UFC's heavyweight division was weak and needed some big names to fill it out.
After a successful UFC debut, Cro Cop was matched up with Gabriel Gonzaga in a title eliminator fight.
Mirko was highly favored to win the fight, and it was thought that if Gonzaga had any chance of winning the fight, he needed to get it to the ground.
Gabriel did pull off the victory, but he had no need to take the fight to the mat.
In an ironic turn of events, given that Mirko is known specifically for his head kicks, Gonzaga knocked Cro Cop out in the first round with one of the most devastating head kicks in MMA history.
Matt Serra vs Georges St-Pierre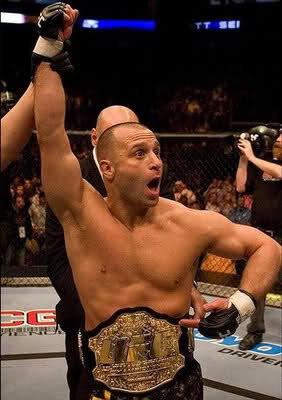 Literally no one thought that Matt Serra was going to win this fight. The man himself looks shocked that he's won.
Just to set the stage a bit: Georges St-Pierre was coming off a TKO victory over the most dominant welterweight in history Matt Hughes. Before that, GSP had defeated Frank Trigg, BJ Penn and Sean Sherk.
Matt Serra had just won a season of The Ultimate Fighter. His opponent in the finale was Chris Lytle and he only won by split decision.
On top of that, Serra was really more of a natural lightweight, so he was much smaller looking that George going into the fight.
In what was easily the biggest upset in UFC history and probably the history of MMA as a whole, Serra knocked Georges out in the first round with a vicious onslaught of punches.
Keep Reading