UFC 133 Rashad Evans vs. Tito Ortiz and 15 Best Old Lion vs. Young Lion Fights
Tito Ortiz is on the comeback trail after a slump in his long mixed martial arts career. In the pre-Zuffa era of the UFC Ortiz battled his way to the Light Heavyweight Championship and defended the title five times before losing it to Hall of Famer Randy Couture.
This was all before Rashad Evans took his first professional MMA fight, let alone came off of the Ultimate Fighter to carve his own path to the belt.
When Ortiz and Evans face-off at UFC 133 this Saturday in Philadelphia, it won't just be two former champs fighting to make it back to the title; it will be a legend of the sport battling a younger fighter hoping to take his place.
Just as young lions battle old ones to take their place at the head of the pride, so it goes in the octagon. Here are 15 classic old vs. young matchups from UFC history.
Begin Slideshow

»
The first time that Tito Ortiz and Rashad Evans fought was at UFC 73 in July 2007. Ortiz had just lost his title fight with Chuck Liddell and was ready to get back on track. Evans on the other hand had won four straight after winning the Ultimate Fighter 2, and had a spectacular head kick knockout over Sean Salmon the fight before. Fighting a legend like Ortiz was the next step to getting a title shot.
It was a close battle between the two. Ortiz seemed to be the better fighter in the opening round, getting a takedown and knocking Evans's mouthpiece out in a punching exchange. In the second round, however, came a fatal moment when Ortiz was deducted a point after not heeding warnings to stop grabbing the fence.
Ortiz tried to end the fight with a guillotine choke at the end of the round, but Evans held on. He then battled back in the third and final round, landing a big slam on Ortiz right before the final bell.
All the judges scored the fight 28-28. Ortiz's foul cost him a chance at picking up a win over an upcoming fighter and he went on to drop his next three fights, something he had never experienced before in his career. Evans meanwhile, after having got an official draw with a former champion, would be Light Heavyweight Champion himself three fights later.
Ryan Bader was another Ultimate Fighter winner on a hot streak when he got the chance to face former Pride standout Antonio "Minotoro" Nogueira at UFC 119 last year. Bader had picked up three consecutive victories after having won the show, including a knockout win over Keith Jardine. Nogueira was to be a step-up in competition considering the Brazilian was on a seven-fight win streak.
As the first round began, Nogueira looked to take control with his superior stand-up skills but soon found himself on the mat and taking a beating from Bader. While Nogueira managed to use the cage to get back to his feet, he was taken down again before the end of the round.
Bader was able to stand and trade with Nogueira in round two, but again scored a decisive takedown to seal the round on the judge's scorecards. While Nogueira again regained his feet, he was clearly down on points when the fight went to the third round. While Nogueira managed to stuff some of Bader's shots, two more takedowns in the final five minutes led to the final result: 30-27 on all cards for a unanimous decision win for Ryan Bader.
With the win Bader showed he could stand and bang with a renowned striker, but impose his will with his wrestling as well. Yet neither fighter has fared well after their matchup: Bader went on to be submitted by Jon Jones and knocked out by Tito Ortiz, while Nogueira once again lost a unanimous decision to a younger fighter in Phil Davis.
Anderson Silva was set to make UFC history at UFC 97. If he successfully defended his Middleweight Championship, he would break the record for most consecutive UFC wins with 9 and tie the record for most title defenses with with 5. But he would have to beat a younger Brazilian with exceptional jiu-jitsu: Thales Leites. Leites had reeled off five UFC wins in a row to get his shot at dethroning the champion.
It was considered one of the poorest fights in UFC history. Silva seemed to be content to wait for the young submission specialist to come to him, which Leites obviously didn't want to do. Absolutely nothing happened for the first three minutes, until finally Leites began to throw some kicks and Silva began to get in some shots. The round ended with Leites trying to pull guard.
Leites managed to win the second round over the champion. He successfully completed a takedown and worked to half-guard, but the veteran Silva eventually worked back to safety and slid out from under Leites to stand again. The final two minutes of the second round saw Silva try to land a few strikes but Leites evading.
As Silva came out more aggressive in round three, Leites began to try to pull guard multiple times. Silva became frustrated as after landing any significant strikes Leites would just fall to the ground, hoping Silva would be dumb enough to play into his game. He wasn't and the fight dragged on into the fourth round.
In round four Silva continued to use his striking, battering Leites with low kicks, but was still unable to close and land significant hits. Leites once again tried to pull guard in the latter half of the round but was unsuccessful. The final round was much of the same, with Silva briefly getting on top of Leites after a failed takedown attempt but ultimately standing again and the fight ending with more of Leites falling to the ground and Silva failing to finish.
It was no surprise that Anderson Silva won the fight, with the scores reading 49-46, 48-47, and 50-46. While one of the worse title fights in history, it proved that no young up-and-coming fighter was going to be able to just come and take out a modern day legend like Silva. The champion made the young challenger look like an amateur by comparison and essentially toyed with him during the fight. Silva has continued his domination with with four more wins after the Leites fight and it is likely only a fellow veteran will be able to dethrone the champion.
Leites lost his next fight against Alessio Sakara and was sent packing from the UFC.
Brandon Vera entered the UFC with bad intentions for all the top fighters: he proclaimed he would in time be champion of both the heavyweight and light heavyweight divisions. After winning four in a row, including a knockout over former champ Frank Mir in just over a minute, it looked like Vera might deliver. He was matched up against Tim Sylvia, who had just lost the title to Randy Couture.
As the fight began Sylvia tried to stifle the smaller Vera in the clinch, but Vera still managed to land some solid shots and showed he could hang with the bigger man. The second round saw Sylvia using the same strategy, holding Vera up against the fence to the point where the referee had to restart the fighters. Vera managed to trip Sylvia and landed in side control, but couldn't do much damage aside from a few knees, including an unfortune illegal blow to the head as the former champ scrambled to get to his feet.
Vera entered the third round of a fight for the first time of his career, unlike the five-round veteran Sylvia. While Vera wasn't exhausted, he was clearly out-boxed in the final round by Sylvia and the fight slipped away. The judges scored the bout 29-27, 29-28, and 29-28, giving Sylvia a unanimous decision victory.
It could be argued that Vera actually won the fight, but in any case his momentum had completely stalled. The once-promising fighter lost his next fight against Fabricio Werdum and dropped to the Light Heavyweight division where he hasn't been able to win with any consistency. As for Sylvia, it was his last hurrah in the UFC: he lost a title fight against Antonio Minotauro Nogueira in his next match and exited the promotion to pursue a failed attempt to beat Fedor Emelianenko.
Dan Henderson famously won both the Pride Light Heavyweight and Middleweight titles before the organization was folded into the UFC. He then lost both those belts, but bounced back with two victories including one over Rich Franklin. He was next chosen to coach on the ninth season of the Ultimate Fighter and opposite him would be an alum of the show, season three winner Michael Bisping. Bisping had won three in a row after dropping to middleweight and was looking to add Henderson to his list of victims.
To say the normally cool-headed veteran and the brash young Brit didn't get along during the show would be an understatement; there was definitely bad blood when the two were finally set to face off after the show at UFC 100 in July 2009.
Henderson was clearly going for the knockout as he came throwing bombs in the first round. Bisping used footwork to get in some shots, but was eventually caught with a powerful punch. Henderson let his fists fly but Bisping was able to recover and avoided any serious damage for the rest of the round.
The second round again saw Henderson throwing heavy leather while Bisping tried to evade. His luck eventually ran out however when a thunderous counter right slammed into his jaw and knocked him unconscious. Henderson had literally followed through with his pledge to shut up the younger fighter.
Henderson surprisingly chose to exit the UFC after the win, instead pursuing a Middleweight title shot against Jake Shields in Strikeforce. He lost that match but has since won the Strikeforce Light Heavyweight title instead. As for Bisping, aside from a decision loss to another legend in Wanderlei Silva, he hasn't been slowed by the setback and has continued to pick up wins.
Back in 2008 former Pride superstar Fabricio Werdum had racked up two wins in the UFC over Gabriel Gonzaga and Brandon Vera when he was inexplicably matched up with a nobody named Junior dos Santos at UFC 90. Up to that point dos Santos had fought in some local Brazilian promotions to gain a modest 6-1 record, and now was apparently to be thrown to the wolves in his UFC debut against a fighter who had faced some of the best heavyweights in the world.
It took dos Santos one minute and twenty seconds to knock Werdum's lights out. The rest as they say is history. Werdum quickly exited the UFC after the embarrassing upset to compete in Strikeforce, and dos Santos has won six straight since his octagon debut to earn a spot as the top contender to the championship title.
Rich Franklin has established such a strong reputation in the UFC over the years that it might be easy to forget he was also just a young up-and-coming fighter back at the Ultimate Fighter 1 Finale. But that was the case when he was matched up at that event with Ken Shamrock, a fighter who had participated in the UFC since the very first event. Shamrock wasn't exactly at the top of his game at the time, but the win would certainly make Franklin famous.
During the main event of cable TV's first live UFC event, Franklin became the first person to ever knock out Ken Shamrock. His very next fight was for the UFC Middleweight Championship, which he won. Ken Shamrock, however, went on a five fight losing streak on his way out of the UFC forever.
Last year Jon Jones began to emerge on the fight scene as a prodigy who was destined for championship gold. His eleven fight record was blemished only by a disqualification loss, and he had easily dispatched all of his UFC opponents. But Jones had yet to face anyone with serious MMA experience. That would change at UFC on Versus 2 last August. Vladimir Matyushenko had fought for the light heavyweight belt nearly a decade before and had now returned to the UFC to get back to the title.
Jones quickly showed his dominance by taking Matyushenko down, passing to side control, and then getting into a crucifix position. Several unanswered elbow strikes caused the referee to step in and after a little under two minutes Jones had shown he was the real deal.
Matyushenko managed to bounce back with two wins, but it was Jones who fulfilled destiny by making his way to a title shot against another seasoned fighter in Mauricio Rua. Jones defeated Rua fairly easily and now reigns as the Light Heavyweight Champion.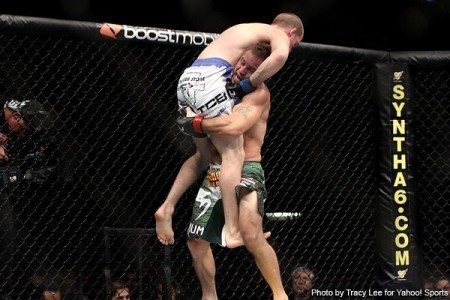 All the buzz was behind Evan Dunham as the 11-0 fighter was set to take on veteran Sean Sherk at UFC 119 last year. Praise from fans and from Dana White had set expectations high for the young fighter. Sherk was a bit of a fading star: a former champion coming off of a loss.
The first round saw Sherk imposing his game plan; completing two takedowns while Dunham unsuccessfully tried to submit him with guillotines. At the end of the round a nasty cut developed Dunham's face after Sherk slammed down an elbow from inside the guard.
The second round started the same: Sherk completed a takedown while Dunham pulled on guillotine chokes without being able to submit the tough veteran. With blood pouring down his face, Dunham did finally manage to start landing effective strikes towards the second half of the round.
In the third Dunham came out to win, landing a clean head kick. Sherk immediately tried to get the fight to the ground, but was only able to get Dunham down for a brief moment. Dunham used his reach advantage to continuously out-strike the former champion but in the end could not finish him.
With two judges scoring it 29-28 for Sherk and the other 29-28 for Dunham, the older fighter walked away the winner. Dunham finally had his first loss, and while the decision was controversial, doubt had to begin to creep in on whether he was to be an immediate superstar as some had speculated. It proved to be prophetic as he was knocked out by Melvin Guillard in his next fight, putting Dunham in a position in which he now has to avoid dropping three in a row. Sherk has yet to fight again after the victory.
Was it time for Wanderlei Silva to hang up his gloves? That was the question many were asking in May 2008 after Silva lost three consecutive fights. His last loss had been to Chuck Liddell. Meanwhile up-and-coming Ultimate Fighter alum Keith Jardine was instead coming off of a stunning victory over Liddell. Silva was matched up with Jardine at UFC 84 to see if he could still hang with a dangerous striker.
Silva shut up his detractors with a 36 second knockout victory. There could no longer be any question that Silva was still a lethal striker. Jardine on the other hand won his next fight but then dropped five straight and was dropped from the UFC. Yet despite the emphatic victory, the questions still linger about Silva. He lost two fights after the Jardine win and dropped to middleweight, where he has yet to reestablish his former glory.
Cain Velasquez had only won two fights when he was given a chance to compete in the UFC, a rare opportunity for a fighter who did not participate on the Ultimate Fighter. Yet Velasquez vindicated the UFC brass by picking up five straight wins in the octagon. It was decided that it was time for Velasquez to take the next step and compete for the title, but first he would have to get through a heavyweight legend: Antonio "Minotauro" Nogueira.
A former Pride and interim UFC heavyweight champion, Nogueira had had win streaks in his career greater than the total number of fights Velasquez had been in. The Brazilian fighter was coming into the match fresh off of a victory over Hall of Fame fighter Randy Couture. Looking to get back the belt he had lost out on, Nogueira only had to beat the young upstart Velasquez at UFC 110 in February of last year.
Both fighters exchanged a few strikes to start the match. Nogueira was famous for being difficult to finish, and had only lost by TKO once two fights prior; he claimed not being 100 percent at the time and said it was a fluke. It was certainly no fluke, however, when a little over two minutes into the fight Velasquez suddenly lit up Nogueira with a combo and completely knocked him out.
Velasquez earned his title shot with the impressive win and defeated Brock Lesnar in the first round. The undefeated champion now waits to defend his title, likely against another young star in Junior dos Santos. Nogueira has taken time off to heal injuries and has yet to fight again since losing to Velasquez.
It was obviously a big deal when 2006 Pride Open-Weight Grand Prix winner Mirko "Cro Cop" Filipovic finally entered the UFC the following year. After winning his debut by knockout over Eddie Sanchez, Cro Cop would next fight at UFC 70 against a young Brazilian named Gabriel Gonzaga. Gonzaga did have something in common with Cro Cop—they both were on five fight win streaks. While Cro Cop, however, had beaten the likes of Josh Barnett and Wanderlei Silva, Gonzaga had yet to face top competition aside from his sole loss to Fabricio Werdum early in his career.
Gonzaga was known as a jiu-jitus fighter, while Cro Cop had became famous as possibly having the most devastating leg kicks in mixed martial arts. Thus it was no surprise when Gonzaga got the fight to the ground and began to work strikes. However fans held their breath as Herb Dean stood the fighters up. Watching the infamous legs of Cro Cop, one might have missed the knockout: a highlight reel head kick knockout by Gabriel Gonzaga over the Pride legend. It's safe to say every jaw dropped.
Filipovic would lose his next fight as well and left the UFC to return to fighting in Japan (he has since returned to the promotion.) Gonzaga's win was so impressive he was given another chance at an upset with a title shot against Randy Couture. Couture proved to be too good for the young fighter, however, and Gonzaga has since struggled to reach his former level of success.
When Frank Mir fought Brock Lesnar for the first time at UFC 81, the question was could an amazing athlete with very little MMA experience beat a seasoned veteran? The answer turned out to be no.
Brock Lesnar had been a very skilled collegiate wrestler before becoming famous in the WWE. Turning to actual combat sports, he won a fight in Japan by finishing his opponent with stikes in just a minute, and then was given a chance to fight in the octagon. He would face Frank Mir.
Mir was a former champion who had had to give up the title after a motorcycle accident left him unable to compete for nearly two years. After his return, Mir was inconsistent and alternated wins and losses. While not yet at his former level of greatness, Mir still was a dangerous opponent with ten times as many fights as Lesnar.
As the fight began, Lesnar immediately managed to get Mir to the ground and began unleashing blows to Mir's head. The former champ was clearly being overwhelmed by his much larger opponent, but the fight was stood up when the referee deducted a point from Lesnar for several strikes to the back of the head.
Unfazed by the setback, Lesnar dropped Mir with a right hand and went right back to unloading with hammer fists.While frantically scrambling to avoid the massive hands of Lesnar, it was clear Mir was looking for submissions. Finally seeing an opening as Lesnar postured up, Mir grabbed a leg and locked in a kneebar. Lesnar had no choice but to tap.
The win was the ultimate expression of experience over power. Clearly outmatched by the strength of Lesnar, Mir managed to stay calm enough to search for an opening and catch Lesnar in an easy submission.
Like many fighters just starting out, Lesnar had to go back to training camp and learn from his mistake. He proved to be a quick student, as he won his next two fights and became UFC Champion. Meanwhile Mir had revived his career with the win and won the interim championship. Fated to meet again, the two would fight a second time and a more experienced Lesnar easily defeated Mir in their second fight.
The Ultimate Fighter was a show that took young competitors and produced UFC fighters, but was it a show that could produce UFC champions? That question was to be answered at UFC 86 when Ultimate Fighter 1 winner Forrest Griffin was given the chance to fight former Pride star and then UFC Light Heavyweight Champion Quinton "Rampage" Jackson.
Griffin should have had little to prove as he was coming off of a stunning upset over another Pride legend in Mauricio "Shogun" Rua. Yet it had been Rua's first fight in the octagon and excuses could be made. There could be no excuses from Jackson, who had just beaten once invincible UFC champion Chuck Liddell and defended the title against Pride Middleweight champion Dan Henderson.
The two fighters came out and unsurprisingly began a striking battle in the first round. Griffin seemed to have a smart gameplan as he landed several leg kicks, but eventually he was caught with one of Jackson's powerful punches and went down. Griffin managed to get back up at the close of the round, but not after taking some serious punishment.
After his epic battle with Stephan Bonnar at the Ultimate Fighter 1 finale, Griffin had a reputation for becoming even better after taking a beating. He lived up to that characterization when he came out in the second round and went to war. Battering Jackson again with hard leg kicks, he got a takedown and advanced to side control, and then mount. Griffin pounded on Jackson with elbows but the round ended without a finish.
The stand-up battle continued in the third. Griffin continued working leg kicks, and while Jackson again staggered Griffin with a right hand, he was now unable to follow through quickly enough. Griffin kept moving, and despite taking several hard shots from a combo at the end of the round, he survived to enter the fourth.
If this was to be a fight to prove that an Ultimate Fighter competitor could be a champion, it was fitting that the match would go into the so-called "championship rounds." Griffin would not get an easy quick victory; it would be a five-round war. He ended up on bottom in the fourth as Jackson took him down, but he caught the veteran fighter in a triangle. Jackson showed his experience however by fending off the hold and landing a shot that opened up Griffin's face with a cut.
In the final round, both fighters were swinging for the fences. They both landed solid punches, but Griffin was the more versatile fighter as he continued to use his effective leg kicks. It likely won the fight for him, as after the final bell the score cards read 48-46, 48-46, and 49-46, all in favor of the young warrior.
Griffin vindicated every young competitor to ever appear on the reality show, showing that they weren't just tv stars but fighters with the potential to one day be the best in the world. Ironically, Griffin would lose his title to Rashad Evans, winner of season two of the Ultimate Fighter.
This fight could be a questionable choice: although the younger fighter, Hughes was already world champion for the second time and had over twice as many fights as his opponent when he fought Royce Gracie. Yet it was clearly meant to be a symbolic match-up between the old and the new.
Royce Gracie was possibly the most famous UFC fighter of all time after he entered the first few events and won multiple tournaments while staying undefeated. Throughout those early competitions he dominated using Gracie Jiu-Jitsu, fighting to prove it was the world's best fighting style.
A decade later though things had changed, and Matt Hughes was to be the one to prove it. The best fighting style was no longer Brazilian Jiu-Jitsu; the best fighting style was mixed martial arts. Hughes knew jiu-jitsu too, although at a much lower level than Gracie, but also was a solid boxer and excellent wrestler. He was determined to show Gracie that the new breed of fighter was nothing like those who had competed in the brutal no-holds barred combat of the early UFCs, but were far superior.
Although Hughes likely could have punched out the one-dimensional Royce Gracie, he made his point even more emphatic by taking the fight exactly where Gracie wanted to go and executing a takedown. Landing directly in side control, Hughes locked on a submission and seemed to be about to rip off Gracie's arm with the kimura. Gracie however refused to tap and Hughes did not want to do serious damage; so confident was Hughes that he could outclass Gracie on the ground that he released the hold. Hughes then proceeded to easily take the back of Gracie and batter him with strikes until the John McCarthy stepped in and ended the fight.
Matt Hughes not only beat the until then undefeated UFC master, he fought exactly the way Gracie wanted him to and still made it look easy. It was the clearest example possible of how mixed martial arts is a constantly evolving sport, and if those who once dominated do not continue to learn then they will become irrelevant. Matt Hughes ended up losing his title to Georges St. Pierre, a fighter with an even more complete game, showing that the sport had even rapidly advanced beyond Hughes's generation.
And while George St. Pierre now seems virtually unbeatable, there are young athletes out there constantly training, improving, and advancing the game. The old lions of the sport have to be on their guard, for there are young lions out there watching, and they are hungry.