Looking for Light in the Darkest Days Ever as a Denver Broncos Fan
August 2, 2011
Doug Pensinger/Getty Images
Once the NFL lockout ended, every NFL fan was so elated at the prospect of football that the troubles of individual teams took a backseat. Even in Denver, where times are darker than they ever have been before, there was an influx of energy from the possibility of starting to replenish the depleted Broncos franchise.
But now the excitement of free agency is wearing off. Broncos fans are left nursing a serious hangover from a half-bottle of Josh McDaniels.
John Elway and John Fox brought some April glee by snagging Von Miller with the highest draft selection the franchise has ever had. Miller was one of the few, truly gifted talents in a somewhat weak 2011 draft class.
But this team has too many holes for any one player to turn around.
Generally, one linebacker does not take a team to the Super Bowl* (recent exceptions include Brian Urlacher). At least, a franchise cannot bank on it from a rookie.
This team is a rebuilding project that has started now, and honestly, free agency has been a disappointment. Most of the key goals the Broncos had have not been addressed.
Firstly, bringing in undrafted rookie free agent Mario Fannin from Auburn was a very clever addition by the team. However, no one is expecting him to be a complete solution to the running game. Fannin should see the field in special situations, but he was probably the best backfield addition. Aside from him, fans have been left scratching their heads at why the team is spending $7.5 million over three years on a 29-year-old Willis McGahee.
The wheels have been coming off of that truck for a long time, folks. The Ravens knew it.
Apparently McGahee was the second choice behind free agent DeAngelo Williams, who could not be swayed to Denver by his former coach. The front office declared running back was the number one priority.
Additionally, the Broncos have added a couple of former busts to the defensive line, in the hopes that they can be turned around. Most recently they have traded for DT Brodrick Bunkley from the Philadelphia Eagles for undisclosed 2013 compensation, as well as DE Derrick Harvey from Jacksonville.
Both players are former first round picks. Both players are widely considered busts.
Rather than screaming "look at us" by getting an Osi Umenyiora or an Albert Haynesworth, the Denver Broncos front office is screaming "why doesn't anyone want to come here?" That's the recurring theme nowadays.
John Fox as head coach was far from the first choice for John Elway back in the winter, but the coach fired by the only team worse than the Broncos last year was one of the few who would actually come to Denver for an interview. Ouch. Not that Fox is a bad choice, but that highlights the desirability issues Denver is facing.
When you are flat on your stomach, nobody will offer you a hand until you at least get back up on your knees. The Broncos are going to have to get to their knees on their own.
The biggest disappointment from free agency remains the non-trade of Kyle Orton and the continuing quarterback controversy in Dove Valley.
I've never made it a secret that I like Orton more than I like Tebow, which has a lot to do with what I expect from a quarterback; deep passing ability/statistical productivity. These are essential in my opinion. I love passing offenses.
Yet Orton is not the future in Denver, and Tebow has to get a shot or the fan pressure will only continue to rise. It does not matter if Orton is the better quarterback, his refusal to negotiate a reasonable contract with the Miami Dolphins has left the Broncos in deep trouble.
Add into that the fact that Brady Quinn is ever reportedly passing better than the fan-chosen Tebow and their is even a little bit more chaos. If Quinn had just been left alone, the Broncos would still have Peyton Hillis and the run game would not need improvement.
Instead, Quinn is not fulfilling the role the team needs him to: back up Tim Tebow.
The unresolved chaos at this position is not going to give Broncos fans any relief. John Fox needs to establish a clear pecking order that fans can stomach very quickly.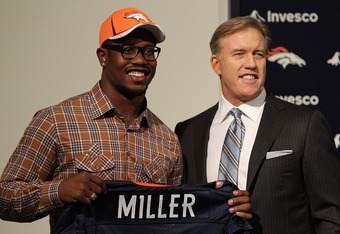 Justin Edmonds/Getty Images
But ultimately, the biggest question/source of confusion in Denver is the guy who got everyone so excited. What is Tim Tebow going to be? A good NFL quarterback?
For a moment, as long term fans, lets set aside the Tim Tebow club that has flocked to this team. I don't appreciate the legions Florida/church who know nothing about Broncos football but clamor for Tebow to start. No Broncos fan likes listening to those people tell us about our football team. They're a source of even more disarray.
They're the reason a guy like Tebow, who has been a back up quarterback, inexplicably sells more jerseys than a legend like Champ Bailey.
But many fans do appreciate the positive qualities Tebow brings to the team. He is a good person, unlike Jay Cutler. He has discipline and drive, and the spirit of a winner.
On the opposite side, a number are turned off by his holier-than-thou persona and questionable passing ability. But he is going to have to be the Broncos starting quarterback at some point, and better sooner than later.
He will either play a season or two and wash out in favor of a true pocket passer, or he will end up being really good and future of the franchise. But the development of the team is on complete hold until Josh McDaniels' final project plays itself out.
The future of our team is hazy at best. Climbing out of the worst Broncos slump ever will require time and test the dedication of even us, the most dedicated of NFL fan groups.
We are all looking for a place to put our faith. The new fans are putting it in Tebow.
I think I will stay with the old fans, and keep mine in Elway.