Florida Marlins: Starting Pitching Will Be Focus of Front Office in Free Agency
August 10, 2011
Last offseason, the Marlins felt they were an improved bullpen away from contention. They also felt their rotation armed with newly added Javier Vazquez would be amongst the best in the National League, headed by ace Josh Johnson. 
Fast-forward into August and the Marlins have had deal with a slew of injuries spearheaded by Josh Johnson's shoulder strain in mid May in a rain delayed game against the Mets, which is the only causality in the rotation but one that has been felt mightily. 
At the start of the season, the Marlins seem to have an excellent trio when Johnson was a no-hitter threat in nearly every start along with a couple of flirts between Ricky Nolasco and Anibal Sanchez but pitchers Chris Volstad and Javier Vazquez were the party poopers in the rotation for the first two months of the season. 
Once Johnson went down, the Marlins began scrambling for options. At first Jay Buente got the nod, but after he struggled the Marlins rolled out a pair of bullpen days and rushed up pitcher Brad Hand after Johnson had setbacks in his recovery. 
Now, the Marlins are going out with a rotation of Anibal Sanchez, Ricky Nolasco, Javier Vazquez, Brad Hand and Clay Hensley. It's one that hardly scratches the surface of a championship rotation and one that pales in comparison to the Phillies quintet of Halladay, Lee, Hamels, Oswalt and Worley and the Braves' assortment of Hudson, Hanson, Beachy, Jurrjens and Lowe, the latter of which will only get better with their quality of pitching prospects at the minor-league level.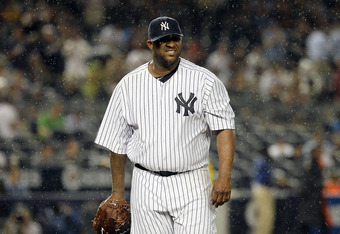 Jim McIsaac/Getty Images
Aside from finding a new manager, the Marlins main focus will have to be to greatly improve the starting rotation to match up against the powerhouse Phillies and Braves if the franchise intends to contend heading into the new ballpark in 2012. 
If you pencil in Josh Johnson, Anibal Sanchez and Ricky Nolasco for 2012 as of this moment, you're left with finding a pair of arms, preferably left-handers, which could provide the upper hand against the lefty bats the Braves (McCann, Heyward, Bourn, Freeman) and Phillies (Utley and Howard). 
Once free agency begins, the Marlins will have roughly $15 million to play with ($45 million committed in 2012 and at least $15 million towards extensions and arbitration eligible players which adds up to around $60 million) if you consider their "middle of the pack" approach once they enter the new stadium. 
But Ken Rosenthal of FOXSports.com recently told Marlins play-by-play announcers Rich Waltz and Tommy Hutton during a telecast after the trade deadline that the Marlins would be players for free agents they normally wouldn't be players for. 
Obviously, the Marlins won't be in play for Albert Pujols or Prince Fielder since both would command contracts in upwards of $200 million or even more and the fact that Gaby Sanchez mans their position. 
However, it puts into perspective whether the Marlins would be in play for upcoming free agents CJ Wilson (10-5, 3.35 ERA), Mark Buehrle (9-5, 3.04 ERA), Edwin Jackson (8-8, 4.07 ERA) or even CC Sabathia (16-6, 2.81 ERA) if he opts out. 
What will be the main obstacle in signing any of those guys is that the front office is reluctant to pay pitchers for fear of injury, such cases have been evident in recent seasons when they've entertained offers for Josh Johnson and Ricky Nolasco when their contract situations were at a stalemate. 
But enough is enough. The Marlins need to land a premium arm in free agency this offseason to be sort of an insurance policy if Josh Johnson goes down again and to just have a superior rotation that can carry the team even amidst the offensive outrages that can occur throughout a season.
It may be crazy to mention CC Sabathia, who is currently with the Yankees but has an opt-out clause he will more than likely exercise this offseason (four years, $92 million left) or even pitchers CJ Wilson and Mark Buehrle who will demand at least $10 million per season. 
Yet the Marlins objective will have to be to land one of them and worry about getting a low cost option (former Marlins Dontrelle Willis or Livan Hernandez) or even auditioning internal options (Alex Sanabia, Chris Volstad or Brad Hand) later.
Anything is possible and can be unpredictable when you're talking about the Marlins. No one foresaw that they would sign Ivan "Pudge" Rodriguez prior to the 2003 season, or Carlos Delgado in 2005 or even Javier Vazquez and John Buck before this season.
Maybe the Marlins use LeBron James as a recruiter to lure Sabathia to South Beach (both played in Cleveland and are friends) or they use Ozzie Guillen (if he is manager of Marlins) to lure in Mark Buehrle or Edwin Jackson.     
The bottom line is the Marlins need an attraction and getting over the fear of paying pitchers will have to be overcome if they ever intend on contending in a tough NL East.