Nani, Owen Lead Manchester United to 2-1 Win over FC Barcelona in Washington
July 30, 2011
Rob Carr/Getty Images
In a friendly between the two best soccer teams in the world, Manchester United defeated FC Barcelona 2-1 at FedEx Field in Landover, Maryland, just outside Washington, D.C. Saturday night.
Nine weeks after the Champions League Final that FC Barcelona won 3-1 at Wembley Stadium in London, Manchester United turned the tables on Barca in front of 81,807 fans—the most in D.C. soccer history.
Temperatures were in the mid-90's (mid-30's celsius) as the two teams that own four of the last six Champions League trophies took the field.
Each side played without several players.  Among those not on the field were Barcelona's Lionel Messi and Xavi and Javier "Chicharito" Hernandez and Antonio Valencia of Manchester United.
Wayne Rooney of United almost opened the scoring in the 10th minute of the match with a right-footer wide right of the goal.
The first goal of the match came in the 22nd minute when Nani took a pass from Danny Welbeck, sprinted down the field, and kicked the ball right-footed through goalie Victor Valdés' legs.
Barcelona complained that Nani was offside, but replays showed the referees were correct in the no call.  Nani, who was also strong defensively, followed with his cartwheel and backflip goal celebration.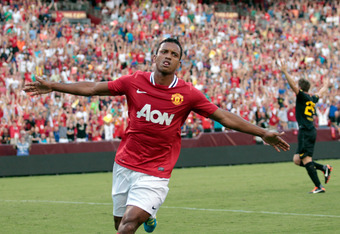 Rob Carr/Getty Images
Nani had another scoring chance midway through the second half with a pass to Welbeck, whose shot bounced off Valdés. Then Nani's left-footer went wide left of the goal.  
Barcelona, which controlled possession for most of the contest, threatened when Andrés Iniesta lobbed the ball toward the goal to Thiago, who couldn't quite catch up to the ball. 
That was just a prelude, as soon after his missed opportunity, Thiago tied the score 1-1. He slammed a 70-footer in the 70th minute with his right foot that sailed into the upper right corner of the goal from straight on. United goalie David de Gea could only watch as flew went past his left shoulder.
Then in the 76th minute, Michael Owen showed he still had some game left, putting the ball past a charging Valdés. Owen used the outside of his right foot to place the ball into the right side of the goal after taking a pass from Tom Cleverley. 
Thiago fired a long shot in the 89th minute during a Barca flurry, but this time the ball sailed over the goal, and Man U walked off with the win. 
Manchester United finished its U.S. tour undefeated. The Red Devils beat Major League Soccer opponents New England, Seattle, Chicago and the MLS All-Stars before taking down Barca in Satuday's friendly.
Next week, FC Barcelona will take on AC Milan in Miami August 3 before facing Mexican team Club America in Dallas August 6.