Breaking Down Bryce Harper and Each MLB Team's Top Prospect
July 29, 2011
Rob Carr/Getty Images
Now that the mid-point of the season has arrived, why not have some updated scouting reports on each MLB teams' top prospect?
These are the players of the future. The Derek Jeter's, the Albert Pujols's and the Ryan Braun's—who is next to become a star like them? This article doesn't include people who are rookies in the 2011 season.
Jose Iglesias is a young Cuban superstar. He has the ability to easily be the top defender of the league, and he is the future shortstop of the Red Sox. Iglesias also has plus speed and potential to have a good bat once he develops a bit more.
Scouts compare him to Omar Vizquel. He has a bad swing that needs work, but with some polish, you can see this kid in an All-Star game in the future.
ETA: Sept. 2011
Toronto Blue Jays: Brett Lawrie
Brett Lawrie is a slugger who plays for the Toronto Blue Jays. He's streaky and needs some polish, but he knows how to pull the ball.
Lawrie has a great swing and is an explosive batter. If he ends up at his full potential, he can be a .300, 30 HR hitter. He also has plus speed.
ETA: 2012
New York Yankees: Manny Banuelos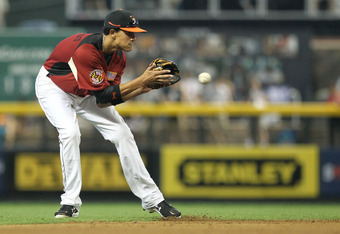 Jeff Gross/Getty Images
Manny Banuelos is a pitcher for the New York Yankees. He is only 19 and is constantly improving, with a fastball already up to 94 mph. Sometimes he can even strike out hitters with a 96 mph four-seamer, leaving the batter speechless.
Banuelos' velocity and changeup prove him as an outstanding pitcher. His only issue is his curveball needs polish, and he isn't tall to scare away batters.
ETA: Late 2012
Tampa Bay Rays: Matt Moore
Matt Moore is a strikeout machine; last year he blew 208 batters with his unbeatable fastball.
Out of most lefties, I have to say he might have one of the top fastballs. His fastball has perfect movement, great velocity and can leave a batter clueless at the plate. He also has a good curveball.
Moore's control is occasionally off, and he needs more time to develop.
ETA: 2013
Baltimore Orioles: Manny Machado
Manny Machado is a good all-around hitter. He is starting to get more powerful at the plate and already has good hitting skills for average. Machado is a well-rounded defender also.
He needs a lot of time though, and it's hard to scout him when he most likely won't be in the MLB before late 2014. He can break out and turn into a top 10 prospect in the MLB or be a bust, but for now he's dominant.
ETA: Sept. 2014
Minnesota Twins: Aaron Hicks
Aaron Hicks has talent and is a five-tool prospect. He has a great arm (he used to be a pitcher) and is also a great athlete. Hicks doesn't have great skills for base-running, but is a fast runner.
Many scouts think he might have a development problem though and will turn out as a scrub in the majors. Hicks still needs time to develop, but he is still decent as of now.
ETA: Sept. 2012
Chicago White Sox: Jared Mitchell
Jared Mitchell is a great athlete. He has the speed to pick up 30-40 stolen bases each season. Mitchell is also has great defense.
There are some questions on his hitting, but with his great figure, it looks like he can be a power threat.
ETA: 2012
Kansas City Royals: Mike Moustakas
Mike Moustakas is a player pitchers dread to face. He's major league-ready and has a compact-power bat. Lately he has been tearing it up, as the pitchers approach him hoping for an out know he will pull a single, double or even a homer.
Moustakas' only flaw is his body, which seems incapable of producing for very long.
ETA: Sept. 2011
Cleveland Indians: Drew Pomeranz
Drew Pomeranz is a LHP for the Indians. He has a durable frame and makes a nice curve to his curveball to fool batters, striking them out. Pomeranz also has a precise fastball.
He has one flaw, which is his control, and his mechanics need work.
ETA: Sept. 2012
Detroit Tigers: Jacob Turner
In the 2009 MLB Draft, the Detroit Tigers drafted tall right-handed pitcher Jacob Turner. Turner has a nice curveball, fastball and a good pitcher's frame. His control is moderate, but for a 19-year-old to reach 96 mph and developing quickly, it shows his ability to be a future ace.
ETA: 2013
L.A. Angels: Mike Trout
Mike Trout.
He's got command, knows how to play the game, is willing to do almost anything to improve himself and is already arguably a No. 1 prospect.
Trout is an extremely fast runner who can swipe 50 in a season, and overall he has a ton of tools inside the box. He has a lot of potential and a huge upside with a 30 homer, 30 stolen base-season possibility.
The only flaw Trout has is his arm isn't great, and he could afford to get better. Trout is up and coming, but as of the beginning of last season, he wasn't even a top-50 prospect, though his average increased to .362 in Single-A affiliates and .306 in High-A affiliates.
Now, some say he is comparable to Torii Hunter or better. Basically, Trout can almost do everything. He is also swinging less at bad pitches and improving in patience in the batter's box.
Trout is the type of hitter who could enter the Hall of Fame. The Angels really got a nice gem on this one.
ETA: 2012
Seattle Mariners: Dustin Ackley
Dustin Ackley is a batter you don't want to face. He has almost no flaws in his bat, he has plus contact and patience in the batter's box. His speed is good too. It's a little ironic that Ackley is a similar hitter to Ichiro and could soon replace him in the outfield.
Ackley's defense is average. He can also play multiple positions (OF and 3B).
ETA: 2012
Texas Rangers: Jurickson Profar
Jurickson Profar just turned 18, and the SS has an outstanding bat from both sides of the plate. His tools aren't elite yet, but at 18, to compete well versus more experienced pitchers, you can't say he's not top-notch.
Profar's a future starting SS with plus skills, but it doesn't look like he's a star. The hype will be all around this young stud.
ETA: Sept. 2014
Oakland A's: Grant Green
Grant Green is an amazing positional player. He is great at defense, he has above-average power and many other tools. His plate approach isn't great, but he has good leadership skills and is ready to be on a major league level.
ETA: 2012
Washington Nationals: Bryce Harper
Bryce Harper has strong and quick hands, is very aggressive and is a future star. He is being compared to Chipper Jones.
Harper, who in the Arizona Fall League posted a .343 BA, keeps on getting more powerful. He also runs surprisingly well for his size and is very aggressive on the bases.
Harper was recently the pick No. 1 in the draft, and he signed a five-year contract with up to a $9 million bonus. He made his professional baseball debut in the Washington Nationals' Florida instructional league, where he batted .319.
He has the ability to play multiple positions, right field and catcher. Right field is new to him, but once he gets used to it, Harper will be a solid outfielder because of his strong right arm. 
ETA: 2013
Florida Marlins: Matt Dominguez
Matt Dominguez is a decent 3B for the Marlins. If not for his extremely talented glove, chances are his hype would be very low, and he would be considered a scrub.
If he adds some polish to his bat, you can see him at the major league level soon.
ETA: 2012
Atlanta Braves: Julio Teheran
Teheran has many great aspects. He is a great fastball pitcher, has a good breaking ball with fantastic velocity and excellent control. It is also a good thing he is a Braves affiliate, because the Braves' pitching staff isn't very young. Teheran could even be their ace by the start of next year, given the fast pace of his development.
His changeup and curveball are also both quality offerings. This gives him a three-pitch combo, which is very good for a minor league prospect and could soon make him a top. He also has a great effort for the game, and I am very excited to watch him play.
ETA: 2012
New York Mets: Zack Wheeler
Zack Wheeler is coming to New York. Wheeler has a plus fastball that reaches up to 94 mph and a great curveball. His changeup is also slightly above average.
Wheeler is also nice and healthy. In a few years I can see him as a decent No. 2 starter.
ETA: 2013
Philadelphia Phillies: Jonathan Singleton
Shortly after Jonathan Singleton got drafted in 2009, the scouts saw it: a young Alex Rodriguez, maybe.
Singleton provides homers, extra base hits and even a .290 average. He is a great athlete and will soon be in the MLB if he continues to progress. Singleton put up the same stats and looks similar to athletes such as Ryan Howard, Alex Rodriguez and Manny Ramirez.
ETA: Sept. 2012
Milwaukee Brewers: Mark Rodgers
Ever since he has been drafted, Mark Rodgers has faced struggles with injuries. He provides upside though, and when healthy, his fastball can hit 96 or 97 on the radar gun.
Rodgers could soon be a nice power arm in the Brewers' rotation or bullpen. 
ETA: Sept. 2011
Cincinnati Reds: Aroldis Chapman
What can I say about former Cuban star Aroldis Chapman?
He can hit 105 mph on a fastball, which is impossible to hit. He is a reliever and could be the closer of the future. Once the 100-105 mph fastball hits the plate, the batter is clueless of the situation and blanks out.
Chapman has a high ceiling and can soon be the Reds' closer.
ETA: Sept. 2011
St. Louis Cardinals: Shelby Miller
Shelby Miller is the future of the Cardinals. The 20-year-old has a picture-perfect changeup that strikes the right-handed batters into confusion. He also has a decent curveball and a good fastball that can occasionally touch 95 mph.
Miller's velocity is sometimes off, but the movement to his pitches are outstanding.
ETA: 2013
Chicago Cubs: Brett Jackson
Brett Jackson has a lot of upside. He has some speed, some power, and a bit of everything. His glove in center field is also a plus.
Jackson also has some plate discipline. He has well-rounded skills that will get him to the majors. However, when he comes up to the plate it's either a strikeout or a hit, which could be an issue.
ETA: 2012
Houston Astros: Jordan Lyles
Jordan Lyles is a name you will see soon.
Lyles is a strikeout pitcher and an inning-soaker. He has a lot of hype because of his strikeout capability and his explosive fastball.
His command is promising, and he has a reliable curveball and breaking ball. Lyles also isn't afraid to come at hitters to get them out.
ETA: 2012
Pittsburgh Pirates: Jameson Tallion
Jameson Tallion is a tall pitcher with a huge amount of talent. He has a tireless work ethic and electric stuff; his fastball can reach 100 mph, which makes the fire ball complicated to hit. Tallion also has a nice slider with a good amount of movement to it.
Tallion has a nice feel for pitching, but his mechanics are inconsistent, and his changeup needs work. Nevertheless, he has the ability to be at a MLB level already, which is a great sign for the 19-year-old prospect.
ETA: 2013
San Diego Padres: Casey Kelly
Casey Kelly, the centerpiece in the deal sending A-Gon to Boston, is comfortable at the mound. He has three strong pitches already and can be a potential No. 2 starter.
He needs to polish his curveball, but has a plus fastball and changeup. Kelly's WHIP is another flaw, but he is a tremendous athlete and is looking for a great future.
ETA: Sept. 2012
Colorado Rockies: Tyler Matzek
Tyler Matzek is a scout's dream. The heat to his fastball gives him the ability to average nine strikeouts per nine innings.
Matzek has a decent ceiling, but a problem is that he walks six-plus per nine innings, which kills his stats. He also has trouble on the command of his pitch. Matzek has many pitches to throw though, and he can pitch a decent fastball (at rates up to 94 mph), changeup, slider and curveball.
ETA: 2013
Los Angeles Dodgers: Dee Gordon
Dee Gordon is a crazy athlete and a massive threat to steal bases, but his jump needs some work. He can make leadoff in the batting order, and once he learns to steal the bases, Gordon has potential to swipe 50 bases.
His defense is decent, but on occasions he will make some errors.
ETA: Sept. 2011
Arizona Diamondbacks: Jarrod Parker
Jarrod Parker has decent skills on the mound, but has plagues of injuries to deal with. He hasn't played much and is hard to scout, but as of now his potential is high, and he can proceed to be a solid starter—maybe top when we can see his stuff.
ETA: 2013
San Francisco Giants: Brandon Belt
Brandon Belt is a stud in the organization. He put up great stats last year, posting 76 XBH, .352 AVG, 23 homers and 112 RBI. Belt has a great swing and recognizes pitches well. He also learns quickly, and if you throw the same pitches multiple times at him, you will regret it.
Belt will play well in the majors, but a flaw is his injury troubles.