MLB Trade Rumors: New York Yankees Pursuing 2 Top Pitchers
July 28, 2011
Jeff Gross/Getty Images
Just recently, it seems as though the New York Yankees have narrowed their desires to include two possible starting pitchers: Hiroki Kuroda of the Los Angeles Dodgers and Ubaldo Jimenez of the Colorado Rockies.
In terms of just cost, Kuroda would be the best option. This Dodgers starter certainly has the most bang-for-the buck in the short term. The Yankees would probably be able to get him with a type B prospect. They certainly would not need to trade away prospects like Jesus Montero, Ivan Nova, Manny Banuelos, Dellin Betances or Austin Romine.
Production-wise, Hiroki Kuroda is as good as it gets. He is a very consistent pitcher who has a 3.19 ERA in 133 IP. He would most definitely give the Yankees the consistent innings they need to get out of a number two starting pitcher.
There are a few question marks and risks involved in a deal like this.
First, you need to consider Hiroki Kuroda's age. He is 36 and will be a free agent after the season. There is also an unknown factor on how he will perform the second half of the season in the AL East.
Kuroda might respond well because it is a walk year, or he might collapse under all of the pressure and scrutiny involved with being a Yankees players. My first instinct is that he will probably not struggle, though. He is used to a city that is second in criticism and pressure to New York—LA.
I also feel that Kuroda has a good chance to succeed in the AL East. He was able to easily adapt to the new environment of MLB—coming from Japan—so he should be able to adapt to this new environment of the AL East.
Keep this in mind: Kuroda has never had an ERA about four for the season.
Ubaldo Jimenez loses in terms of cost at the present time. As of now, the Colorado Rockies are asking for the moon.
The need three of the following: Jesus Montero, Ivan Nova, Manny Banuelos and Dellin Betances. But, according to Mike Axisa of the River Ave. Blues, the deal could depend on whether or not the Yankees are able to include Phil Hughes. The deal could have Phil Hughes, Dellin Betances and Austin Romine. This would be easier than including Ivan Nova, Jesus Montero and Manny Banuelos.
I think it would be a smart move to deal Phil Hughes, Dellin Betances and Austin Romine. Phil Hughes has struggled immensely this season. Just take a look at his start a week ago against the Oakland Athletics. Hughes could not even win a game in which the team led 14-2. 
It has become apparent that Hughes was better as a reliever. Look at the 2009 season if you do not believe me. He could not even be counted on in the playoffs.
In regards to Betances and Romine, both of them are not proven players at this point. The Yankees could potentially sell high on Betances, who has loads of potential but has struggled with control.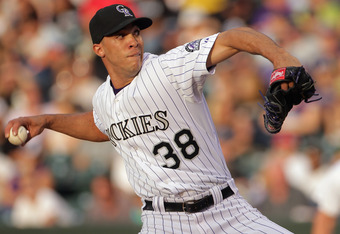 Doug Pensinger/Getty Images
Austin Romine is a solid catcher, both defensively and offensively, but the Yankees have a boatload of catchers—even if you do not include Jesus Montero in the list. JR Murphy will be stepping up in AA next year, and Gary Sanchez will be moving up the ranks. The Yankees could find one of their catchers to be in AAA next year, if they do phenomenally.
Plus, you have to take into account the fact that Romine has been clogged up in AA and stuck there for almost two full seasons, because of the Yankees reluctance to call up Montero. Someone has to go.
Ubaldo Jimenez has had a 3.03 ERA in his last 11 starts. Jimenez has thrown about 130 more innings than Kuroda, since he arrived from Japan.  He even has a better FIP than Kuroda, which is a stat that measures a player's success with greatest control. In his last 11 starts, Ubaldo Jimenez has only walked about two per nine. 
I like Ubaldo Jimenez in the long run, but the Yankees might have a better chance with Hiroki Kuroda this season, especially since he has most value, in terms of prospects. But you should understand why the Yankees would have to give up more to get Jimenez. The team has more control over a smaller contract.
Whatever happens, happens. But I do think that this is a win-win situation, if the Yankees could acquire one of these solid starters.