MLB Trade Rumors: Clay Buchholz Injury Worsening; Red Sox Forced to Trade?
July 28, 2011
J. Meric/Getty Images
A recent report by WEEI.com's Alex Speier suggests that the back problems that have kept pitcher Clay Buchholz on the DL for the past few weeks are worse than the team has acknowledged.  Though the organization has been publicly optimistic, there is a growing sense that behind closed doors, the Boston braintrust knows it's facing a serious problem.
Referring to a scheduled visit with a back specialist, Speier says, "A source familiar with the matter suggested that it is more than obligation that is prompting this consultation. Instead, the source suggested that the Sox are 'very concerned' that the issue is not muscular, but instead could involve a structural issue such as a bone."
If these concerns are credible, it changes the trade game for the Boston Red Sox.  If, as Speier says, Buchholz's return is now an "if" as opposed to a "when", the the Sox will essentially be required to add an arm to the rotation.
Assume for a moment that Jon Lester bounces back after his lat strain.  That still leaves the team with two quality starters.  John Lackey is still struggling; as recently as Wednesday night he allowed four runs (three earned) in 5.2 innings against Kansas City.
Yes, Lackey has been slightly better of late, actually posting three quality starts in his last six outings.  But put that into perspective.  Boston can't afford it's No. 3 starter to have fair performances half the time.  In his other three starts during that span, Lackey coughed up a combined 13 runs and failed to go six innings in any of the games.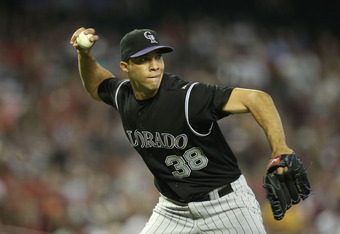 Christian Petersen/Getty Images
Lackey has been a bust for most of the season and continues to be an utterly unreliable option.  
Tim Wakefield and Andrew Miller have also been hit hard lately, and Kyle Weiland is not yet ready to be a solution.  Felix Doubtront is on the DL at Pawtucket.  So excluding Josh Beckett and Lester, the rotation is a mess.
If Speier's take is accurate and Buchholz is going to be on ice for longer than originally thought, or if he can't come back as a starter at all in 2011, the Red Sox must make a significant move.  That probably means adding either Colorado's Ubaldo Jimenez or L.A.'s Hiroki Kuroda.
Of all the starting pitchers on the market, only those two are reliable enough and talented enough to make an impact in the AL East.
Based on this latest report on Buchholz's health, the club has crossed the line from possible buyers to a team in dire need of assistance.
In these last few days prior to the July 31 deadline, expect the Sox to ramp up their pursuit of one of these two hurlers.  Jimenez would be preferable because he's relatively inexpensive and under team control for an extended period.  Kuroda is older and will be a free agent.
However, either player could be a game-changer for Boston. Bear in mind that the Yankees are also going after a big-time arm, so the Sox must make an offer that is not only acceptable to the team involved, but also better than what New York puts on the table.  
The hope here is that the Red Sox can find a deal that will keep the farm system in good shape even as they add the pitching they need.  With three days left to get this done, Boston must act quickly to resolve a situation that is suddenly worrisome.