2011 Free Agency: John Fox and the Denver Broncos Have Been Quiet...for Now
July 28, 2011
Doug Pensinger/Getty Images
Myself, along with every Broncos fan, was being teased with what we thought was going to be the trading of Kyle Orton. It simply did not happen...yet.
The Broncos were reported to be in contract discussions with the Miami Dolphins, but the hours got later and later with no deal put into place. Reports have been made that a deal is "close," but as we have all come to learn close is only coos if a deal is done. 
The Broncos seemed to have been working internally with the players they drafted and figured out the numbers of how their cap space will work for the coming year. With the new CBA and the salary cap at about $120 million, the Broncos are doing what they can so that they can start spending that money and putting smiles on Broncos country.
Here is what the Broncos have done thus far:
Signed 17 undrafted free agents
The Broncos had to start putting together a 90 man roster or at least get to it. According to their website the Broncos roster is at 90 or just under, pending the Denver Broncos free agents staying or not. With the start of training camp at 8:30 AM on the 28th (today) players are going to have to be raring to go now that football is back.
Traded WR Jabar Gaffney to the Washington Redskins for DE Jeremy Jarmon
Here is a move that made me scratch my head for an instant, but after looking deeper into it made a whole lot of sense for the Broncos. Jabar Gaffney is 30 years old, going on 31 with a contract that saw him making over 2 million this year. Fox is trying to get younger and he was going to release Gaffney anyway, but since he was able to get a young 6'3" 286 lb defensive lineman who he will most likely try and mold into a defensive tackle (based on his size) then Fox made a nice move.
Signed four out of their nine drafted rookies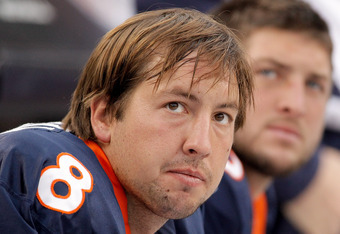 Justin Edmonds/Getty Images
With the drafted rookies technically holdouts as of 4 pm on the 27th, Wednesday (yesterday), many fans were worried, but a few short hours later four of the nine were signed to contracts. It is not a surprise that the lower round draft picks have gone first, that is normally how it is done. Do not fret, the Broncos front office are definitely working into the night to make sure that the draft picks are able to get on the field by 8:30 am for their first practice.
Now here is what the Broncos need to do:
Trade Kyle Orton
The Broncos and Dolphins have been involved in these talks for the last 12-14 hours of Tuesday. The Broncos need to make this trade in order to free up over $8 million in money so that they can start making big pushes for big time free agents at big time areas of need. I love Orton and hope he does well, but it is clear and evident that his time is up, the Broncos brass want to see what Tim Tebow is made of, and frankly, so does the rest of Broncos country.
Sign Brandon Mebane
The Broncos have already lost out on Barry Coefield who was taken by the Washington Redskins, who have proven to be busy so far. Brandon Mebane seems to be the last big time name at the defensive tackle spot that the Broncos are truly a mile high on. Mebane would fit perfectly in the new defensive look with Elvis Dumervil and Von Miller on either side of him. Broncos fans will be able to breath a sigh of relief with a big name free agent at a huge area of need.
Sign Willis McGahee
Not my first choice, or the Broncos for that matter, but Willis McGahee still has a couple years. With the Broncos not able to win the bidding war for DeAngelo Williams, it seems McGahee is next on their list. Again, another domino effect once a trade of Orton is complete but McGahee is high on the Broncos and it seems that the two will end up coming to an agreement. 
Follow Me for all your Denver Bronco News on twitter: @vincesapienza
www.twitter.com/vincesapienza