2011 NFL Predictions
July 27, 2011
Jed Jacobsohn/Getty Images
* Shockingly, Nnamdi Asomugha signs with the Washington Redskins in early August for an 8-year, $110 million deal, as free-spending owner Daniel Snyder looks to erase the memory of Albert Haynesworth's disastrous 7-year, $100 million contract. Asomugha becomes the NFL's highest-paid cornerback, but, like Haynesworth, becomes just another name that people in Washington can't bring themselves to pronounce.
* The New York Jets win Super Bowl XLVI, beating the Atlanta Falcons 27-24. Quarterback Mark Sanchez passes for 259 yards and 3 touchdowns, and is named the game's MVP. Sanchez is gracious in his acceptance speech, and uses the platform to confirm rumors that he is dating soon-to-be 18-year-old actress Dakota Fanning. Sanchez thus completes his two major goals for 2011: to win the Super Bowl, and to date older women.
* The Seattle Seahawks, last year's NFC West champions, stumble out of the gate, losing their first four games on their way to a 4-12 record. Head coach Pete Carroll laments that he can't remember ever losing 12 games in a season, although he does recall "losing" 12 games in one NCAA ruling.
* Free-agent wide receiver Santonio Holmes is a hot commodity on the open market, and is pursued by several teams looking to land an impact receiving threat. After weeks without a deal, Holmes fires his agent, and soon after brokers a lucrative contract to resign with the Jets, proving that his skills at negotiating deals, honed as a youth in Belle Glade, Florida, have not diminished.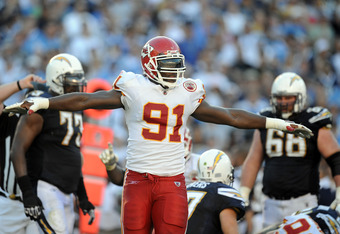 Harry How/Getty Images
Holmes puts his powers of argument on display again in January when he represents himself in court on charges of possession of marijuana, stemming from a wild night out at a Phish concert with Miami's Ricky Williams.
* Kansas City defensive end Tamba Hali records four sacks in the Chiefs season opener against the Bills, tying an NFL record by sacking four different Buffalo quarterbacks. Hali easily wins the AFC Defensive Player of the Week award, but feels slighted by the attention given the NFC Defensive Player of the Week, Chicago's Israel Idonije, who merely posts 1 sack and a forced fumble. In protest, Hali converts to Islam for a day, deeming himself "Muhammad Hali" and declaring himself "The Greatest."
Hali leads the AFC with 15 sacks, and the Chiefs finish 8-8, tied for first with three other teams in the AFC West.

* Philadelphia Eagles head coach Andy Reid successfully coaxes Brett Favre out of retirement, and the Eagles sign the 41-year-old legend to a one-year contract as Michael Vick's backup. Impressed with Reid's powers of persuasion, Comedy Central offers Reid $1 million to lure Dave Chappelle out of retirement. However, Reid fails to bring Chappelle back to television, but does convince the comedy genius to host a private screening of Half Baked for the Eagles during their Week 7 bye week.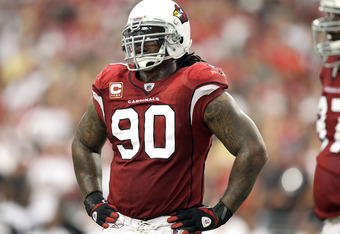 Christian Petersen/Getty Images
The Eagles win the NFC East with a 10-6 record, but fall to the Packers in the playoffs when Favre throws a game-clinching interception to Trammond Williams at the Packers' 7-yard-line with 30 seconds remaining.
* The Detroit Lions Ndamukong Suh wins the NFC Defensive Player of the Year award, beating out San Francisco's Patrick Willis for the honor. Suh registers 13 sacks and two interceptions, helping the Lions boast the NFL's eighth-best defense. Suh shows his versatility by scoring two touchdowns on offense, kicking an extra point and accompanying Nathan Lane to the 2012 Tony Awards.
* Arizona Cardinals bad boy Darnell Dockett partners with Pet dairy products, Ice-T and Glock to introduce a line of frozen treats called "I Hate Copsicles." Sales are brisk, while Dockett remains brusque to any policemen who dare stop him for a traffic violation.
Dockett enjoys a fine season, validating his status as one of the league's best defensive tackles with eight sacks and six forced fumbles. However, Dockett runs afoul with Roger Goodell after he  tosses a Target security guard through a window in Phoenix, an act Dockett claims was "all in good fun." Dockett is later summoned to meet with Goodell personally, where Dockett, much to the commissioner's chagrin, delights his thousands of Twitter followers with a minute-by-minute account of the meeting.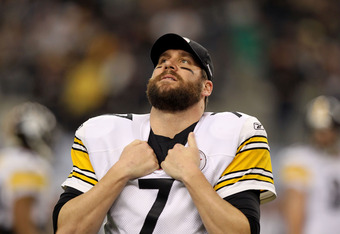 Al Bello/Getty Images
* During a Week 3 showdown between the Green Bay Packer and Chicago Bears, Jay Cutler is leveled by Clay Matthews early in the second quarter, sending the Bears signal-caller to the sideline with an injured left knee. Cutler receives treatment, and despite his ability to do cartwheels on the sideline, he chooses not to return to the game. Twitter is abuzz with Cutler-bashing after the game, and in an unofficial Twitter poll, he is voted the NFL's "greatest quarterback at limping off the field," gathering 4,312,056 votes, 500,000 of those come from Maurice Jones-Drew. In a subsequent Twitter poll, Cutler is voted the NFL's "worst quarterback in the league at limping on the field."
* The trash talk preceding the Pittsburgh/Baltimore season-opener on September 11th is incendiary, with Ravens insulting Steelers, Steelers insulting Ravens and James Harrison insulting everyone. Hines Ward and Ed Reed jaw-jack at midfield before the game, and Reed becomes irate when Ward threatens to "take him for a ride."
The Ravens silence the Steelers, but only temporarily, with a hard-hitting 20-19 win.
* Newly-married Ben Roethlisberger enjoys an injury-free year, throwing for 4,238 yards and 28 touchdowns. Roethlisberger attributes the domestic tranquility of marriage for his health, citing a "steady peace." He credits his wife, Ashley, for adapting to the life of an NFL superstar without complaint, saying that "he's never met a woman so willing to share a bathroom."
* In the October 9th game at Denver, San Diego's Philip Rivers and the Broncos Tim Tebow engage in a pregame shouting match, instigating the NFL's newest quarterback rivalry. The invective includes no profanity, and instead involves Rivers and Tebow each hurling their favorite lines of scripture back and forth in a battle of biblical proportions.
Denver wins the game, but the Chargers exact revenge in San Diego on November 27th, winning 27-26 when Rivers throws up a prayer as time expires that is corralled by Vincent Jackson in the end zone.
* Randy Moss signs with the Buccaneers for the bargain price of $500,000, and in Tampa's Week 2 game at Minnesota, Moss scores on a 20-yard touchdown pass from Josh Freeman. As a final insult to the city of Minnesota, Moss drops his pants, underwear and all, saluting a stunned Mall of America crowd with a celebration he later calls "The Dark Side of the Moon." Moss is ejected, and before the league can administer punishment, he retires. With no hint of irony in his voice, Moss says he's calling in "quits" for good.
* Journeyman free agent quarterback Matt Leinart ends up in San Francisco, after waking up next to a chicken and Mike Tyson's pet tiger after a two-day bender in a tiny Haight-Ashbury hotel.
Leinart later signs with the Cowboys to serve as third-string quarterback and Whirlpool water temperature checker.
* Arian Foster repeats as NFL rushing champ, piling up 1,589 yards to edge Chris Johnson by 91 yards. Foster creates a firestorm of controversy in November when his charity 10K run to raise awareness for tolerance, unwisely called "The Master Race," is canceled after numerous complaints.