NFL Free Agency: Hasselbeck Out, Jackson In, Leinart Could Join Soon
July 27, 2011
Jeff Gross/Getty Images
Almost immediately after the NFL lockout came to an end, the Matt Hasselbeck era also ended in Seattle.
The Seahawks agreed to a deal with former Minnesota Vikings quarterback Tarvaris Jackson after it was announced that Matt Hasselbeck will not return to Seattle for the 2011 season.
Hasselbeck joined the Seahawks in 2001 after being traded from the Green Bay Packers. Four years later, he led the Seahawks to their first ever Super Bowl appearance.
Despite his success, fans had mixed reactions about Hasselbeck at times, especially last season. He was booed off the field in his last start of the regular season.
Sources say Tarvaris Jackson's deal is worth $8 million over two years. Ironically, his contract will be identical to that of Charlie Whitehurst. Jackson and Whitehurst will likely battle for the starting job all the way up to the Seahawks season opener on September 11th against the 49ers.
Jackson played for new offensive coordinator Darrell Bevell the past five seasons in Minnesota, so that could lead to Jackson having a slight edge over Whitehurst.
Jackson made his biggest impact in Minnesota during the 2007 season, when he appeared in 12 games, completing 171 of 294 passes for 1,911 yards and 12 TDs. All of those were career highs for the second round draft pick out of Alabama State.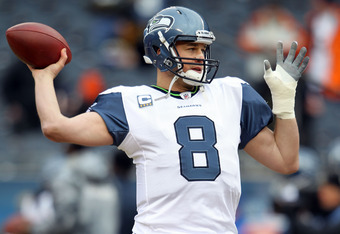 Andy Lyons/Getty Images
Matt Leinart is also reportedly on his way to Seattle, where he will be reunited with Pete Carroll. 
After winning the Heisman Trophy at USC, Leinart has been somewhat of a bust in the NFL. In five seasons, Leinart has completed 340 of 595 passes for 3,893 yards, with 14 TDs and 20 interceptions.
Leinart is expected to compete with Whitehurst and Jackson for the starting job, but will most likely fall into the third-string slot.
Hasselbeck will undoubtedly go down as one of the most successful quarterbacks in franchise history. He was the all-time leader in completions (2,559), attempts (4,250) and passing yards (29,434), and was second in touchdown passes (174) and victories (69) to Dave Krieg (195 and 70).
With Hasselbeck lined up under center, the Seahawks experienced the most successful five-season stretch in team history, which included four division titles, five playoff appearances, and an NFC title from 2003-2007.
Whether fans liked him or not, Hasselbeck will be hard to replace as the Seahawks prepare to enter a new quarterback era in 2011.