2011 Cincinnati Bengals: Can Andy Dalton Be the Bengals' Franchise Quarterback?
July 27, 2011
Tom Pennington/Getty Images
With all of the Carson Palmer drama surrounding the Cincinnati Bengals, many fans have forgotten about the bigger picture: Who will start at quarterback this season?
The Bengals are in the market for a veteran quarterback, but if they fail to find one they will likely turn the offense over to rookie Andy Dalton.
Dalton was a second-round pick out of TCU and had an excellent college career for the Horned Frogs.
The Bengals are open to letting Dalton run their offense, especially with all of the success other rookie quarterbacks have had recently (Matt Ryan, Joe Flacco, Mark Sanchez).
When asked about the Bengals' quarterback situation, team owner Mike Brown said:
We think he is promising for our future.  It won't be altogether easy for him all the time, but we're going to put him in there and if he can do it we're going to go with him.
The question is, can Dalton handle the load?
The 23-year-old rookie is being thrown into a three-ring circus in Cincinnati, filled with arrests and free agents.
To put it simply, the Bengals offense is a mess.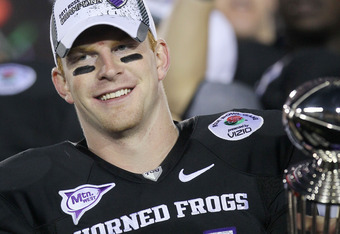 Stephen Dunn/Getty Images
The future of wide receivers Terrell Owens and Chad Ochocinco is unclear, and running back Cedric Benson was just arrested for assault.
Dalton will have a lot to deal with if he is going to be the starter for this team and may have some trouble adjusting.
A major bright spot that works in Dalton's favor is the acquisition of wide receiver A.J. Green out of Georgia.
If these two start working together from their rookie seasons, it could create a special chemistry which may lead to success. 
Dalton has proven he can handle the pressure-cooker situations, and he may be able to lead the Bengals into the right direction.
Another thing that works in Dalton's favor is the fact that he will be playing in Jay Gruden's West Coast offense, where he should fit in very well.
There are a lot of question marks surrounding the Bengals going into 2011, but if they are unable to come across a veteran quarterback, expect to see Dalton get the nod.
Only time will tell if the Bengals have found their franchise man.