Jimmie Johnson: 5 Signs He Has Hit His NASCAR Peak and Is Past His Prime
Elsa/Getty Images
Over the past decade, Jimmie Johnson has been NASCAR's top dog and has won an unprecedented five consecutive drivers' Championships.
This run has placed Johnson firmly among the all-time great drivers in NASCAR, but it seems he is finally past his prime.
I'm not saying he is going to be washed up and never win anything ever again, just that he isn't the dominant driver he once was.
In this slideshow, I will defend my bold claim with my five reasons why Jimmie Johnson has peaked.
5: Similar Historical Greats
Mark Thompson/Getty Images
What Jimmie Johnson has done over the past five seasons has never been seen before in NASCAR.
What most NASCAR fans do not realize is that this is not the first run like this in motorsport history, and even more amazing is that it's not the only five-peat this decade.
Other top drivers in other series have been just as dominant, and it wouldn't be a stretch to say Jimmie Johnson was the least dominant of the bunch.
Michael Schumacher ruled F1, winning five straight championships in his Ferrari, and Valentino Rossi did the same while conquering Moto GP.
Schumaker and Rossi's streaks both ended at five.
Both of these drivers ruled their respective sports with an iron fist, and Jimmie Johnson hasn't been as good a either of them.
So if Schumacher and Rossi couldn't pull of a six-peat, why should I believe that Jimmie Johnson can?
4: Look at His Career Stats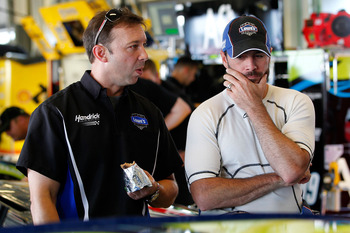 Geoff Burke/Getty Images
Jimmie Johnson has compiled one of the more impressive stat lines over his career, but his stats show that he may be in a decline in performance.
Over his career, his wins have increased from three in 2003 to five in 2006, the year he won his first championship.
They increase again to 10 wins in 2007 and have steadily dropped each consecutive season until last season when he recorded six wins.
The number of poles during his five championship years show the same trends: starting low, peaking in 2007, and gradually declining to 2010, when he only captured one pole position.
This trend of wins and pole positions projects a pretty clear curve. Statistically speaking, Jimmie Johnson has already peaked and should continue to decline in production.
3: Pit Crew Troubles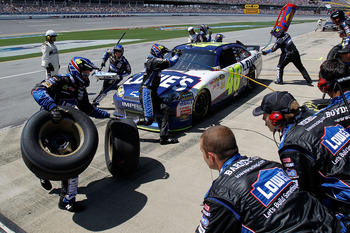 Todd Warshaw/Getty Images
Ask any driver and they will tell you that NASCAR is a team sport and the pit crews play and extremely important role on the team.
It is said the easiest place to pass in a race is on pit road, and Jimmie Johnson's pit crew has been in the news lately for going backward and not forward on Pit Lane.
Last season, Jimmie Johnson switched out his entire crew with teammate Jeff Gordan's pit crew while in the heat of Chase for the Championship.
This year, Jimmies Johnson's crew has struggled yet again, with their biggest mishap coming in Bristol, costing the No. 48 car a win.
The team is now having try-outs each week among the pit crew members to put the best team together. It will be interesting to see if this strategy works for the reigning champions.
2: This Season's Performance Is Down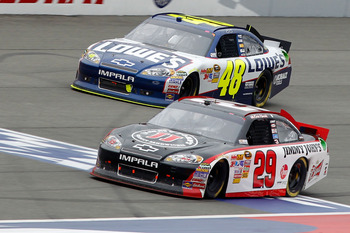 Todd Warshaw/Getty Images
As stated earlier, Jimmie Johnson's career stats are beginning to show a decline, and this season fits the model so far.
His numbers this season are down in important categories. The one that stands out the most is in the win column.
Jimmie Johnson managed to get to victory lane six times in 2010 and, as we know, he won the championship that season.
This season, Jimmie Johnson has only managed to win one race, but with almost half the season left, he still has plenty of time, right?
Traditionally, Jimmie Johnson has done well in the second half of the season, winning several races after the race at Indy.
In his last championship season, he only managed one win after the race at Indy. That could be important in this year's Chase.
In his previous championship seasons, he normally recorded multiple wins by this time. With the point-system putting more emphasis on wins, this lack of early-season production may be what finally knocks the No. 48 car off its perch.
1: This Year's Field Is Stronger Than Ever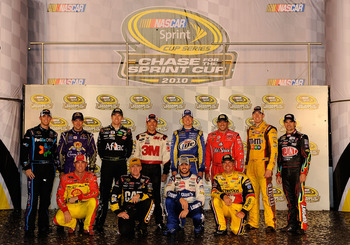 Rusty Jarrett/Getty Images
Jimmie Johnson has won the Championship the five previous seasons, but he has never had a competitive group of front-runners like there are this season.
This season has seen 13 different drivers win in the first 19 races. That's one of the highest totals ever in NASCAR, and there are still four or five drivers who could win races this season.
With the new point-system this year as well the Top 6 drivers as tightly grouped as we have ever seen, the No. 48 car may see its winning streak come to an end.
Normally, we would see one or two other drivers challenging the No. 48 car for the top spot. This season has proven to much more competitive.
Over the first half of the 2011 season, Carl Edwards, Kyle Busch, Kevin Harvick, Kurt Busch and Matt Kenseth are all within 21 points of the reigning Champion (and don't count out Jeff Gordon out yet either).
Edwards, Busch and Harvick are hungry for their first Championship, and Busch, Kenseth and Gordon are out to prove they still have what takes to be Champion.
Jimmie Johnson has had a bull's eye on his back for the past five seasons, and 2011 may be the year he finally gets dethroned as NASCAR's top driver.
THANK YOU!
I would just like to thank everyone for reading, and I would love to entertain any questions or comments.
Keep Reading