New York Mets Trade Rumors: Why Jose Reyes Should Not Be Traded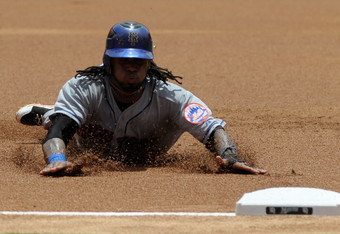 Sarah Glenn/Getty Images
The New York Mets in 2011 have the misfortune of playing in the National League East, virtually ensuring they will be spectators once the playoffs come around.
The pitching staff is second-rate without injured ace Johan Santana. Protracted injuries to David Wright, Ike Davis, Jason Bay and Angel Pagan forced manager Terry Collins on most nights to field a patchwork of scrappy youngsters. The results haven't always been pretty, but there's no denying the team has played hard for the fiery skipper.
All that said, the Mets should NOT trade their best player, shortstop Jose Reyes, at this week's trade deadline despite his pending free agency at the end of the season. No way, Jose.
With a significant infusion of $200 million to be coming soon from new prospective minority owner David Einhorn, the Mets need to get Reyes off the market and sign him to a long-term deal.
Reyes is the catalyst and face of the franchise. He makes this team tick, both in the field and at bat. He is an attraction. He sells tickets. He gives Mets fans hope, if not for this year then the foreseeable future.
The Mets have been playing good ball lately, thanks in large part to Reyes. Entering play Monday night, his batting average stood at a gaudy .353. With just four home runs on the season, Reyes still maintained a .529 slugging percentage and .394 on-base percentage. That is a catalyst.
Contrarians will say that because the Mets play in the same city where the cash-rich Yankees also reside, a rebuild needs to be swift. Reyes' market value will never be higher, so trading him now to a contender will yield a package of top prospects in return, they'll say. This is certainly an argument to be considered, hence the intense debate.
The problem with prospects is that they are just that—prospects. They have the potential to be stars, but nothing's guaranteed. Some make it, many more don't.
Take last year's Roy Halladay trade. The Toronto Blue Jays knew they couldn't sign Halladay, so they traded him to the Philadelphia Phillies for a group of prospects led by pitcher Kyle Drabek. Halladay is arguably the best pitcher in the game and the Phillies scored a coup by acquiring him. Drabek may eventually be a stud major leaguer, but the early returns suggest he has a long way to go.
If the Mets trade Reyes, they will almost certainly not receive a major league-ready starting pitcher in return—which is what they need most. Contenders don't trade pitchers ready for the big stage unless they're prepared to mortgage the future, which few are. Instead, the Mets would get one or maybe two Kyle Drabeks—guys who have potential but still have yet to prove it—in any Reyes deal.
Reyes is the ultimate bargaining chip for the Mets, but general manager Sandy Alderson needs to get the most he can for Carlos Beltran and perhaps Jason Isringhausen, Tim Byrdak and even outfield prospect Fernando Martinez.
Players like Reyes don't come along that often. He's the straw that stirs the drink, is only now entering his prime and is the centerpiece of a team that, while in need of parts, is not completely broken. He is the present and future of the ballclub, not some untested kids who the odds say have a better chance of not panning out.
This article is
What is the duplicate article?
Why is this article offensive?
Where is this article plagiarized from?
Why is this article poorly edited?

New York Mets: Like this team?