Ranking the UFC Divisions: Which Division Is Really the Best?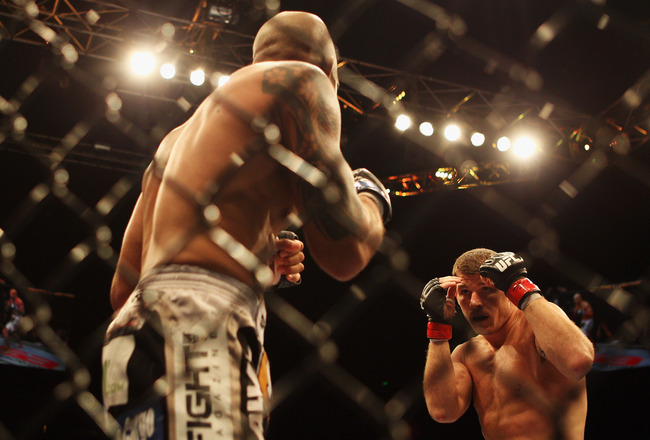 Mark Kolbe/Getty Images
This is a hotly contested subject among many in the MMA community.
Like the AFC vs. NFC debate in football, Eastern vs. Western conferences in basketball, and the AL vs. NL in baseball, MMA has a constant and ever-changing debate over which weight class is the deepest and which one has the best fighters.
This is always a tough one to nail down, as you have to look at how many fighters are ready for a title shot, which fighters are just a few wins away, and just how good that division's champion is to make a legitimate claim to which division is really the best.
So to make this debate as fair as possible, here are the three sections that I have broken these fighters into.
Champion - This one is really self explanatory. Who is the champion, and how good is he?
Contenders - This category is a little tougher, but I decided to make this category the fighters who, with a win in their next fight, are a legitimate choice for a title shot. This also includes the fighter currently scheduled to fight for the title, who will be underlined.
On the Cusp - This is the hardest category. I decided not to put a cap on how many fighters were allowed to be in this category, so for some you will see very few (BW has the fewest), and some you will see a lot (WW is has far and away the most on the cusp fighters).
These are guys who could legitimately get a title shot down the road, but they will need at least two wins to get up or back to that level. Some guys who are coming off of a title shot will be in this category if they will need at least two more wins to get a title shot (like Jake Shields and Josh Koscheck).
Now, time to start a list that will likely be criticized by every person who reads it.
1. Lightweight
Michael Cohen/Getty Images
Champion: Frankie Edgar
Contenders: Gray Maynard, Clay Guida, Jim Miller, Melvin Guillard, Ben Henderson, Dennis Siver
On the Cusp: Sean Sherk, Anthony Pettis, Takanori Gomi, Evan Duhnam, Edson Barboza, Anthony Njokuani, Ross Pearson, George Sotiropoulos, Matt Wiman, Joe Lauzon
I had a hard time deciding which group to put Dennis Siver in, as he has been on a good streak as of late, but he hasn't gotten the publicity that other contenders have, but with four consecutive wins that include names like Andre Winner, George Sotiropoulos and Matt Wiman, I would be hard-pressed to argue with a title shot depending on his next fight.
The lightweight division has had a lot of new blood enter their contender status. B.J. Penn, Kenny Florian and Diego Sanchez have all left lightweight for a new division, a change that would cripple most divisions.
These fighters responded by putting on dominant performances and stepping up to take their place. Frankie Edgar put on a Fight of the Year candidate in their rematch, and they have a third installment set for UFC 136.
Clay Guida put on an upset performance against the final WEC Lighweight Champion Anthony Pettis to announce to the world that Greg Jackson has officially turned the perennial gatekeeper into a legitimate contender.
Jim Miller has been on a tear and will meet another contender in former WEC Champion Ben Henderson in what has to become a No. 1 contenders bout.
Melvin Guillard has been knocking out every fighter in his path on his way to becoming the most dangerous fighter in the entire lightweight division. He holds more power than anybody else at 155 and will be fighting Joe Lauzon at UFC 136.
Among their fighters on the cusp, they have a good mix of new talent (Edson Barboza, Ross Pearson, Anthony Njokuani, Matt Wiman, Evan Duhnam, Anthony Pettis) and experienced veterans (George Sotiropoulos, Sean Sherk, Takanori Gomi, Joe Lauzon).
It is hard to argue that the lightweight division doesn't have the perfect combination of star power and depth to be the best division in the UFC.
2. Light Heavyweight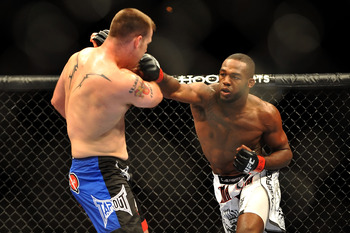 Jon Kopaloff/Getty Images
Champion: Jon Jones
Contenders: Quinton "Rampage" Jackson, Mauricio "Shogun" Rua, Forrest Griffin, Rashad Evans, Lyoto Machida
On the Cusp: Tito Ortiz, Ryan Bader, Antonio Rogerio "Lil Nog" Nogueira, Rich Franklin, Matt Hammil, Vladimir Matsyushenko, Phil Davis
The light heavyweight division largely gets this position based on mystique. Largely considered the most exciting division in MMA, every contender in the division has held the LHW belt at some point in time.
Jon Jones is fighting Quinton "Rampage" Jackson at UFC 135 for the title, a fight that was supposed to take place at UFC 133 and between Jones and Rashad Evans.
After Jones pulled out of the bout with an injury, Rashad was scheduled to fight another young fighter with a strong wrestling pedigree in Phil Davis, but he also was forced out of the fight due to an injury, and Evans will instead be fighting legend of the sport Tito Ortiz.
Ortiz is the wild card of the division, as nobody really knows what to make of him. On an 0-4-1 streak since October, 2006, Ortiz was set to face the young Ryan Bader, who was coming off of his first loss to Jon Jones. Nobody expected Ortiz to win the fight, but he did so in just under two minutes and won submission of the night honors.
If Ortiz beats Evans, he is thrown into a world that he hasn't been a part of for nearly five years, when he fought and lost to Chuck Liddell in a title fight.
At 36, Ortiz is still young enough to make one last title run, but nobody knows for sure if he is legitimately back after a string of injuries derailed his career or if he got lucky in catching Bader early in their fight.
Lyoto Machida is the only light heavyweight contender without a fight, although it is possible that he will fight Phil Davis later this year. Although he is 1-2 in his last three fights, those were the first two losses of his career, and he was rumored to be fighting Jon Jones if Jackson turned down the fight.
Mauricio "Shogun" Rua is coming off of an embarrassing loss in his first title defense against new champion Jon Jones. He is set to face Forrest Griffin at UFC 134 in Rio in an attempt to avenge a loss from four years ago in his UFC debut.
Although the light heavyweight division lacks fighters ready to step up if some contenders fall off, they have the most competitive belt among any division and deserve to be highly ranked.
3. Middleweight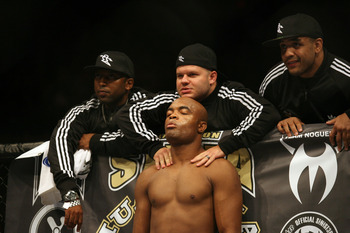 Tasos Katopodis/Getty Images
Champion: Anderson Silva
Contenders: Yushin Okami, Chael Sonnen, Brian Stann, Michael Bisping, Mark Munoz, Vitor Belfort
On the Cusp: Jason "Mayhem" Miller, Jorge Santiago, Chris Leben, Alan Belcher, Yoshihiro Akiyama, Rousimar Palhares, Demian Maia, Chris Weidman
Much like MMA legend Fedor Emelianenko, Anderson Silva has a loss that a large part of the MMA community doesn't count when looking at their record. For Silva, this loss is to Yushin Okami, who he lost to because of an illegal kick that, if under a different rule set like the one that Pride had, would have been nothing more than another impressive knockout on Silva's long list of victims.
Silva is considered one of the greatest mixed martial artists of all time, and he is in the company of only Fedor as the possible greatest fighter in the short history of MMA.
Although the middleweight division gets talked about as one of the worst in the UFC, when looked at objectively, they are tied with lightweight for the most fighters who could possibly fight for the title with a win in their next fight.
It seems likely that Chael Sonnen will get a title shot if he is able to beat Brian Stann at UFC 136 (quick sidenote, have you noticed how many of these contenders are fighting at UFC 136? We aren't even done naming off fighters who are on that card), and it is quite possible that Stann will get that shot if he beats Sonnen.
Michael Bisping will be hosting the next Ultimate Fighter season against "On the Cusp" fighter Jason "Mayhem" Miller, and they will be meeting at the TUF 14 Finale in December.
Mark Munoz is coming off of a decisive victory over Demian Maia, and he will be making history when he is part of the first five-round non-title fight in UFC history at UFC 138 against Chris Leben.
Vitor Belfort, although an unlikely choice for a title shot with a victory over Yoshihiro Akiyama, may be given the shot if certain things fall his way, and he has been doing his best to make sure that happens, as it seems as though he hasn't gotten over his loss to Anderson Silva in his most recent fight.
As for their "On the Cusp" fighters, Miller, Maia, Akiyama, Jorge Santiago and Chris Leben have all been a part of big named fights before, and it even seems like for every loss Akiyama gets he is given a bigger named fighter (from Leben to Bisping and now to Vitor).
As for new blood entering the division, Chris Weidman is considered one of the best prospects at 185 lbs and is thought to be a fighter who can take over the top of the division when Anderson Silva retires.
4. Welterweight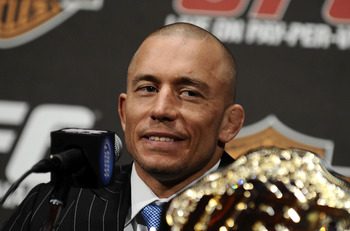 Jeff Zelevansky/Getty Images
Champion: Georges St. Pierre
Contenders: Nick Diaz, Carlos Condit, B.J. Penn, Jon Fitch
On the Cusp: Thiago Alves, Rick Story, Diego Sanchez, Martin Kampann, Charlie Brenneman, Dong Hyun Kim, Jake Ellenberger, Rory MacDonald, Anthony Johnson, Matt Hughes, Jake Shields, Josh Koscheck, Nate Diaz, Papy Abedi
The welterweight division is a really tough one to analyze. They have a lot of fighters who can go on a run and emerge as a contender, which is something that every division wants, but they have a lack of fighters at the top who the UFC can readily market as a legitimate threat to Georges St. Pierre.
The UFC has gone outside of their organization to find the last two contenders for the belt, both Jake Shields and Nick Diaz have most recently fought for Strikeforce and have a UFC debut that consists of fighting St. Pierre for the title.
This is largely because St. Pierre has already beaten every legitimate contender, and in a lot of cases, done it multiple times or to the extent that nobody wants to see a rematch.
Out of the four contenders, St. Pierre has beaten B.J. Penn twice, and he thoroughly embarrassed Jon Fitch to the point where it would be extremely difficult to sell a rematch between the two.
There is a light at the end of the tunnel for the welterweight division, however, as they have a few fighters who will make for new and interesting match-ups against perennial champion St. Pierre.
Diego Sanchez has looked very good since moving up from lightweight and is set to fight Matt Hughes at UFC 135. A win there could put him into the contenders group.
Rory MacDonald is just 22 years old and is coming off of a dominant victory over Nate Diaz. Although he has a ways to go, he is a tough fight for any welterweight and has a lot of time to grow into a champion.
Rick Story is in a similar position as MacDonald. He was riding a good streak after a victory over perennial contender Thiago Alves, but a loss to Charlie Brenneman has set him back slightly.
The UFC has also signed Bloody Elbow's top middleweight prospect of 2010 in Papy Abedi, who will be dropping down to welterweight and making his UFC debut against Thiago Alves at UFC 138.
With these new fighters working their way up the division, there could be some new faces to fight St. Pierre in the near future.
5. Featherweight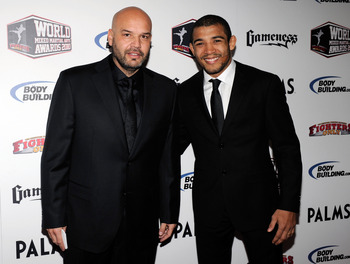 Ethan Miller/Getty Images
Champion: Jose Aldo
Contenders: Kenny Florian, Chad Mendes, Hatsu Hioki
On the Cusp: Manny Gamburyan, Tyson Griffin, Mark Hominick, Diego Nunes, Dustin Porier, Rani Yahya, Darren Elkins, George Roop, Josh Grispi
When the UFC absorbed the WEC, they not only added to their already impressive stable of lightweight fighters, they also added two new division, including the featherweight division.
Although these two divisions are young, they have some impressive fighters who make the division exciting and helped make the WEC one of the most exciting organizations during its existence.
Jose Aldo has become considered one of the best pound-for-pound fighters in the world and has helped add legitimacy to the 145 lb. division, however, rumors that he might eventually move up to lightweight could hurt the division if they come to fruition.
They still, however, have fighters who can take his place if he does leave.
Kenny Florian has been a contender in every division that he has competed in, and he has taken on a new challenge at featherweight. After an exciting back and forth decision victory over highly touted youngster Diego Nunes in his featherweight debut he will be taking on Aldo at UFC 136.
Chad Mendes has been receiving a lot of attention at featherweight and for good reason. He was expected to fight Aldo after he defeated Mark Hominick, but with Aldo fighting Florian, Mendes will be taking on another young and exciting fighter in Rani Yahya.
Hatsu Hioki has made a name for himself outside of the Zuffa banner, but he was recently signed by the UFC and will be making his debut against George Roop at UFC 137.
With the infusion into the UFC, some fighters made the switch from lightweight to featherweight. Outside of Florian, the biggest name to make the drop was Tyson Griffin. In his featherweight debut, Griffin won a majority decision over Manny Gamburyan and will be fighting again at UFC 136 against Bret Palaszewski.
Although still without many contenders, the featherweight division is slowly improving its talent pool and is quickly becoming one of the better divisions in MMA.
6. Heavyweight
Jon Kopaloff/Getty Images
Champion: Cain Velasquez
Contenders: Junior Dos Santos, Frank Mir, Brock Lesnar*
On the Cusp: Shane Carwin, Matt Mitrione, Cheick Kongo, Pat Barry, Travis Browne, Stefan Struve, Brendan Schaub, Roy Nelson, Mike Russow, Antonio Rodrigo "Big Nog" Nogueira
*out for an extended period of time
As Dana White likes to say, everybody loves a big heavyweight fight. There is no better example of this than Brock Lesnar, who is arguably the most popular/hated fighter in the UFC.
Lesnar always sells a lot of cards, and the best example of this was his blockbuster fight against heavy-handed Shane Carwin.
But Lesnar has fallen out of the spotlight since losing his title to Cain Velasquez and has spent a lot of time out of the cage because of his diverticulitis. But in that time, the heavyweight division has been doing just fine.
After pulling out of his bout with Junior Dos Santos, Lesnar was replaced with Carwin in a title eliminator fight which Dos Santos won.
Dos Santos is getting his title shot after dominant decision victories over Carwin and Roy Nelson and will be fighting Velasquez at UFC 139.
Since losing an interim title fight to Carwin, Frank Mir has beaten Nelson and MMA legend Mirko Cro Cop to bring himself back into the limelight. After learning that his Achilles heel is over-sized wrestlers like Lesnar and Carwin, it seems that the transition to smaller, more skilled fighters could allow Mir to make another title run.
Without a fight scheduled, there are three possibilities for what happens to Mir going forward. He could welcome Lesnar back to the octagon in early 2012, he could fight the winner of Brendan Schaub vs. Antonio "Big Nog" Nogueira, or he could fight either the winner or loser of Velasquez vs. Dos Santos.
Although the heavyweight division has never been particularly deep, it is slowly gaining more talent, and there are fighters who are looking to stop the perception that heavyweight is a top-heavy division.
Schaub, Matt Mitrione and Cheick Kongo seem to be the fighters closest to joining contender status, and with Mitrione and Kongo set to fight each other and Schaub set to fight Nogueira, it looks like the top of the heavyweight division is about to be infused with new talent.
7. Bantamweight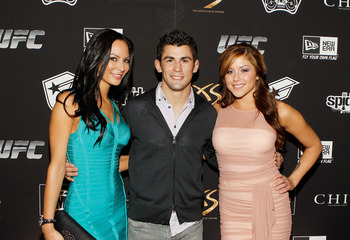 Isaac Brekken/Getty Images
Champion: Dominick Cruz
Contenders: Demetrious "Mighty Mouse" Johnson, Urijah Faber, Joseph Benavidez, Brian Bowles
On the Cusp: Scott Jorgenson, Takeya Mizugaki, Brad Pickett, Eddie Wineland, Demacio Page, Miguel Angel Torres, Eddie Wineland
Although bantamweight is ranked as the worst division in the UFC, there are still fighters at the top to keep the division afloat while the UFC finds new talent to bring in.
Dominick Cruz has looked unbeatable as of late, with his only loss coming to Urijah Faber being avenged in his most recent fight, a fight which is another Fight of the Year candidate.
Cruz is now set to fight Demetrious "Mighty Mouse" Johnson at UFC on Versus 6. Johnson is coming off of a dominant yet somewhat controversial victory over a fighter who many consider the greatest champion in bantamweight history, Miguel Angel Torres.
Faber also has a fight set up, he will be going up against former WEC Champion Brian Bowles, a fight that UFC President Dana White has said will be a top contenders bout.
Another possible threat to the title is Joseph Benavidez, who has won two consecutive fights since losing to Cruz in a title shot a year ago. Now, Benavidez is scheduled to fight Eddie Wineland at UFC 137.
One of the most promising and dangerous fighters in the bantamweight division, however, is Scott Jorgenson. Jorgenson lost to Cruz in a title shot during the final WEC show ever, and after a vicious knockout from the guard, Jorgenson looks like he might go on a run and get another title shot.
Keep Reading