NFL Free Agency: San Diego Chargers Should Sign Kirk Morrison
August 2, 2011
Handout/Getty Images
The San Diego Chargers' offseason has been a success to this point. General manager A.J. Smith has signed former Pro Bowlers Takeo Spikes and Bob Sanders, Travis LaBoy and 11 Charger players from last season's team, including Eric Weddle and Vincent Jackson.
With all the great signs that have happened thus far, there have been several players who will not be returning to San Diego next season. That particular group of players are headlined by Kevin Burnett and Brandon Siler.
Two others that may not be back in the blue and gold are Malcom Floyd and Stephen Cooper.
Losing Cooper would mean there's still a vacated inside linebacker spot that would need to be filled. Currently, last year's third-round pick Donald Butler has regained his health and will be available to start if need be, as would this year's second-round pick Jonas Mouton.
San Diego's front office has already added several veterans to the defense, though, so it would make little sense to have a rookie start at inside linebacker next to Spikes.
This leads the Bolts' front office one of two ways. They can try to retain Cooper before he signs with a different team or they can sign Kirk Morrison. Cooper would be the player that makes a lot of sense to re-sign, but would be more expensive to sign back and had injury troubles last season.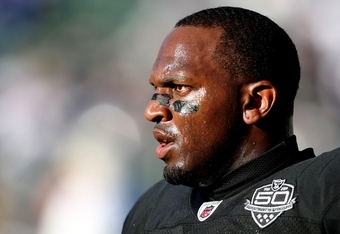 Jed Jacobsohn/Getty Images
Morrison was considered one of the better inside linebackers in the AFC before last season with the Jacksonville Jaguars, where he had a sub-par year, only racking up 89 total tackles.
Positives to his game are that he's very comfortable in the AFC West since he played with the Oakland Raiders for five seasons and never missed a game.
He's a veteran presence and paired with Spikes would make the run defense up the middle unbearable for opponents' running backs.
Both are known for being great run stoppers and are built as such. Spikes is listed at 6'2" and 242 pounds while Morrison is listed at 6'2" and 240 pounds. Both are built like freight trains and are as solid as football players come.
Morrison would likely come to play in San Diego for a very reasonable price as the Chargers are a Super Bowl contender and are located in his home state of California.
Morrison signing with the Bolts seems very logical for all parties and it would not be a surprise if it happened.