MLB Trade Rumors: 6 Deals the Angels Could Make to Catch Red Hot Rangers
July 22, 2011
Al Bello/Getty Images
We have all been here before, watching the clock tick...eight days, 23 hours, 42 minutes, eight seconds... 
Experienced the trade deadline like a looming emotionless God mocking us as it fast approaches, mocking our moniker, the rally monkey who will not and cannot save us forever.
If this true, which it is, things have got to get done now, ASAP, if we choose to make a serious playoff push come October.
At 53-46, just three games back of the AL West leading Rangers, a team that surpasses us in every category, we're treading further above water than any of us expected at this point in the season.
If the Rangers are Batman, then we, with a roster consistent of an on-the-down turn Torii Hunter, inconsistent and overspent Vernon Wells and an oft-injured woe-be-gone Kendry Morales, are most certainly Robin.
Toss in the multiple personality—one day fire slinger next day slow pitch watermelon tosser—Ervin Santana, (4-8, 3.84 ERA) and we've just descended to the early 90s version of the Joker.
Last Tuesday's 7-0 loss at the hands of the Rangers was proof that one, we struggle offensively (just look at Dan Haren's run support this season) and two, we're in dire need of a gritty middle reliever.
With the struggles of both Kevin Jepsen and David Kohn—whom was sent to Triple A after a three run debacle on Tuesday—and the injury to Fernando Rodney, it has become evident that filling the hole at the middle relief position is one of the primary needs materializing in the Angels camp.
"Some of that's been frustrating. We've lost some games with an inability to keep ourselves close, to give ourselves a shot to come back," said Manager Mike Scioscia (here) after the loss on Tuesday to the clubs rival.
Though the Angels have not pinpointed their middle relief search, it is plausible to see them land one of the major relief pitchers available to solidify and shore up the middle innings. According to John Heyman of Sport's Illustrated the Angels could be seeking dominant closer Heath Bell.
Acquiring a dominate closer like Bell allows the Angels to use twenty-four year old Jordan Walden in a 6th, 7th, 8th inning role. The 6'5" Walden, with a tank-like body, is the perfect candidate to eat up big middle innings.
There is no question whether a Walden/Bell one-two punch would be dominate or not. Both gifted with heat and a befuddling change-up would wreck havoc on the less disciplined American League lineups, reminding Angel fans of the once unstoppable Shields/K-Rod duo.
More importantly, the Angels are looking to land some pop in the central parts of their lineup to put more pressure on their opposition in later innings. Currently 24th in runs scored, 15th in team average and 20th in home runs, the Angels are prime to acquire the bats to better support a solid pitching staff.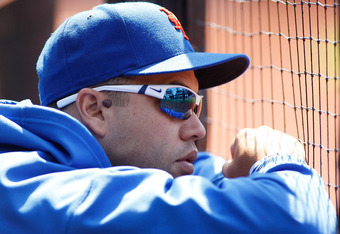 Mike Stobe/Getty Images
Astros two-time All-Star Hunter Pence, currently hitting .316 with 11 home runs, is one of those currently on the trading block. Acquiring a consistent bat like Pence not only takes pressure off struggling bats like Torii Hunter and Vernon Wells but allows youngsters like Mark Trumbo and Mike Trout to take on their roles at a slower pace.
His presence on the basepath (.361) sets up the Angels for bigger innings and assures their struggling middle relief that the offense can win games too.
Though a deal for Pence is not out of the question, it is a difficult task. The Astros are seeking three pieces in return for Pence, meaning franchise names like Trumbo or Trout would be speculative trade chips.
John Heyman tweeted on Tuesday, that the "asking price is so prohibitive," for the third baseman, that he is sure "he remains with Astros."
The gauntlet seems to be even worse when it comes to acquiring veteran All-Star third baseman Aramis Ramirez from the Cubs. As nice at it would be to acquire the 33-year-old currently hitting .302 with 19 home runs and 52 RBI, things may get rocky.
Ron Rosenthal of Fox Sports tweeted on Monday, " Ramirez is still adamant that he will not waive his no-trade clause for any team." This is coming from a star who has spent most of his years in Chicago and is desiring to hit the open market in 2012, to sign a larger contract.
Yet at his age, a large contract extension is highly unlikely.
Not only does a trade nearly assure Ramirez his right to a 2012 free-agent experience (Team options normally void when traded), but rids the cellar dwelling Cubs of the $15 million owed him next season.
This deal gives the Angels the pop necessary to allow them to compete with the depth of Texas but also frees the ongoing embroilment between both Maicer Izturis and Alberto Callaspo at third, who though hitting a combined .284, are struggling to get on base and hit home runs.
The Carlos Beltran saga continues to swirl all across the MLB landscape, but it could it be landing in the summering atmosphere of Orange County?
The gifted outfielder, with an intangibility to get the big hit in big games, is not only carrying the burden of his bloated price tag (owed $6 million the remainder of the season), but his consistent injuries and age (34).  
This reason alone, the Mets will probably have to pick up the stars remaining contract to rid them of this ongoing headache. But is this a worthy cause for the Mets?
According to ESPN's Buster Olney the only way the Mets can hope to get suitors for the former Gold Glover, is to pay down his oversized paycheck.
Adding Beltran to the Angels lineup is attractive from a seasonal approach as a power hitting left handed bat, though not practical from a long-term perspective.
At 34, with a high asking price and a banged up body, the five-time All-Star could be a nice mid-season rental, playing a key cog in an Angels postseason birth much like Mark Teixiera in 2008.
Yet keeping him beyond that warrants fan's concern.
Reminding us of past mistakes like Mo Vaughn and Gary Mathews Jr, signing Beltran to a multi-year deal is a futile risk. Why get rid of fan favorite Vlad Guerrero, just to sign a less proven veteran in Beltran?
Because of these concerns, the rumors swirling around the less popular, though consistent locker room presence, Melky Cabrera, are heating up. Currently, Cabrera is having one of his best seasons of his career for the never-ending rebuilding experiment called the Kansas City Royals.
The 26-year-old switch-hitter has found his groove again, hitting .293, and has become a fascination for the Angels, Phillies and Giants. His strong left-handed bat against right-hand pitching, is according to Ken Rosenthal and Jon Paul Morosi of Fox Sports the perfect "fill[er] for the Angels need of a left handed hitter."
Cabrera consistency to hit for average and get on base is the offensive addition that extends a big inning. His glove in the outfield spells the brittle Torii Hunter, allowing him to play more of a DH role and slow the down turn of his career.   
An even better left-handed filler and added speedster to Scioscia's aggressive style on the basepaths would be the lanky opposite field slapping Met' short stop Jose Reyes. Reyes, who is up for a large contract come November, is having a resurgent season, hitting a career-best .349 with 30 stolen bases and 16 triples.
The Angels have the pieces to make a play for the once-in-a-lifetime setup guy, with names like Erick Aybar and Maicer Izturis to package in a deal. This is an attractive bit for the Mets who would like to get something in return for one of their franchise guys.
According to Tim Brown and Jeff Passan of Yahoo Sports, though Reyes has told his closest friends he would like to play for the Angels, Arte Moreno will be the road block to keep him out of the OC. 
As good as Reyes would look in Angel red flashing a convertible filled with blond girlfriends, the soon be free agent's similarities to last season's biggest splash, Carl Crawford, who signed a seven-year, $142 million deal, is the type of thing that could keep the base thief far from the hottest housewives of Orange County.
Though I would welcome Reyes to the Angels' lineup, I would miss the more durable, comparably better and cheaper Aybar. Not only could the signing cripple the Angels already gargantuan $140 million dollar payroll for years down the line, but is the type of thing to cause clubhouse drama.
Despite these affirmations in abstaining from the Mets infielder, he is the type of Rickey Henderson-like game changer to get in scoring position in later innings. His gift of speed coupled with a high hit for average is not around often, not to mention, he is the kind of marketable face the Angels currently lack.
In the end, the clock will be the wheeler dealer of our existence.
If Arte and co. can get on board, make a move or two, add a bat, a middle reliever, then we could be looking at the type of out-of-nowhere playoff run reminiscent of 2002.
If not, there are always fake tans, bikinis and hot stone massages.
So get out your rally monkeys.