Quinton "Rampage" Jackson Verbally Attacks the Icon, Randy "The Natural" Couture
July 21, 2011
Quinton "Rampage" Jackson has never been short on words. A free spirit who has been known to voice his opinion, regardless of the lack of political correctness, has now verbally attacked the legendary Randy "The Natural" Couture.
Taking to Twitter yet again, Jackson was irate after Couture picked Matt Hamill to upset the former UFC light heavyweight champion at UFC 130 in May.
Speaking on the Randy Couture Affliction broadcast prior to the fight, "The Natural" predicted the underdog Hamill over Jackson.
Coming into their contest, Hamill was riding a successful five-fight win streak, whereas Jackson was completing his acting sabbatical on the production of the "A-Team."
Quoted in the interview, Couture's pick of Hamill was based on the overall mindset of Jackson. "There is always so many questions regarding "Rampage." Where is he training? What is he involved in? Is he taking it seriously?"
These questions led Couture to provide Matt Hamill with an upset victory over Quinton Jackson.
Fast forward to fight night and "Rampage" dominated Hamill, securing a unanimous decision victory at UFC 130.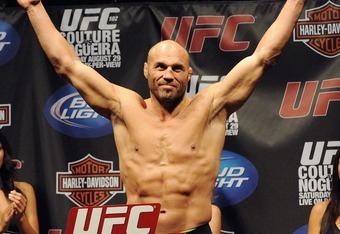 Jon Kopaloff/Getty Images
Not forgetting Couture's pick and taking his prediction personally, Jackson recently wrote on his Randy Couture on Twitter" target="_blank">Twitter page, "Fuck @Randy_Couture I used 2 rep his line, and he always picked my opponents over me, at 1st it was cool till Hamill."
Continuing to chastise Couture, "Rampage" also wrote, "fuck u dude, u fake ass has been, I was a real friend and kept my mouth shut when I didn't know if you would win or lose."
Always taking the high road, Couture responded by tweeting, "Yes the Hamill pick. I thought Hamill would eek out a Dec. in that fight and Rampage took it personal. It sucks that rampage would take an objective pick on a fight personally. He's a great guy and a friend. All the best to him!"
Randy Couture obviously took the jam out of Quinton Jackson's doughnut. This most recent verbal assault on "The Natural" comes on the heels of a long-standing Twitter feud between Jackson and Rashad Evans. 
Seemingly utilizing Twitter as a right hook, "Rampage" will continue to throw proverbial punches at the superstars of the UFC in 140 characters or less.
I welcome your comments.
Todd Seyler