17 Celebrity/Athlete Look-Alikes Part 2! Bigger and Better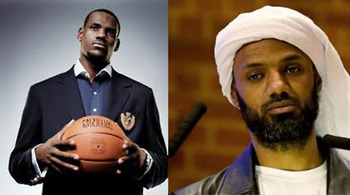 Here it is, the second edition of the top celebrity look-alikes!
The first time I did this, it was a big hit and everyone loved it. I welcomed all comments regarding people's opinions and here is what I have come up with.
This slide show contains 17 athletes/celebrities look-alikes that are all spot on!
If you missed the first one, check out Part 1.
Dan Marino and David Hasselhoff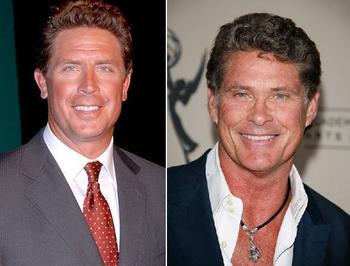 I'm starting this one off with a bang.
I never thought of this one until I actually took the time to look the two men up.
The great Miami Dolphins quarterback resembles the Baywatch man in David Hasselhoff. After all, Baywatch could've been filmed in Miami.
Marino will be known as that man who had so much success but never won a Super Bowl. Maybe Hasselhoff can help him break down that wall (Berlin Wall reference). It's funny if you know Hasselhoff's singing career.
50 Cent and Rodney Stuckey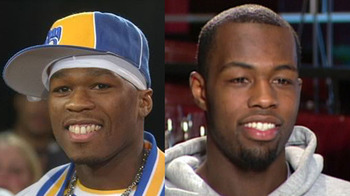 Detroit has some twins to look out for! 50 Cent and Detroit Pistons' Rodney Stuckey have a lot in common if you ask me.
They even have the same front two teeth length!
Now just imagine Stuckey with a cap on and you'd have a tough time deciphering who is who.
I'm sure 50 Cent can play some ball, so seeing these two on the same team would be just flat out confusing.
Robert Horry and Will Smith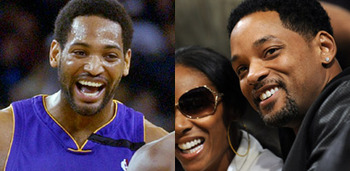 Yup, long lost brothers for sure.
Robert Horry is a retired NBA player who I'm sure can pass for Will Smith in a movie. They should've cast these two in Men in Black; that would be just funny.
These fresh princes of Bel Air look a lot alike.
Jeff Van Gundy and David Paymer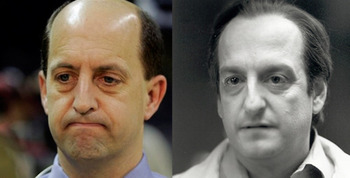 Jeff Van Gundy already has a brother in Stan Van Gundy, and they look nothing alike.
Comparing Jeff to actor David Paymer is perfect. This was a request, and a very good one! The two look exactly alike, even down to the nose shape.
While David still has some hair on the top of his head, I'll give him another year or two before he balds. Then they'll be like clones.
Dr. Dre and Marcus Camby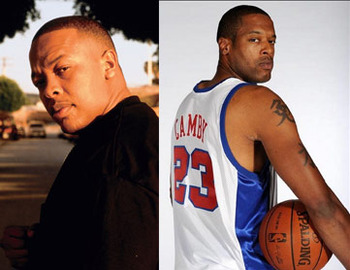 Don't act like you forgot about Dre.
I wonder if Camby is a fan? Dre is a famous rapper and Camby is an NBA player for the Portland Trail Blazers.
It would be even better if Camby played for the Pistons.
Shannon Brown and Chris Brown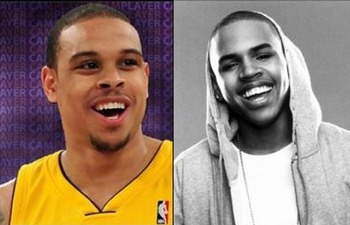 They even have the same last name!
Chris Brown and Shannon Brown have been questioned if they are brothers, and the answer is no. While they are good friends, they are not blood related.
With that being said, it's safe to say that are long-lost brothers.
Shannon is an NBA player for the Los Angeles Lakers while Chris sticks to that Hip-Hop game.
Rick Carlisle and Jim Carrey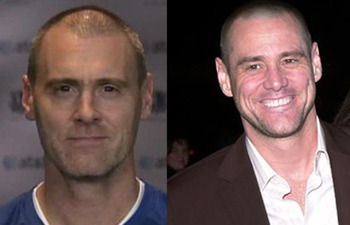 Yes, this one is good.
The man on the left is Rick Carlisle, the coach of the World Champion Dallas Mavericks. The man on the right is Jim Carrey, no explanation needed.
While Carrey is sadly showing his age, he resembles Carlisle is almost every way. Scratch that, minus the personality.
Common and Carlos Boozer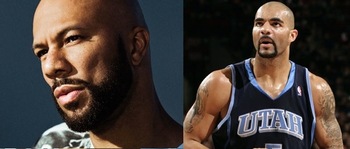 Trend of basketball players?
What do Common and Carlos Boozer have in common? Their looks! Common and Boozer share the same appearance, and they both dig the goatee.
This comparison is pretty spot-on, but I bet Common isn't as jacked.
Sam Cassell and E.T.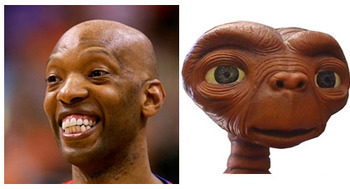 Everyone knows this is funny, because it's true.
Now I love Cassell, but it must suck being constantly compared to an alien! But honestly, being compared to E.T., of all things, is pretty cool.
A lot of people requested this one, so laugh it up.
Colonel Sanders and Phil Jackson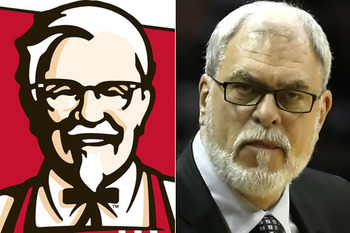 If I was ever at KFC and Phil Jackson walked in, I'd choke on my fried chicken.
Even though Phil doesn't have a pointy-looking beard, this is certainly worth the mention. I wonder if Phil ever dressed up as Sanders for Halloween? That'd be just awesome.
Aaron Rodgers and BJ Novak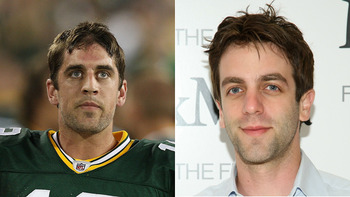 Here we go, steering away from the NBA for a bit.
Aaron Rodgers of the Green Bay Packers has to be related to BJ Novak somewhere along the bloodline.
Novak is most known for starring in the show The Office, which is ironically one of Rodgers' favorite shows.
I bet if Novak strapped on a helmet and some pads, he could give Rodgers some extra time to rest without anyone knowing.
Mike Tomlin and Omar Epps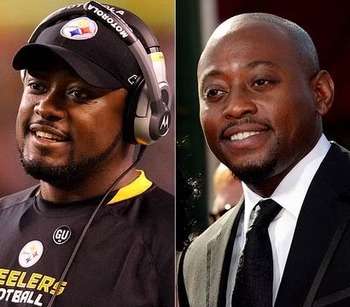 Twins, clones, identical; all the words describe these two.
Pittsburgh Steelers head coach Mike Tomlin has a striking resemblance to Omar Epps of House. I'm pretty sure that Tomlin doesn't shave his head, though, but that's okay.
This comparison is pretty darn good, and I give credit to the people who pointed this out to me.
Donyell Marshall and Ludacris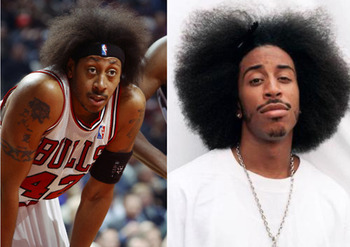 LUDA!
Donyell Marshall and Ludacris should hang out. Granted, this picture is a few years old and the two look completely different now, it's still fun to see how they did look.
Ludacris can also play some ball, but can Marshall rap?
Brian Dawkins and Wayne Brady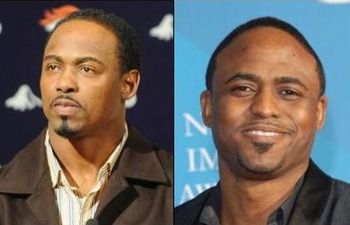 This one is really good as well.
While the two may look like brothers from another mother, their professions separate them greatly.
Brian Dawkins is known for once being an elite safety in the NFL who can deliver some pretty hard hits. Brady, on the other hand, wouldn't hurt a fly.
Wayne is a comedian mostly noted for his appearance on the hit TV show Who's Line is it Anyway?
Corey Maggette and Xzibit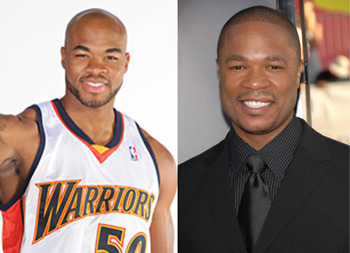 Another match that can easily pass for twins.
Corey Maggette and Xzibit look exactly alike, it's scary. Same eyes, eyebrows, nose, smile, everything. I have a feeling these two have met before, but that's just me.
If you were famous and saw someone like yourself on TV, you'd probably want to meet him too.
The Game and Josh Smith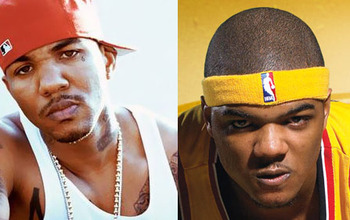 Rappers and basketball players: must be something linking them together.
The Game resembles a man who plays the game of basketball, Josh Smith. They both give off that rough and tough attitude, and at they both praise that ATL.
Do you know how to tell the difference between the two? One is always crying.
LeBron James and Binyam Mohamed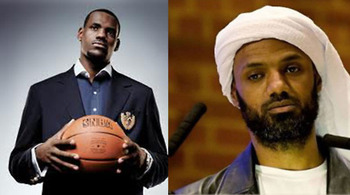 Okay, this may be the best thing I have ever seen.
In my last edition of the look-alikes article, I stated that Stan Van Gundy and Ron Jeremy was the funniest thing I have ever seen. Now, this takes the cake.
To set the record straight, LeBron is not a Muslim, but he certainly does resemble Binyam Mohamed!
Who is Binyam? He led a terrorist training camp.
Regardless of what he has done, he look a lot like King James. This picture is the perfect way to end this slideshow.
Keep Reading