San Francisco Giants Rumors: Forget Jose Reyes, Carlos Beltran and Stand Pat
July 19, 2011
Christian Petersen/Getty Images
As MLB's July 31st trade deadline nears, the San Francisco Giants face some unchartered territory. Unlike seasons past, this year the team has the unique opportunity to determine what to do with their roster in order to not only strengthen their playoff push, but also defend their World Series championship. While the trading deadline is always a bit complicated and controversial, there's added pressure in the defense of a championship.  Of course, it isn't the worst thing in the world to have to worry about
That said, San Francisco does face a challenge in their pursuit of back-to-back titles, because they first have to make it to the playoffs by outlasting their National League West foes, specifically the Arizona Diamondbacks, for the division crown. They can also escape with the wild card, which the Atlanta Braves currently hold onto.
While the D-Backs haven't quite put the scariest of scares in Giants fans, there's something to be said about an offense that is tied for first in the NL in home runs. With that kind of arsenal, Arizona instills some concern for opponents, especially at their home ballpark of Chase Field. In contrast, the Giants have predictably made little noise offensively and, like last year, are yearning for any loudness to complement their star-studded pitching.
Still, San Francisco must be cautious not to make a move for the sake of making a move. Any overreactionary deal should be considered but not executed just to appease the masses.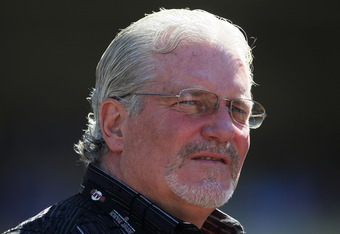 Jeff Gross/Getty Images
However, it's no surprise then that during this trade period, the Giants front office is searching for some pop and bang for their lineup. Anything and anyone to improve an offense ranked 14th in the NL in runs scored and slugging percentage.
Conversely, with a league-leading pitching staff, the Giants need to infuse some life into their offense so that down the stretch in September, they will be able to eke out wins during their daily low-scoring affairs. Though San Francisco has been successful in pulling out close games—they have an NL-best 26-12 record in one-run games—it would help in the long run to not be involved in so many of them.
As the season marches on—and as great as the bullpen and closer Brian Wilson have been all year—eliminating some of the taxing on the arms would mean a lot come playoff time. Leading the league in save opportunities isn't terrible; but every once in a while it'd be nice not to utilize the bullpen so frequently.
The talk surrounding San Francisco is their interest in huge marquee names, notably the Mets' Jose Reyes and Carlos Beltran. The Mets' financial and front office woes have rumors thriving about their potential to offload these high-priced players. With New York's hopes in the competitive NL East very thin—and being 9.5 back in the wild card race—it's hard for them not to look at relieving some salaries from their books. Trading them for some young talent might be in their best interest in the long run.
As such, each player has been mentioned in a proposed deal to San Francisco, a team starving for offense and with an adequate supply of both prospects and young talent. Should the Giants acquire Reyes, the speedy all-around shortstop who is in the midst of a career year? Do they need Carlos Beltran to add some consistency to the outfield?
Reyes is having the best season of his nine-year career, currently on pace for personal bests in batting average, on-base percentage and slugging percentage. Though hampered by hamstring injuries that have him currently on the DL, Reyes still ranks second in the NL in stolen bases and first in triples.
With all of his talent, one would question the Mets' desire to let go of the all-world shortstop. But Reyes' free-agent status at the end of the season leaves them little room to negotiate, especially considering his career year in a contract season will only boost his pricing this offseason. He is looking to get a deal in the same range as the one Carl Crawford signed with Boston last winter: seven years, $142 million. Given the Mets' financial misery, they have nearly no choice but to shop him now, in order to receive compensation while his value is so high.
Meanwhile, the Giants have no shortstop play to speak of this season. The aging Miguel Tejada is almost a miniscule-stop, while Mike Fontenot and rookie Brandon Crawford are a hitting a combined .205 at the position. Trading for the lightning-fast Reyes would immediately impact the Giants' lineup. And with AT&T Park's famous triples alley, Reyes and third base coach Tim Flannery would become friends rather quickly.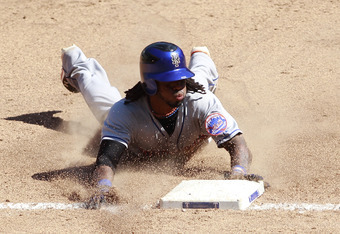 Rick Yeatts/Getty Images
But the Giants should be wary of acquiring Reyes, for he would only be a late-season rental. San Francisco has no shot at signing Reyes this winter, especially with so much of their payroll invested in their starting rotation. Unless there is expansion next season, no team in MLB is going to be willing to take on Barry Zito's contract. So dealing for Reyes would not benefit the Giants past this season.
As everyone in the Bay Area knows, the San Francisco rental market is just too expensive, and Reyes would not be worth the risk, given his penchant for injuries. Even in this MVP-type season.
The Giants' offense from its middle infield has been paltry at best, given Tejada's team-leading .243 batting average and the absence of Freddy Sanchez to a likely season-ending shoulder injury. And while Crawford has struggled a bit in the majors, he has shown promise with his patience and knowledge of the strike zone. Including him in a package for Reyes is not a long-term prospect. The Giants should continue to use Tejada, Crawford, Fontenot and second baseman Emmanuel Burris interchangeably, affording them some variety, flexibility and depth down the stretch.
Meanwhile, stories circulate about the Giants negotiating for the Mets' other All-Star, Beltran. San Francisco could dangle either of the catchers on their roster, Eli Whiteside or Chris Stewart, in the hopes that Buster Posey returns healthy and whole next season. With a short surplus, it would make sense to package one of these promising young catchers in a deal for Beltran's bat. The Mets are even willing to pay off the remaining amount on Beltran's salary.
Beltran has playoff experience that could translate well to the Giants' outfield. He brings some much-needed pop and could be a legitimate cleanup hitter in the Giants' lineup. His 14 home runs, 59 RBIs and .387 OBP are far and away higher than any San Francisco player right now. He is currently ranked fourth in the NL in extra-base hits.
Unfortunately, like Reyes, Beltran is a free agent at season's end. Keeping him beyond 2011 would be more unlikely, as he just turned 34 this year. Though he is as healthy as he's been since 2008, Beltran has had a slew of injuries take away his speed and outfield range. Yes, his bat would fit beautifully between Pablo Sandoval's and Aubrey Huff's, but at what cost for an aging rental?
The Giants' bread and butter is its pitching staff, and what could disrupt a playoff push more than a change in signal callers? Though Whiteside and Stewart do not put up tremendous offensive numbers, they are formidable in handling the NL's top pitching rotation. And with the uncertainty of Posey's future behind the plate, San Francisco may want to hold on to Whiteside and/or Stewart beyond this season.
Essentially, the Giants do not need to spice up their roster right now. Because at present, they are scoring enough runs to continue winning. Sure, they'd probably love another middle-of-the-order hitter, but the Giants have confidence in their system players of Whiteside, Crawford and future first baseman Brandon Belt. Risking the future for a second consecutive championship is looking at the situation with eyes bigger than their wallets.
San Francisco set the standard last season by winning the World Series with marginal hitting. But one thing cannot be taken for granted is the Giants' team chemistry. On a ball club with multiple team leaders, why risk changing it up for a two-month rental?
The Giants should stand pat, knowing that their all-universe pitching will get them to the playoffs all by itself. In this market, it's the better long-term investment.