Roy Halladay Injured or Couldn't He Take the Heat in Chicago?
July 19, 2011
Kevin C. Cox/Getty Images
Roy Halladay is used to delivering the heat to opposing hitters, but on Monday night, it was the heat that got to him.
The temperature at Wrigley Field was a scorching 89 degrees with a high humidity that had Halladay stripping down in the dugout and wringing out his jersey after every inning, even swapping it out at one point.
When he began guzzling liquids and having teammates tie his shoes, it became clear there would no complete game for him in Chicago.
The Phillies ace showed signs of exhaustion all night, and with no outs in the fifth, he was bent over behind the mound with his hands on his knees, sweating more than a child prodigy at the National Spelling Bee.
Rich Dubee, the Phils pitching coach, decided it was time for Roy to call it quits before Doc became a patient. If he had stayed in, a heat stroke could have made matters even worse.
But was it simply the hot weather that got to Halladay's head or was he struggling with some other illness prior to his shortest start since the summer of 2009?
Whatever it was, it was obvious something was not right. The Cubs' Rodrigo Lopez lasted over six strong innings with no issues, but everyone handles the heat differently.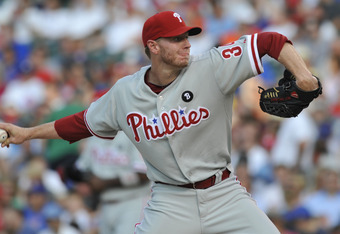 David Banks/Getty Images
Halladay gave up three runs before departing with the trainer and it was later announced he was suffering from heat issues. It is yet another vague update for Phillies fans and the team's already injury-riddled pitching staff.
Roy Oswalt, Joe Blanton, Jose Contreras and Brad Lidge are all trying to work their way back from the DL, and the Phils can't afford to lose the leader of their historic rotation.
Halladay struggled on the mound and threw more pitches than he would have liked. Could he have had an easier workload, he may have lasted longer.
However, heat exhaustion is the most probable cause of his early departure and Halladay should be ready for his next start.
He isn't the first MLB player to suffer the same and after a little time in the AC and a cool bath, he should be just fine.
Sources: MLB.com, Wikipedia.org