WWE: Why Alberto Del Rio's Destiny Has Become a Wasted Story
August 6, 2011
"It is my DESTINY!!!! But you........you already know that!"
How many times have we heard these words come out of Alberto Del Rio's mouth?
Just about every single time he has a microphone in his hand right? Which has been about....100 times?
Ever since Alberto Del Rio's debut on Smackdown last year, he seemed to be heading in the direction of "future star".
He was even given a victory over REY MYSTERIO in his first ever televised match in the WWE!
With his impactful debut, Alberto Del Rio made us all into believers of his destiny.
Whenever he said that he was going to be a future champion, we believed him because his impact in the business so far was so much, that him becoming a future champion didn't seem like an unbelievable choice.
Then, came the 2011 Royal Rumble.
He had been saying it all along that it was his destiny to win and headline Wrestlemania.
For us, it seemed possible especially seeing as to how he was currently being pushed to the moon.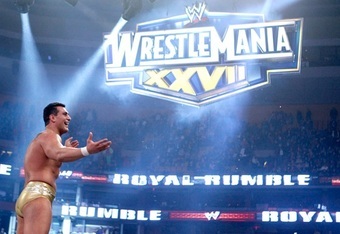 When the time came for the Royal Rumble match to end, Alberto Del Rio was one of the finalists.
It was him or Santino. Guess who won?
If you guessed Santino, then you're right! Nah, I'm kidding, he lost. 
The winner of the 2011 Royal Rumble was none other than Alberto Del Rio, but you already knew that.
And since Del Rio won the Rumble, he not only received bragging rights but also a chance for the World Heavyweight championship at Wrestlemania 27.
Wrestlemania 27 came and when it was time for Del Rio's match, he fought as if he could've become champion but in the end, he lost.
His destiny, along with his dignity, was destroyed.
That is, until the next episode of Friday Night Smackdown came.
Del Rio once again became number one contender and we once again became believers of his destiny.
This time though, all the signs pointed towards a Del Rio championship win. Nothing could've ruined it, not even the ladder match stipulation.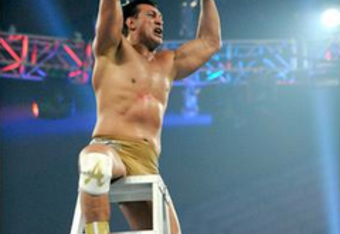 Well, nothing except for the unexpected.
Edge surprisingly shocked the world with the announcement of his retirement.
He was unwillingly forced to retire due to a career of pain which involved a major injury to his neck that if damaged more, could've done major damage to Adam Copeland's health.
Due to the news, the World Heavyweight championship was vacated.
Del Rio was already a contender but he wasn't to be given the belt that easily. He had to earn through a victory first.
With only one challenger though, a new one had to be made so there could be a real battle for the vacated championship with the winner receiving the rights for the belt.
A battle royal later and Christian, Edge's longtime friend, was given the shot for the belt that was formerly his friend's.
Del Rio, once the hopeful heir to the belt, had to take a back seat as Edge's abrupt retirement made Del Rio's destiny take a turn for the worse with a slightly better opportunity for main event status given there as well as he soon found himself being drafted to Monday Night Raw.
With all of the sudden happenings, Del Rio did not look poised to win the belt as it seemed that Christian may have finally had a chance to win out of respect to Edge.
When the time for the match came, our beliefs became reality, as Christian had finally won after a spectacular showing with a little help from Edge himself.
The focal moment from that match was that Christian had finally achieved his dream and his childhood friend was there to celebrate with him. That friend was the same person who had to retire and vacate the belt.
It was Edge and Christian had been given the chance to pick up the scraps that Edge had to involuntary leave off.
It was a storybook ending to say the least and all of our thoughts were focused on this one and only moment between the deserving superstars.
Our focus was kept on this moment so much that we had forgotten the smaller story.
We had forgotten the tale of destiny.
Alberto Del Rio was now a part of the Raw roster and his destiny had been stalled once again.
Eventually, as time passed, his destiny couldn't be considered stalled.
It could only be considered wishful thinking, or maybe even dead, as he was put into a feud with the Big Show.
Alberto Del Rio's destiny was getting sidetracked more and more with each passing day.
That is, until the infamous "shoot" promo of CM Punk was first said. 
Due to Punk's "suspension", his number one contendership was revoked. It was open to anyone and in a match for the rights to it, Alberto Del Rio won.
He had become a number one contender but it was quickly diminished as CM Punk was given that match with John Cena after all.
Thankfully though for Alberto Del Rio, he was still a part of the Raw Money in the Bank ladder match.
The match gave him an opportunity to become number one contender again and with the way he was being booked heading to the PPV, it seemed like his destiny was going to be revived.
We were proven right with our assumptions as Del Rio became Money in the Bank winner after grabbing the briefcase with a clever finish so he could be sure to grab it.
With the Money in the Bank briefcase at hand, Del Rio now had the privilege to cash in on a vulnerable champion to become the new champion and finally fulfill his destiny.
But then again, what if he fails to cash in his briefcase? Will his destiny ever be fulfilled?
So far, it's been rumored that he'll get to fulfill his destiny soon but after all of his chances, does he really deserve the belt anymore?
I mean, really, how much chances does this guy need?
How much pushes does he deserve?
He won the Royal Rumble but did he deserve it?
If he did, he hadn't shown me much to prove it. And to make matters worse, he lost in the first match of Wrestlemania and wasted his opportunity. 
I know about the situation but it still doesn't make up for the fact that the Royal Rumble win was wasted and its prestige was brought down once again because every Rumble winner seems to lose nowadays.
To add fuel to the fire, couldn't Del Rio have gotten a title shot on his own too? Correct me if I'm wrong but didn't Del Rio get a title shot on his own at TLC 2010 in a Fatal Four Way Ladder match?
Wasn't he also the top main event heel on Smackdown at the time? 
If so, then why was he given the Rumble win over other deserving stars?
To me, that's just a waste of Rumble win.
Then we go the Money in the Bank and every single time Del Rio became number one contender in between.
Did he really deserve all of those chances?
It's not like he's the 'Best in the World' right?
In fact, I think he's a bit overrated. 
Look at his past work, I have yet to see him get proper heel heat the right way instead of using an unfortunate event in Edge's retirement to get his most heel heat to date.
Is he really that desperate to get a reaction?
Then we have Money in the Bank. Del Rio received the briefcase that is supposed to be intended for a mid-card superstar to get a push to the main event scene and a chance to become champion, but why did he get it?
Last time I checked, he was a main event level heel wasn't he? Wasn't he also a number one contender as well? If so, why did he need the briefcase?
Unless, he was given the briefcase because he needed the push just like his last ones, right?
He can't seem to work his way to the top, instead he needs it given to him. It seems like his "riches" may buy him his way to the top after all but does he really have to reach the top this way?
He has potential and if he works hard enough, he can become champion on his own just like the person who robbed him of his destiny in Christian.
But if he gets the belt handed to him, just like his number one contenderships, Del Rio may get literally spoiled and his haters will not go away quickly. (In fact, here's an Anti-Alberto article by a certain hater of his that makes well-thought out points as to why his destiny has been wasted.)
If he continues to get spoonfed his riches, then his destiny may be achieved but his legacy may be tarnished.
Alberto Del Rio's destiny has officially become a wasted story because it robs other deserving guys of opportunities and makes the "Essence of Excellence" seem unestablished when he already is, but you....you already know that.