James Harrison in Men's Journal Interview, Slams Roger Goodell, Big Ben & Co.
July 13, 2011
Doug Pensinger/Getty Images
Today a statement was issued from the NFL's three biggest names, Peyton Manning, Drew Brees and Tom Brady to the league owners, in regards getting a deal done.
This move is a timely strategic play by the league's most adored faces, and is the type of urgent call-out to copulate a deal. But unfortunately this is not the biggest news.
2008 AP Defensive Player of the Year James Harrison, outspoken leviathan line backer for the Steelers, continued to stick a dirty sock in- mouth, mumble out irreconcilable slams at teammates and league commissioner Roger Goodell, while parlaying himself as some abused victim of pro athletics.
A man who in 2009 signed a six-year, 51 million dollar contract extension with a 20 million dollar bonus is the furthest thing from an "abused" athlete. His disdain for league commissioner Goodell and his teammates is a ploy from a man buried by his a-moral narcissism. A man with no grid by which to solidify his second, third and fourth steps; a man with no vision.
Perhaps it is the helmet to helmet contact that has blinded Harrison from his own stupidity? Maybe the bright shiny lights of paparazzi, the bling, contract and Super Bowl glory?
But whatever it is, there are no excuses to explain away his harsh and defiled tongue. It is one thing to lash out on Twitter, but it is another to sit with a Men's Journal writer and answer question after question, while platforming himself like a gang banging thug in need of salvation.
According to ESPN.com, Harrison, got in touch with quarterback Ben Roethlisberger after the story leaked to apologise. He said the comments in regards to Roethlisberger not being "like Peyton Manning," and he being in need of the "D to bail him out," were twisted by the writer of the article. 
Yet this point in Harrison's career makes it harder for both the media and his teammates to trust him. Remember, this is a closed minded homophobic who calls Goodell in the article a gross anti-gay slur, devil, and a crook.
He then propitiated the cycle of stupidity lambasting another teammate, Rashard Mendenhall, by referencing him as a "fumble machine." Not only is this kind of statement completely ignorant but it bids the question, "why?"
Why now, why further tear apart a team that is already dealing this offseason with Hines Ward drunk driving charge and Mendenhall's controversial tweets about Osama Bin Laden and 9/11?
A team that if kept in tact is still a Super Bowl contender, a team who is coming off a disappointing loss in Super Bowl 45 to the upstart Aaron Rodgers-led Green Bay Packers.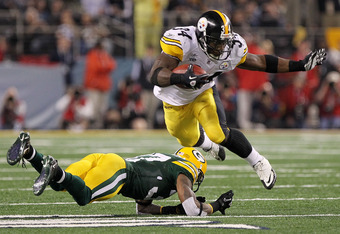 Doug Pensinger/Getty Images
A team that is still piecing together any semblance of positivity with the off-field antics of the oft-troubled Roethlisberger.
No reason warrants this cancerous idiocy.
Mendenhall did what any professional should do in return. The young running back showed maturity and growth on his Twitter, stating, "I don't have a problem with what @jharrison9292 said because I know him. But I want you guys 2 check this out," furthering the statement with a link that proved Mendenhall fumbled just twice on 324 total carries in 2010.
As for Roethlisberger, he continued his newly married and invigorated self by accepting Harrison's apology, saying he would take his teammate at his word.
Harrison will have some major setbacks in his latest saga of speaking before thinking. His most outlandishly and colorfully abusive statement in the article referenced Goodell on-fire and if he "had to piss to put him out [he] wouldn't."  
This sort of illogical mental capacity is the very thing the league has acted hard on. Though James, under the First Amendment, has the right to say whatever he would like say, it does not mean his employer has no right to fine or suspend him.
But that begs another question: What kind of penalty can the NFL really slap on Harrison? He is not technically an NFL employee, which in essence suspends the NFL's power to act in accordance with their league policy.
Perhaps this just a blight on the radar screen. Knowing full well the nation-wide sentiment toward Harrison's comments, it is fair to say the NFL will leap frog this boundary in order to make a statement against this type of behavior.
And fairly so. I and the millions of other fans are tired of the pop athlete with no grid or respect, no way by which to hold a higher self control and accord with the media and the public.