WWE: What If the Benoit Tragedy Never Happened?
July 12, 2011
Creature vs. Creature 2.0
Blue Division
Robert Aitken vs. Charlie Groenewegen vs. Eric Kanes
What if Chris Benoit Had Not Killed His Family And Were Still Alive Today?
Nobody can predict what could've, should've and would've happened. Nobody can predict the future. Nobody knows for sure "What if..."
This topic is solely based on an individual opinion. 
I'll try to start right where Chris Benoit left off.
It is no secret that Chris Benoit would have been victorious over CM Punk at Vengeance for the ECW Championship. Stephanie McMahon said so herself.
I believe Chris Benoit would've been the face of ECW in 2007, and that a feud between John Morrison and CM Punk would have never happened. There is no doubt in my mind.
The WWE version of ECW would've been Chris Benoit's show.
I think Benoit would've had a long reign as ECW Champion and that the fans, myself included, would've loved it.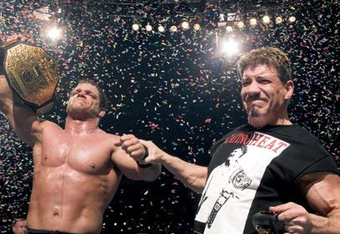 CM Punk would've been the man to take the title off Benoit, considering that he was pushed so hard by WWE during his tenure in ECW at the time. Benoit would then issue his rematch but lose, and then find feuds and TV time away from the ECW Championship.
Furthermore, I think Benoit would've been drafted to Smackdown during the 2009 WWE Draft. Going to Smackdown in 2009 would've opened up so many doors for Benoit and the WWE storyline-wise.
At the time, Chris Jericho was in a feud with Rey Mysterio over the Intercontinental Championship, and Edge was battling with Jeff Hardy over the World Heavyweight title.
I would've loved to see Benoit inserted into either feud.
Additionally, I'm almost positive that Chris Benoit would've had one more championship reign. I think Benoit would be added to the Jericho/Mysterio saga because his lifelong friendship with Rey could've made the feud that much better.
I imagine that Mysterio would first have beaten Jericho for the belt. Then, Benoit would congratulate Rey on his win before attacking him and turning heel.
I'd also have Rey win the title at Extreme Rules (2009), and then feud with Benoit for the title going into The Bash. In my opinion, for the sake of their feud, Mysterio would've won.
Rey vs. Benoit would continue into SummerSlam, where Chris Benoit would finally take the title off Mysterio.
Then, Mysterio would invoke his rematch for Breaking Point but fall short to "The Rabid Wolverine."
Benoit would be roughly 43 years old come Hell in a Cell 2009, and I think he would start to put over younger talents such as Kofi Kingston, Dolph Ziggler, John Morrison and Drew McIntyre.
I believe that Benoit would've turned face and dropped the Intercontinental title to a younger heel in time for Bragging Rights, where Benoit and Jericho would be co-captains of Team Smackdown and win the Smackdown vs. RAW elimination tag team match.
Next, as a reward for winning the Bragging Rights match, Benoit and Jericho would both be in line for a world title shot at Survivor Series against the champion at the time, The Undertaker.
I think Benoit would've won the match, granting Undertaker some time off and starting a World title feud with Batista heading into the TLC pay-per-view.
Whoever he faced, Chris Benoit would've left TLC Championship intact and headed towards Royal Rumble with his opponent being Chris Jericho.
A match for the World Heavyweight title between Jericho and Benoit would've had the potential to steal the show.
I would've had Benoit retain at Royal Rumble 2010.
Benoit's next title defense would be at the Elimination Chamber pay-per-view. His opponents would be Chris Jericho, CM Punk, Rey Mysterio, John Morrison and R-Truth. The winner would go to Wrestlemania, but with a big bullseye on his back following Edge's Royal Rumble win.
Jericho and Benoit would be the final two in the match when all of a sudden, the lights go out and Undertaker's music plays.
Undertaker, who's been out of action since Survivor Series 2009, would seek revenge on Benoit for not only taking his world title, but putting him on the shelf as well.
The Deadman would never physically come out, but it would be enough for Jericho to get a roll up on the distracted Benoit and win the World title.
Every Smackdown leading towards Wrestlemania, The Undertaker would send omens of his return. Undertaker's theme song would randomly hit during a Chris Benoit match and the lights would go out.
Additionally, Benoit would be in a Smackdown main event against a heel, possibly Chris Jericho, and lose. Following the match, the lights would go out and lightning would strike the stage.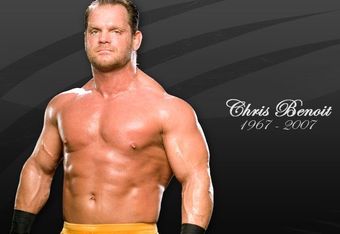 The Titantrons would glow a deep blue color, and then the numbers 18-0 would flash onto the screen, leaving a confused Chris Benoit in the ring.
The following week, Benoit would attempt to address the incident. Benoit would ask Undertaker to come out—if he's in the building, that is.
Undertaker's notorious six cloaked henchmen would come to the ring carrying a casket, which they would drop off right in front of the ring.
The inside of the casket would say:
"RIP Chris Benoit: 1985 (Date of wrestling debut) - March 28, 2010 (Date of Wrestlemania)"
A gong hits, and a dark figure is seen at the top of the Smackdown stage.
Wrestlemania XXVI Main Event:
Career vs. Streak: Chris Benoit vs. The Undertaker 
As I said, this topic is strictly based on an opinion. This is all solely my opinion. I mean no offense to Chris Benoit, his family, friends and/or fans. Chris Benoit will be, and already is, missed.
I believe Benoit would've fit in another championship reign; maybe two. I do firmly believe that Benoit would've had a world title run and a chance to end The Undertaker's Streak.
By now, Benoit would be about 45 years old (same as HBK) and might have retired as well.
RIP Christopher Michael Benoit: May 21, 1967 - June 24, 2007
Thank you, Chris Benoit.