Danica Patrick: Why Her Run at Daytona Shows She's Making Strides in a Stock Car
July 11, 2011
Chris Trotman/Getty Images
Danica Patrick's strong run at Daytona demonstrates the gains she has made in driving stock cars. She nearly won the race but finished 10th after a last-lap wreck ruined the first legitimate chance she's had to win in NASCAR.
Does this mean that Patrick is now certain to make the jump to NASCAR full-time in 2012?
All indications seem to point in that direction: her improving results in NASCAR, the expiration of her IndyCar contract at the end of the year, the encouragement she receives in the NASCAR garage and how much she seems to be enjoying driving stock cars. The results at Daytona were just the latest proof of the progress Patrick has made in NASCAR.
Established drivers showed a willingness to draft with Patrick at Daytona. The intricacies of the two-car tandem draft require a driver to totally trust the driver he (or she, in Patrick's case) is working with, and Patrick seemed to quickly grasp the concept.
Veterans Tony Stewart and Aric Almirola didn't hesitate to team up with Patrick, as each of those drivers pushed Patrick to the front of the field. Stewart may have be eager to work with Patrick in order to develop a good relationship with the revenue-producing driver with an eye to signing her to drive for his Cup series team in 2013, as he had many positive things to say about Patrick's potential in this USA Today report.
Perhaps even more tellingly, the Go Daddy driver showed a winner's mentality for the first time in her NASCAR career. Patrick led five separate times for a total of 13 laps at Daytona, including once with just a few laps to go.
Patrick could sense a win, and she wanted it badly. As she put it, she had a "let's-go-get-'em kind of attitude. That's how I felt. I always feel the most aggressive when I feel like I can win, and that was where I was at."
Patrick is quickly earning respect in NASCAR, and she realizes just how important that is. After the race, she said, "Hopefully I earned respect out there some more. Whether you're a girl or a boy, young or new, you've got to earn the respect of your peers—and that's what I try to do every weekend."
It's not just on the track that Patrick has been garnering more respect than any woman in the history of NASCAR. Several drivers have reached out to her and offered advice on her career.
Mark Martin, one of the elder statesmen of the sport, has often been seen talking to Patrick in the garage area and discussing her future in NASCAR.
Martin, as well as many other observers of Patrick's foray into NASCAR, believes she has the talent to make it in stock car racing. The statistics show that to be the case.
The difference in Patrick's NASCAR statistics between last year and this year is like night and day. In 13 2010 starts, her average finish was 28.0 with no top-10s. Her only top-20 was a 19th-place finish in the season's final race, although she did have four additional finishes of 24th or better.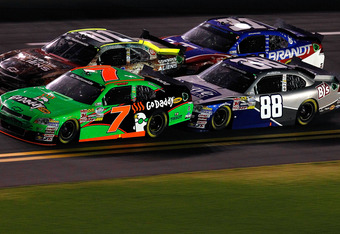 Jeff Zelevansky/Getty Images
In 2011, Patrick's average finish is 14.6 through six starts, with one top-five and three top-10s. Impressively, she has just one finish worse than 17th in 2011, and that came at Bristol after a strong run was ruined by a late-race wreck.
In addition, Patrick has led 14 laps this season after pacing the field for just four laps in 13 starts last year.
Her stats compare favorably to other non-Cup drivers. Only nine full-time Nationwide drivers have more top-10s than Patrick—despite the fact that she has started just one-third of all races. She's scored top-10 results in half her 2011 starts, something just five Nationwide-only drivers can also say they've done.
All the signs point toward Patrick heading to NASCAR full-time next season. Although she has repeatedly denied rumors that she has already made that decision, it would be a major shock if Patrick were to elect to return to IndyCar full-time. Her strong run at Daytona only serves to cement the likelihood that she will be making the jump to NASCAR official before long.