Atlanta Braves: The Case of Trading for Hunter Pence
July 10, 2011
Bob Levey/Getty Images
The All-Star break has arrived, and the Braves are 3.5 games out of first place.
Because they have one of the best pitching staffs in the league, many of their losses can be attributed to their struggling offense.
In my opinion, it would be just fine if the Braves were to keep their entire roster intact and take their minds off of the trade market for now.
However, the non-waiver deadline is approaching in a few short weeks, and the Braves need for an above average center fielder has been growing stronger nearly every game.
While they would have to let go of a few valuable players, it just may be worth it to obtain a certain few choice players.
Mainly, Hunter Pence of the Houston Astros.
Pence is a great overall player, with a career batting average of .291, and an OBP of .339. And he has been playing especially awesome this season, hitting .321 with a .363 OBP. He has hit an impressive 59 RBI and 10 HR.
Numbers like these would be almost a luxury to the Braves, compared to the offense currently being provided by their outfielders.
If the Braves managed to obtain Hunter Pence, they could shake either Nate McLouth or Jordan Schafer from the outfield. Each of these players have been contributing poor offense to their team.
Schafer is currently hitting .230, with one HR and six RBI. McLouth is hitting .229, with three HR and 12 RBI.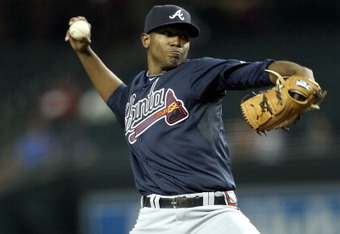 Christian Petersen/Getty Images
Trading Hunter Pence to the Braves could equally benefit both teams involved.
I am sure the Astros, who have been facing difficulties with their pitching staff, would appreciate having a few young players with great potential on their team. The Braves can offer this to the Astros.
The Braves are known to have one of the best farm systems in the MLB, and I am sure they are willing to sacrifice one or two of their prospects in order to acquire this great outfielder.
The biggest name in the Braves farm system is Julio Teheran. He is 9-1 with a 1.79 ERA, and while I would prefer for the Braves to keep him for themselves, I am sure they would consider trading him if there was a possibility of greatly improving their offense.
Also among the Braves impressive slew of pitching prospects are Mike Minor and Randall Delgado.
Minor has an ERA of 3.21, and Delgado has an ERA of 3.67. And while these are not the most impressive stats, both players have displayed high potential.
A less beneficial option for the Braves would be to trade away Jair Jurrjens, who is currently in possession of the best record and ERA in the league.
Though it is unlikely for the Braves to trade him away, it is still a possibility.
These are all options the Braves could possibly work out with the Astros to help both teams now and in the future.
While I am reluctant to approve of trading away players with such great potential as Julio Teheran, I am hopeful for the acquisition of Hunter Pence.