Arthur Guseinov with the Knockout of the Year at M-1 Global Challenge 26
July 9, 2011
At M-1 Global's latest event Friday night in California, Arthur Guseinov knocked out Tyson Jeffries with an unbelievable spinning back fist that may very well have been knockout of the year.
It came out of nowhere. A few minutes into the first round, Guseinov took a barrage of Jeffries' knees to the cranium. After Guseinov got free, he started nonchalantly walking sideways, exchanged a few pleasantries with Jeffries for a brief moment and then, bam!
Guesinov hit Jeffries so hard he was out before he hit the canvas. The Russian even had the wherewithal not to hit his fallen opponent as he lay on the ground, taking a page out of Sam Stout's reaction to his knockout of Yves Edwards at UFC 131.
I went nuts. Mauro Ranallo went nuts. So did Pat Militech.
Unfortunately, not many others saw the fight.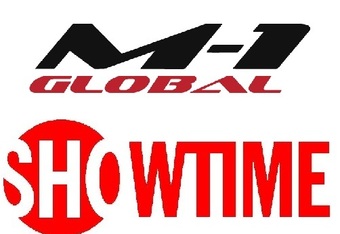 While this was M-1's second event aired on Showtime, it was definitely not considered a must-see card by any means. I only watched it because I stayed in on a Friday night and needed my MMA fix. But boy, I'm glad I watched it, because it was a fantastic card up and down, Guseinov's knockout was one of four on the main card.
I'll admit, though, that I was close to being scared off by the name M-1 and not watching the event altogether. The way the company has handled Fedor Emelianenko's contract situation has made many fans weary of their overall company, and fair enough, because there's no doubt these guys need a lesson in learning how to win supporters.
But if their shows are going to feature dazzling knockouts like Guseinov's, then fans might need to start setting their personal feeling aside and watch these events.
I watched UFC 126 the day after my friend's wedding. I came home Sunday afternoon and ordered the pay-per-view re-run, not knowing the results. I still remember seeing Anderson Silva's front kick knockout of Vitor Belfort and feeling like I had witnessed the knockout of the year, if not the century.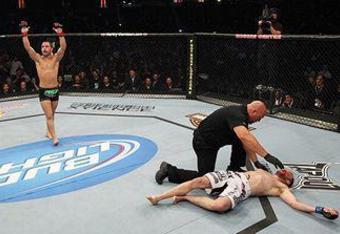 I was at UFC 129 when John Makdessi knocked out Kyle Watson with a spinning back fist of his own, and seemed on his way to a Knockout of the Night performance until Lyoto Machida outdid him with a front crane kick to the face of Randy Couture that knocked "The Natural" into retirement.
I even saw Cheick Kongo's crazy uppercut that nearly decapitated Pat Barry. Although I still believe Silva's triangle of Chael Sonnen in the fifth round of their title fight last summer was more incredible because of the circumstances, Kongo's punch to Barry's chin is no doubt one of the greatest comebacks of all time.
All of these were amazing knockouts, and there are definitely some other ones that could be mentioned in the same breath as the ones above (like Stout's knockout of Edwards, Dan Henderson's blasting of Rafael "Feijao" Calvacante or Travis Browne's Superman punch that took the legs out of string-bean Stefan Struve.)
But Guseinov's knockout last night may have topped them all and it's a shame most MMA fans didn't get to see it, because it was truly a thing of beauty.