TNA Impact Wrestling: What Is Going to Happen to Fortune?
July 8, 2011
Three weeks ago when Christopher Daniels challenged AJ Styles to a match to headline TNA's Destination X, I was taken aback by what was going on in the mind of the "The Fallen Angel".
And then it struck me—this is the end of Fortune as we know it.
Not that I am all too shocked at the events over the past few weeks, but TNA and its writers have effectively written off Fortune as a faction within the brand.
All five members have been working on their own agendas, whether it is Kazarian chasing Abyss for the X-Division title or AJ Styles involved in a feud with Bully Ray, or Daniels splitting time between Impact and Ring of Honor, or Beer Money maintaining the tag titles but overcoming injuries and battling the likes of British Invasion, it shows the continuity of the five members is thin at best right now.
And if that does not prove the writing may be in the wall, look at the fact that Kazarian is battling Samoa Joe this weekend at Destination X. Beer Money has been involved in singles matches in the Bound For Glory Series, as well as tag teaming with others in a move to garner points to get to the finale to claim a spot as the number one contender for the TNA World Title.
It would seem that as Immortal is thriving with new members (Steiner, Mr. Anderson), the boys should be banding together to fight for the honor of TNA and what is good in wrestling.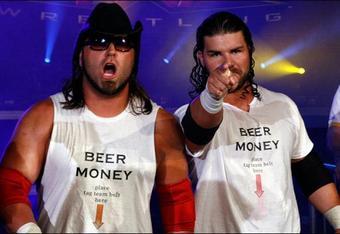 That is not happening.
Again, the brand is better and the writing and action is top notch. We are seeing so many great things out of the stars and the storylines that we can overlook what is happening. It is another WCW-NWO script where the heels are getting over on the faces a little too much, which leads me to think there will be more changes after Destination X.
At some point (I hope) the faces will get mad over being defeated so much and new storylines will be written where the faces are taking over.
And of course, Sting will be in the middle of it.
While Fortune works in so many angles and for so many reasons, writers (are you listening Vince Russo?) need to see it as a viable option to battle Immortal with a few changes here and there.
I do believe that the PPV will give us more surprises (like it normally does).
There are too many great subplots with the Styles/Daniels match not to have a cliffhanger or Daniels going heel. And then you have to wonder what happens after Destination X with Jerry Lynn, RVD and Daniels and the possibility of there being other feuds that will give the fans what they want.
While Impact has been working to expand the X-Division and bring in high-flying wrestlers from all over the country, they are ignoring one of their greatest gifts right in front of them: the homegrown talent of Styles and others.
Maybe they should consider putting together another faction with other wrestlers (Morgan, Crimson, Kazarian, Styles and Gunner if he does a face turn with Sting) to battle the older establishment.
You cannot have an NWO without someone or something to stand in its way. And right now, Fortune is not established enough to make a serious run at taking down the establishment.