TNA Impact Wrestling: Tonight Is the Night They Make History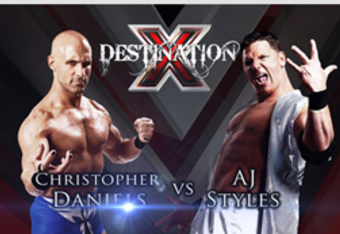 Tonight may be the biggest night on Impact wrestling history. Four matches that could define the course of the company and give the fans a preview of what might take place at Destination X as well as what will happen after the PPV.
This also may be the first time in a month that Sting and his assault on Immortal is not as important as the matches around him or the world heavyweight title.
With the Destination X PPV only three days away, four of wrestling's and TNA's top draws, Jerry Lynn, A.J. Styles, RVD and Christopher Daniels will compete in a Four Corners match as part of a preview to the cruiserweights battling for glory of the weekend.
If this turns out to be anything like it appears to be, which could be EPIC, then this is the night that TNA wrestling shows it is one of the big boys at the table. And for once, Eric Bischoff and the writers are pulling the correct strings behind the scenes.
Also, it still opens a door for a potential subplot before the weekend as well. Daniels and Styles, best friends and members of Fortune, have agreed to headline the PPV, which always means something will happen. And judging by the condition of Fortune right now, this can only mean that there is trouble brewing on the horizon.
Bobby Roode is still recuperating from injury. James Storm is competing with him and against him and 10 others in the Bound for Glory series and Kazarian is in the middle of a heated battle of words (at least for now) with Samoa Joe.
It would appear that all five men have their own agendas for the evening and this, as we have seen in the past with many other factions and stables, can only mean change in the next few weeks. Look for at least one member to jump ship (Daniels) and claim to be "held down" by the others.
In this case, it could be Daniels who wins the match but does so through cheating and says that Styles has gotten too much push over the years and he has not been able to fulfill his potential. Or Daniels could viciously attack Styles because he was thanked enough for coming to Fortune's rescue when Immortal had taken out the TNA original.
If those scenarios are not enough, the BFG series matches between Matt Morgan and James Storm vs. The Pope and Devon and then Crimson vs. Bobby Roode are intriguing. Pope and Devon together spells trouble and the idea that Crimson would lose to Roode is unthinkable if he is on a Goldberg-like win streak. But we have seen stranger things.
The show is as close to a PPV atmosphere that we can get without having to pay for the experience. This is much the same way we saw Goldberg beat Hogan in WCW for the world title. Which also, by the way, was a crafted plot between Hogan and Bischoff back then to spark ratings at a time when WCW was bleeding money and in need to a quick transfusion.
Impact may not be at that level, but the idea of bringing a show like this days before a PPV and then on the heels of the July 14 show where Sting will face Anderson for the world title is great for the network, great for the brand and great for wrestling.
And, in light of what is going on up north in WWE, the idea of John Cena stepping up on Monday night and CM Punk still the talk of the wrestling world, this could not come at a better time.
Yes, there should be other events and surprises. Velvet Sky is wrestling (all the more reason for me to watch) and Mr. Anderson will make is usual appearance, but for now those things are a sideshow to what we are about to witness.
A month of solid programming goes a long way toward establishing the future of the brand and the company.
This article is
What is the duplicate article?
Why is this article offensive?
Where is this article plagiarized from?
Why is this article poorly edited?